-------------------------------------------------------------------------------------------------------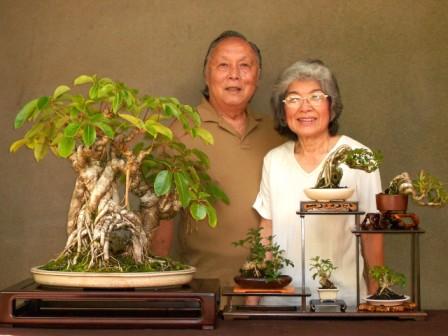 Fuku-Bonsai co-founders David and Myrtle Fukumoto in a 2012 photo as they celebrated their fiftieth wedding and bonsai anniversary. At left is their original Schefflera (Brassaia actinophylla) that was begun in the newly-weds apartment. On right are several small Dwarf Schefflera (Schefflera arboricola), Fuku-Bonsai's replacement specialty. Against all odds, we are recovering, will be restructuring and refinancing, and evolving into a "semi-non-profit bonsai and community benefit corporation!"
Kurtistown, Hawaii. Marcj 2023:
NOTICE: CONTRARY TO REPORTS ON GOOGLE AND YELP, FUKU-BONSAI IS ASSURED OPEN BY PRIOR EMAIL APPOINTMENT. We are short-handed and when we have to go to town, we close and put a chain across the entrance. If the chain is down, someone is available, Drive up to the parking area, toot your horn loudly, so we know someone is here.
IF YOU PLAN TO VISIT, PLEASE EMAIL FIRST TO david.f@fukubonsai.com with a specific date and time for a proposed visit and get an email confirmation for that specific date and time so we will be expecting you. With heavy rains, in our rural area, our telephone and electric often go out and email is preferred.
If you don't get a reply within 24 hours, please email again. We are getting over 150 emails daily --- including a lot of spam and have gotten a number of hacking attempts too! I especially check david.f@fukubonsai.com and info@fukubonsai.com and recommend using both.
We are converting older plants from the "Old Plant Bank - Growing-on phase - Refinement phase" and more Custom Collection will be available. Please email to david.f@fukubonsai.com for more information or go to CUSTOM COLLECTION.
Mahalo! ~~~David
-----------------------------------------------------------------------------------------------------
We have begun to Public-Private REFINANCE & RESTRUCTURE Task Force to guide Fuku-Bonsai to evolve into a unique "SEMI-NON-PROFIT COMMUNITY BENEFIT CORPORATION" to benefit bonsai, staff, managers, stockholders, associates, the Big Island community, visitor industry, and economy! YOU'RE INVITED TO JOIN US! PLEASE EMAIL FOR INFORMATION AND RECEIVE TASK FORCE NEWSLETTERS.
We seek 200 new large and modest ($2,500 minimum) stockholders who share our values and are planning a major project: "MAKING THE BIG ISLAND AN INTERNATIONAL BONSAI MECCA!" The Fuku-Bonsai Cultural Center can become the largest Big Island visitor attraction second only to Hawaii Volcanoes National Park.
This first stock offering will raise $500,000 of working capital to bring all accounts current, hire 6-8 "career leadership management trainees" to be mentored and cross-trained to become our core successor management team. We will have an employee stock ownership plan (ESOP) and create an ideal corporation.
We will build a new third FUKU-BONSAI CULTURAL CENTER! The total project cost will exceed $10 million. We begin building community support to include potentially large impact investors. The modest minimum $2,500 stock purchase will allow us to keep them informed as we complete recovery and move back into profitability. The initial modest investment will hold their position to give them priority to make larger future investments. With the initial working capital, we expect to make significant progress and keep everyone informed as we move into profitability.
We want Fuku-Bonsai to remain a broad-based Hawaii company to include premium Hawaiian gift product development and unique direct niche marketing. The "Opportunity Campus" may grow to 30 acres and besides the Fuku-Bonsai Cultural Center, it will include interim staff subsidized housing, incubator facilities, and business accelerator capabilities. For information, email david.f@fukubonsai.com.
--------------------------------------------------------------------------------------------------------
Fuku-Bonsai has roots in a Fukumoto family hobby that became a passion in 1962, the first Hawaii certified export nursery in 1973, and a corporation since 1985 to be the catalyst to own and operate both the 12-acre Kurtistown nursery and 17-acre Kona Fuku-Bonsai Center. The Fukumotos were joined by over 200 mostly modest bonsai and Big Island stockholders. That same year we also formed the 501(3)(c) Mid-Pacific Bonsai Foundation (MPBF) to allow non-profit bonsai educational activities. The Kona center opened in 1992 but was doomed as defective DuPont Benlate sprayed in 1989 directly or indirectly caused over $50 million of losses!
Long story short, we lost the Kona Center, retreated to the Kurtistown nursery, and co-sponsored by MPBF, opened a second modest Fuku-Bonsai Cultural Center. Benlate contamination residue prevented growing our original Brassia profitable crop and required us to develop all new crops and reinvent the corporation. We switched to Dwarf Schefflera and committed to teaching bonsai. In 1999, www.fukubonsai.com went online. In 2000, we introduced an Introductory Workshop Package (IWP) of nine components featuring a prepared bonsai stock.
In 2007, the Premium Introductory Workshop Package (PIWP) became more popular as a more developed semi-trained plant and larger components produced a nice bonsai to start a TRUE INDOOR BONSAI™ hobby. We also settled the Benlate litigation. The net total proceeds of the 1994 Benlate product liability and the 2007 DuPont fraud after taxes and legal costs were just 3% of our direct and indirect losses! Life is not fair but we survived while many of the original 5,000+ Benlate plaintiffs are no longer in business.
Fast forward to February 2023 as the Fukumoto celebrate 61 years of marriage and a bonsai lifestyle. THIS YEAR FUKU-BONSAI WILL BE 50 YEARS IN BUSINESS AND IT'S TIME TO TURN OVER FUKU-BONSAI LEADERSHIP!
Besides "career leadership management trainees," small and large impact-investors, we seek to rebuild our management resource team including CPA, legal counsel, computer resource, and a full range of business associates to produce and market an expanded product line.
To participate, email david.f@fukubonsai.com, provide contact and interest information, and request receiving the Task Force Newsletter. The Fuku-Bonsai Refinancing - Restructuring Public-Private Task Force includes both community leaders as well as those strongly interested in TRUE INDOOR BONSAI™. It will include large and modest impact-investors. It is not necessary to be an investor to participate in the task force activities. We will be sending out invitations to individuals and organizations to join us as we create a future legacy from our generation.
• The Fukumotos still own over 80% of outstanding Fuku-Bonsai shares. All other current 200+ stockholders own about 15%. We are donating 30% of our shares to Mid-Pacific Bonsai Foundation to make them the largest Fuku-Bonsai stockholder. This will give the Fuku-Bonsai and MPBF leaders the financial and legal clout to create the ideal bonsai corporation. No other bonsai organization has been formed in this manner. Fuku-Bonsai and MPBF will have the mission and resources to create, educate, and support a TRUE INDOOR BONSAI™ community for future generations!
• We invite 200 new large and modest ($2,500 minimum) stockholders to be part of this "FIRST REFINANCING PHASE." The goal is to raise $500,000 to bring all accounts current, to remove modest property liens, to rebuild staff and facilities, and to increase production and move back into profitability. The primary property with improvements and a high-value "old plant bank" does not currently have any institutional or bank mortgage. Once the modest liens are removed and we are back into profitability, the property (which was paid off) can be offered as first mortgage collateral for significant long-term, low-interest SBA or agricultural loans. I HAVE BEGUN ACCEPTING NEW STOCKHOLDERS! PLEASE JOIN US!
• In stead of loans, I prefer to fully raise recapitalization funds via the sale of stock to create a stronger corporation. That's why we were able to survive the 1989 $50+ million DuPont Benlate loss, the 2018 multi-million Hurricane Lane loss, the CORVID-19 shut-down and other assorted challenges. We survived while most companies would have closed! We are recovering and rebuilding stronger than ever! During this first phase, we will re-establish all business accounting and legal resources to assure compliance with all Hawaii closed corporation governmental regulations. We reserve the right to give investors committed to Hawaii and our values, priority to assure staying a Hawaii corporation. Becoming a "semi-non-profit community benefit corporation" is possible because of the original Articles of Incorporation.
• We recommend that the Articles of Incorporation be further amended to create the ideal "SEMI-NO-PROFIT COMMUNITY BENEFIT CORPORATION" to include an employee stock ownership plan (ESOP), to establish guidelines to prevent immoral excessive corporate management compensation, to create the highest standards of management integrity and support for the TRUE INDOOR BONSAI™ community, and the sharing of profitability with the staff, management, stockholders, and the community. Just as Fuku-Bonsai was a leader authorizing "non-profit" activities when it incorporated in 1985, we will document and move toward creating the ideal "SEMI-NO-PROFIT COMMUNITY BENEFIT CORPORATION" as our legacy for the future.
-----------------------------------------------------------------------------------------------------
Fuklu-Bonsai's TRUE INDOOR BONSAI(TM) specialty Dwarf Schefflera was first introduced about 1975 and several of our oldest specimen bonsai including the Entry Tree were trained from the original introductory cuttings. They are likely the oldest Dwarf Schefflera bonsai that are now approaching 50 years in training. The photo above was taken over 20 years ago when it was about 25 years into training. Some of our "Custom Collection-In Training" are approaching this standard (but are smaller) and have never been offered for sale. Most will be retained to be a part of the exhibit collection, but we are increasingly offering larger or older Custom Collection for those who have the skill and means to acquire older premium high-potential plants.
THERE ARE ADDITIONAL NEW DIRECTIONS IN PROGRESS! Please join us! With mahalo, warm regards and aloha, ~~~David (david.f@fukubonsai.com)