COMMENTS BY DAVID F:
The above combines the first three IWP reports by new beginner study group member David Raikow. I'm using it mostly verbatim to show how it's done and hope others that join our Beginner Study Group will feel comfortable enough to document and share their bonsai journey. But as pointed out at the start of this article, David is in a different situation. He lives nearby, dropped in again and we did a detailed in person critique of his first three trees.
While #3 was an improvement over #2, the report is still inadequate in that it does not provide enough information and photographs to become a "stand alone article." As editor and teacher, I want reports as if you were instructing a beginning student. So the report should have a lot of information to be able to fully understand details of what you did and why you did it. As your teacher, I cannot critique or assist if I do not know what you did or could not examine your work. So the first critque is inadequate information and photos.
It is my role as editor to select an appropriate number of photos and to select, edit and provide the written information. Essentially, the value of the articles are based upon how well it answers the question: "WOULD A BEGINNING BONSAI STUDENT BE ABLE TO PRODUCE SIMILAR RESULTS USING THE FUKU-BONSAI INTRODUCTORY WORKSHOP PACKAGE BASED ONLY UPON THE ARTICLE?"
___________________________________________________________________
Creating such a report is much much harder than most realize! Because they read other reports in the Fuku-Bonsai website or the Journal, they assume that everyone else does too and they want to only write reports that summarizes their experience and all other previously written reports! BUT THAT'S NOT WHAT I WANT!
Although I recommend that beginners start with our first January 2013 Journal of Tropical and True Indoor Bonsai and read EVERY article, I don't think most will unless they are really, really interested in learning bonsai! I ALSO KNOW THAT THE BEST WAY TO LEARN IS TO TRY TO BE THE BEST POSSIBLE TEACHER! SO IN ASKING BEGINNER STUDY GROUP MEMBERS TO WRITE AS IF THEY WERE TEACHING HOW TO DO THE WORKSHOP, I'M REALLY TRYING TO TRAIN BONSAI TEACHERS TOO!
It seems that many have interest in bonsai and just don't know where to start! There's enough interest that too many are being scammed by unethical bonsai hobbyists trying to sell them bonsai and even conning them into believing that outdoor bonsai trees like junipers will thrive indoors. There's an article in this Journal on just that subject at: www.fukubonsai.com/1a111.html .
The overwhelming number who want to grow bonsai want to grow them indoors in their homes and offices so they can be enjoyed nearby and throughout the day. Even if you have an appropriate outdoor environment whenever night temperatures are above 55įF, you might want to grow and enjoy them indoors. David lives in Volcano where night temperatures drop below 55įF during winter and it will be interesting to see where and how he decides to grow his trees.
He's researching anchialine ponds throughout Hawaii. These are inland ponds not directly connected to the ocean but with water levels that rises and falls with the tide and which are the homes of the endemic Hawaiian Red Anchialine Pond Shrimp also known as "The Amazing Hawaiian Micro-Lobsters!ô" so we have a lot in common as I pick his brain and he picks mine!
____________________________________________________________________
Teaching bonsai via the Internet is very difficult and I reserve the right to teach only to those who are willing and able to comply with my standards and who have the desire to teach others. Essentially I am teaching those who will contribute to teach others and to help improve the Journal of Tropical and True Indoor Bonsai. My hope is that they will become Journal contributing writers to submit articles from time to time. But the key to our future is increasing the number of JOURNAL CONTRIBUTING EDITORS who join me on a long-term basis and who I hope will help create content for the Journal in the post-Fukumoto era! But David Raikow is in a slightly different category, although I look forward to him also becoming a contributing editor like Jerry Meislik (Whitefish, Montana), Ryan Chang (Waipahu, Hawaii) and Jay Boryczko (Farmington Hills, Michigan).
David Raikov lives nearby, is very interested in a lot of things that we do and wants to help! He's given me some great ideas for improving our website and I think you'll be seeing changes. But I'd like to see David be able to put together strong Journal articles totally independently. So for his Introductory Workshop Package #4, I changed the assignment to "ROOT-OVER-ROCK!"
I also changed our roles. Instead of me instructing, he doing, and me photographing and writing, I'll do both the doing and explaining with him photographing and writing captions. It turned out to be a very interesting Saturday morning! First my camera battery went dead and David had to learn how to use it only with available light and no flash for best details. This requires slow shutter speeds and even though the camera is mounted on a tripod, you've got to squeeze the button without shaking. A bunch of his photos showed camera shake and were thrown out.
But because he took enough photos, there were enough usable photos that I was able to select, crop, and set up in a MSWord format for him to write the captions. So his fourth report is a bit different and is posted at www.fukubonsai.com/1a109a.html Check it out! ~~~David F.
_____________________________________________________________________
UPDATES BY DAVID RAIKOW:

(July 30, 2014)
Tree #1: ďRegularĒ style. After consultation, foil was added and secured with reinforced tape. This will help protect partially exposed roots and keep fine soil in place. Also notice some yellowing on some leaves. This tree is acclimating to its new pot and home in a colder climate. Itís only two weeks in the pot. Iím keeping a close eye on this tree to make sure it rebounds successfully.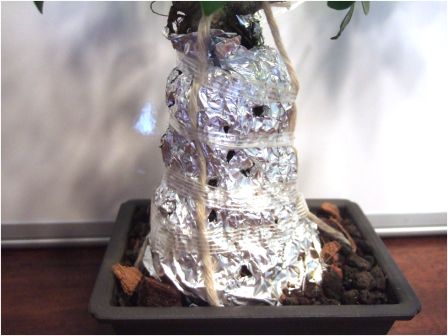 Tree #3: Roots style. After consultation, the foil has compressed and taped down onto the soil column. I had it passively over the soil, so needing to squeezing the foil on was a real insight.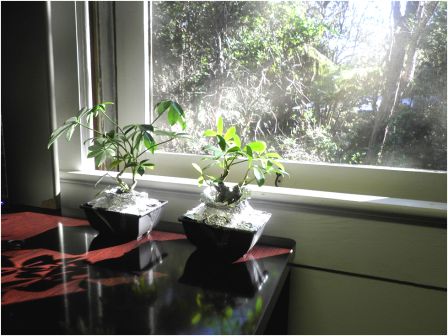 One challenge I have is finding a suitable place to put my trees. Here in Volcano it is usually sunny in the morning and then cloudy, or cloudy and foggy all day (when itís not raining). At this location on my desk these trees can get up to 1.5 hours of ďdirectĒ sunlight that is coming through trees first thing in the morning. Iím actually concerned it might be too much light.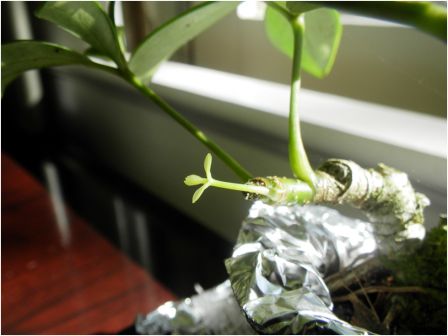 I think it might be a good location, however, because my Sumo tree is showing new growth just two weeks in the pot!
NOTE BY DAVID F: Although David Raikow lives "nearby," Volcano is about 20 miles away and at about 4,000 feet elevation whereas Fuku-Bonsai is at the 500 feet elevation. In Hawaii the general rule of thumb is that there is about a 7į difference for every 1,000 feet elevation change. So it may be a 20į to 25į difference in our temperatures. It's likely that his trees will be growing slower in general, but is he using heating and we're not? Look forward to comparing our growth rates. Stay tuned! ~~~David
© Mid-Pacific Bonsai Foundation and Fuku-Bonsai, 2014