Hurricane Iselle was downgraded to a tropical storm before it hit the Big Island of Hawaii and while other parts of Puna was devastated, we only lost electrical power (including computers) for 5 days, had a number of 50' to 150' tall trees down, and 2 acres of shade cloth greenhouses ripped. This is relatively minor damage. We cleared the newly paved road and visitors could enter a half day later.

Repairs are underway and should be completed in a month or less. The two photos above show an overall and close-up photo as Michael Imaino stitches back the shade house. This section was built in 1976 and still has the original shade cloth and pipe framing that is now 38 years old! These are the new 6' wide x 10' long nursery benches with aluminum roofing materials built in 2010 that replaced benches that were over 30 years old! With improvements to the design and heavier materials, the new benches could last 50 years!

In 1976 this was one of the first certified nursery greenhouses built with 6' wide benches and a 2' wide aisle. Upright support 1" pipe 8' apart held up the irrigation line that ran through the top of the support pipes. Support lines are 20' apart and the shade cloth is in 20' x 100' sections, but also supported by clothesline wire every 8'. So the shade cloth just sits on the clothesline supports and even though there's usually a nice cool breeze the loose shade cloth doesn't flap and wear out! During extremely heavy winds, the original stitching of the 20'x100' panels may break and allow the wind to pass through. So we may change some clothesline support wire and stitch the panels together. Some of the pipes have rotted since 1976 but are easily and quickly repaired. We were fortunate to have escaped the brunt of the storm and thank those who expressed concern.
FUKU-BONSAI REPORT - SEPTEMBER 2014
To all who have supported us . . . MAHALO! I've told this story too many times, but it bears repeating and it puts the latest challenge into perspective! In 1989 we sprayed defective Benlate fungicide contaminated with weed killers and suffered over $30 million of losses, were just one of over 5,000 lawsuits against DuPont, and were forced into a 25-year long battle for survival. It's been tough.
We were forced to accept a 1994 Benlate product liability settlement for a tiny fraction of our losses as we were already in bankruptcy and the other 219 fellow plaintiffs had agreed to settle. Our only choice then was to accept the settlement or be liquidated. So we settled, lost the Kona Fuku-Bonsai Center, and retrenched to the Kurtistown nursery to try to rebuild and reinvent the company.
When we came out of bankruptcy, we learned that DuPont had withheld and misrepresented evidence and in other on-going Benlate trials DuPont was found guilt and sanctioned for fraud. So we sued DuPont for fraud and endured a punishing legal war for many years as DuPont used vindictive legal strategy against us for over a dozen years as Fuku-Bonsai was the primary participants in research studies that conclusively proved that DuPont's Benlate was clearly the cause of the losses. They really don't like us.
The most difficult challenge was due to Benlate contamination residue preventing us from growing our original Schefflera (Brassaia actinophylla) crop which was over 95% of our income. We learned that Dwarf Schefflera was more immune to that contamination, and a although we had been growing it since 1974, it took many years to figure out how to develop exceptional prepared bonsai stock to create our premium volume small and desk size lava plantings.
In 1999, www.fukubonsai.com website went online and in 2000, we completed the switch over from Schefflera to Dwarf Schefflera as our primary specialty. Since then, our online customers in all parts of the United States played a major role in our survival. MAHALO! We learned how our customers were successful with our products and we committed toward continual improvements in an effort to make our True Indoor Bonsai "customer-proof." To a large extent we have succeeded. We continue to try to help those who don't bother to read or follow our instructions and am very patient in trying to explain anything they may not understand.
DuPont successfully used their financial clout and legal bullying to again force a settlement. The net total of our 1994 Benlate product liability and 2007 DuPont fraud settlements after taxes and legal costs was less than 10% of our losses! We have been forced to fight a 25-year long battle for survival! Life is not fair but we've tenaciously survived anId we're starting to turn the corner. WE CONTINUE TO BE COMMITTED TO OUR ORIGINAL CORPORATE PLEDGE TO PRESERVE AND PERPETUATE THE ART AND CULTURES OF BONSAI.
OUR SUCCESSES TO DATE
• Fuku-Bonsai's Hawaiian Lava Plantings are the most successful gift bonsai for anyone, anywhere who can grow houseplants.
• In 2000, we switch to Dwarf Schefflera as our primary specialty and made the breakthrough in developing high-potential "Prepared Bonsai Stock" that made possible the long-sought Introductory Workshop Package as the "Educational Holy Grail" in 2007. It is now solidly acknowledged as the easiest and most successful way to learn (or teach) bonsai.
• Fuku-Bonsai developed a small size Premium Potted Bonsai , improved the mid-size potted bonsai, and introduced larger, older Custom Collection and an enlarged product line. With the help of several Big Island Resource Conservation and Development grants and a 2010 $90,000 USDA Rural Economic Development Grant, we have rebuilt and/or repaired over 50% of the 40+ year old nursery benches.
• Fuku-Bonsai partnered with the 501(3)(c) Mid-Pacific Bonsai Foundation to vertically integrate to be an educational and assistance resource as well as supply the specific plants on a national basis. Besides assisting with educational efforts, the Foundation co-sponsors the Fuku-Bonsai Cultural Center in Kurtistown and the Journal of Tropical & True Indoor Bonsai.
• With on-going research, we continue to make major break throughts as we keep exploring the limits of Dwarf Schefflera which is the best tree for bonsai. We have successfully created Complex 360°Landscapes and Mini-Bonsai. As we expand production we seek individuals, clubs, and retailers to learn, teach and sell True Indoor Bonsai.
We invite those who support our goals to become members of the Mid-Pacific Bonsai Foundation (at $12 per year) and donations of any amount are gratefully accepted. If you want to build a long-term close relationship, consider becoming a Fuku-Bonsai stockholder. If you live on the Big Island, please contact us as we are also developing roles for volunteers.
FUKU-BONSAI CULTURAL CENTER & HAWAII STATE BONSAI REPOSITORY
In spite of limited resources we are increasing progress and rebuilding the Fuku-Bonsai Cultural Center in Kurtistown on the original nursery 12-acre site. Olaa Road is between the 9 and 10 mile markers of Volcano Highway 11. Last year the entry road was paved and the refurbished signage from Volcano Highway help visitors to find us.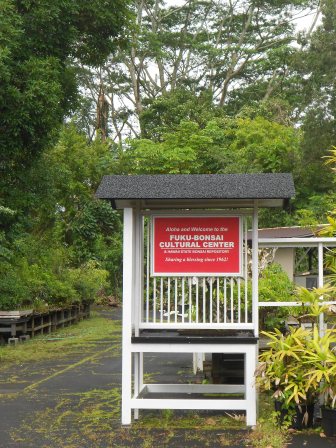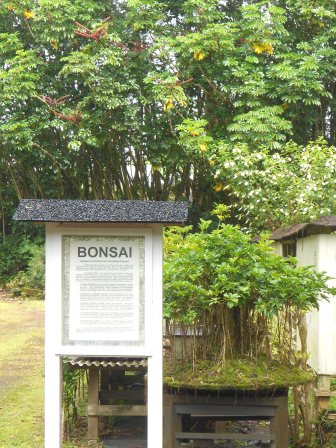 With just a small amount of storm-broken trees, the center escaped major damage. We opened a modest Fuku-Bonsai Cultural Center in Kurtistown in 1996 and have been steadily improving it. The left photo shows the entry area separating the center from the parking lot. The right photo shows an introductory panel and one of our rainforest banyans on a 48" concrete disc with turntable hardware. We have begun to start selection of the better 150 bonsai for the permanent exhibit collection.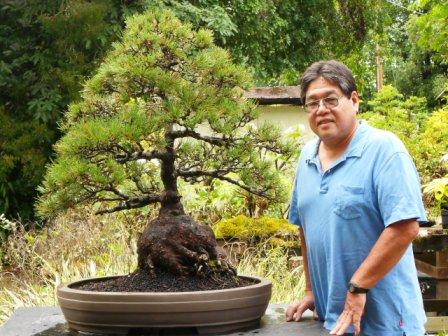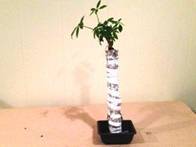 The Hawaii State Bonsai Repository will feature memorial bonsai by past Hawaiian bonsai masters or trees created by visiting international bonsai masters. The left photo shows Mid-Pacific Bonsai Foundation president Michael Imaino with the Haruo "Papa" Kaneshiro memorial Japanese Black Pine that is believed to be the oldest bonsai in Hawaii and which serves to be our bridge to traditional outdoor Japanese temperate climate bonsai. The right photo is of "John Naka's Dragon" that he worked on in 1984 in Hilo and again in 1990 at the International Bonsai Congress in Hawaii. It is one of the featured trees in the current American Bonsai Society Journal commemorative issue honoring the late great John Naka, America's finest innovator and teacher of the past generation. The center is committed to preserving the legacy and the spirit of this greatest World War II generation who established "Bonsai, Bridge to International Friendship and Peace!"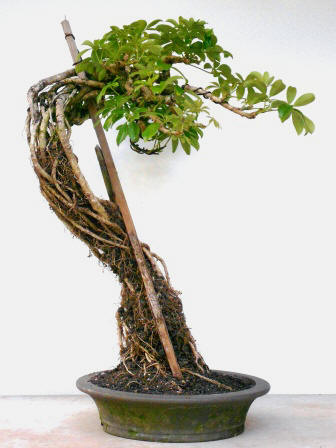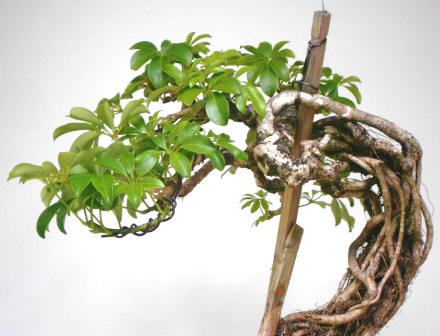 A large part of the permanent exhibit will feature the oldest Schefflera and Dwarf Schefflera trees that were used to develop True Indoor Bonsai. Originally, the major focus was on developing SUMO styling which is the basic banyan form needed for our Hawaiian Lava Plantings. These range from our largest Entry Tree on a 72" diameter concrete disc to the small tree that easily fits in the palm of your hand featured in another article in this issue. As interest in learning bonsai grew, we branched out into Premium Potted Bonsai and developed the more elegant and popular ROOTS styling to add variety for those creating collections. The newest is HAWAIIAN DRAGON styling that exploits the outstanding plasticity of Dwarf Schefflera and the dynamic taper possible with Fuku-Bonsai's Reduction-Building training techniques. The above photo is one of the original Hawaiian Dragon prototypes that is now being groomed for formal display.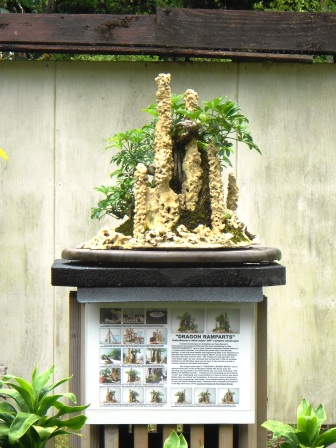 The leading edge of our trials has shifted toward Complex 360° Landscapes on turntables that are attractive when viewed from any side. The first major effort "Creating a Bonsai World!" was the featured demonstration at the grand opening of the Kona Fuku-Bonsai and the Dwarf Azaleas now show 25 years of training. The second "The World of Bonsai Aloha! paired an outstanding large Hawaiian lava rock with 25 and 15-year old Dwarf Schefflera on a 48" diameter concrete disc with turntable that was featured in the April 2014 issues of both Bonsai Clubs International's Magazine and the Journal of Tropical and True Indoor Bonsai. The photos above show the third major complex landscape on turntable "Dragon Ramparts" that was featured in the May 2014 issue of Journal of Tropical & True Indoor Bonsai. The left photo shows the presentation when the landscape is part of an indoor off-site public exhibit. The right photo shows how it is being displayed outdoors at the Fuku-Bonsai Cultural Center where visitors can learn how it was created and turn to appreciate all sides.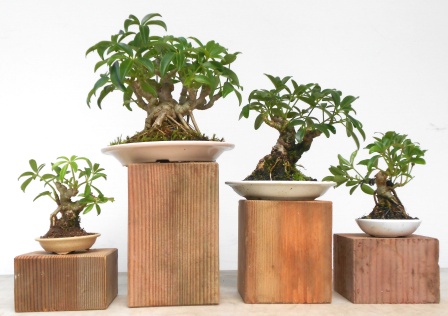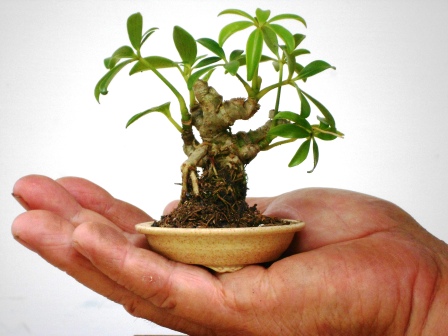 Dwarf Schefflera is the ideal popular bonsai for anyone, anywhere who can grow houseplants. Unlike most plants, it can be trained to masterpiece quality standards as both very large sizes or ultra mini-bonsai! And it can be trained faster and be more successful than any other bonsai. This is the ideal tree to sell as bonsai gifts because neither the giver or the recipient is happy when a bonsai dies. Unfortunately the overwhelming number of gift bonsai die quickly because although sold as "INDOOR BONSAI" they really are outdoor plants that cannot thrive in ordinary homes and offices. Fuku-Bonsai trademarked "TRUE INDOOR BONSAI" and is an international bonsai leader exposing "INDOOR BONSAI FRAUD!"
In creating "Dragon Ramparts" as the third major complex 360° landscape, there were several challenging criteria established: 1) It would be less than half the size of previous complex landscapes with sufficient portability for indoor and outdoor display, including off-site display throughout the Big Island. 2) In lieu of dark natural lava, the vertical elements would be hand-carved coral "dragon-poles" that were sealed, painted an ivory color, antiqued, and glazed. 3) It would be based upon a fantasy theme and utilize trees in Fuku-Bonsai's Dragon, Roots, and Sumo styling as well as an assortment of different mosses. 4) It would serve as a trial incorporating multiple smaller trees in landscapes to be maintained to develop more character each year, but never allowed to become taller than the tallest dragon-pole. We are confident we can keep the trees healthy, develop much more character, and maintain a smaller leaf size. A concise 11"x17" waterproof educational panel was developed for both indoor and outdoor display that explains how the arrangement was created and other pertinent information.
The Fuku-Bonsai Cultural Center is part of a working bonsai nursery, a place to enjoy a varied and innovative collection, a place to do workshops and learn all facets of bonsai, as well as a place to select from a large number of bonsai that can be shipped to any part of the United States. Although there will be a number of individual bonsai with featured displays as shown above, most bonsai will just have a limited amount of information. Whenever possible, several related trees will be exhibited together and the three Hawaiian Christmas Berry Trees trained by the late John Naka will summarized how he trained them, their later development and include a tribute as he is one of six in Fuku-Bonsai's International Honor Roll. There will be a major educational exhibit summarizing Chinese penjing concepts as utilized in training Podocarpus. In most cases there may be more that one tree of various tropical plants trained as bonsai and the exhibits will show them together and include cultural and training information about that plant variety.
The Fuku-Bonsai Collection is the most innovative and varied in the world. While it acknowledges that the roots of artistic pot plants are in Japan and China, it celebrates Hawaiian and tropical bonsai. But unlike Japanese bonsai that is impossibly difficult and is primarily for the elite, True Indoor Bonsai is being developed to become the most successful for anyone, anywhere who can grow houseplants. Because Dwarf Schefflera is the most durable houseplant that will grow in most indoors throughout the country (and the world) due to interior heating and air conditioning, it is destined to be the most popular bonsai. Because Dwarf Schefflera has natural traits that are ideal for bonsai and because all Fuku-Bonsai plants are professionally trained to have character within 1" of the soil, every plant has the potential to become a high quality bonsai! It grows faster than any other bonsai and help and support is available!
SUCCESSION & "MAKING THE BIG ISLAND AN INTERNATIONAL BONSAI MECCA!"
Fuku-Bonsai is positioned to be the national leader of True Indoor Bonsai as it becomes the most popular and successful American bonsai! Our goal is to train the largest possible number of Fast-Track Study Group members who will be invited to play increasingly larger roles in our future. As we build a Tropical and True Indoor Bonsai community, it will only be as strong and valid as the individuals that are members and the qualities and values of the leaders.
Fuku-Bonsai has roots in a Fukumoto family hobby begun in 1962. Innovation and teaching began almost from the start and we were active participants as Hawaii played a major role in helpping to create "International Bonsai." I worked with the leaders of the greatest World War II generation who are generally 20 years older than me and who are passing away. In a sense, they've entrusted me to be "the keeper of the bonsai flame" and to continue their work. With Fuku-Bonsai corporation partnering with the Mid-Pacific Bonsai Foundation, we have the makings of a workable organization to utilize both the "for profit" nursery and the non-profit foundation.
In 1985, the Fuku-Bonsai sole proprietorship was totally transferred to the new corporation including the bonsai collection, land and improvements, inventory, and "any and all bonsai related assets." A board of directors supervised valuation of all assets and established the conversion rate for the Fukumotos to be the sole initial stockholders. Then through several stock offerings we raised over $2 million in cash, took over Fuku-Bonsai operations, and began to develop the Kona Fuku-Bonsai Center. Mostly Big Island stockholders invested to support bonsai and build a community economic resource rather than seek return on investments.
The Fukumotos have always been the dominant stockholder and potential stockholders were advised to purchase stock mainly as a form of support rather than primarily as an investment. Most of our stockholders are of modest means and would not gain tax advantages. But some were in that position and over the years, through stock donations, the Mid-Pacific Bonsai Foundation as become the second larger stockholder of Fuku-Bonsai Inc. stock. We envision that the Foundation will be the dominant stockholder in the post-Fukumoto era and we are building a solid board of directors of Big Island community leaders to oversee and guide the Fuku-Bonsai management team and staff. In the coming years, we will launch a major fund-raising drive to raise the needed funds.
The Foundation was also formed to be the liaison connection between the corporation and the Big Island community as Fuku-Bonsai has a long history of supporting community economic development. The Kona Fuku-Bonsai Center was expected to largely benefit the Big Island tourism industry and general economics. In now rebuilding a Fuku-Bonsai Cultural Center in Kurtistown, we will benefit the economy and visitor industry.
But most of the Big Island visitor industry is in the West Hawaii Kona-Kohala visitor destination area. So a major part of the overall long-term project: "Making the Big Island of Hawaii an International Mecca!" means re-establishing a major West Hawaii presence. We plan to do so by one day partnering with 10 West Hawaii hotel-resorts to each offer weekly morning or afternoon "Create Your First Bonsai" workshops with completed plants brought back to Fuku-Bonsai to be sent by FedEx to participants throughout the United States. With 10 hotel-resorts participating, any visitor to West Hawaii would be able to identify a workshop location to fit their vacation plans.
Obviously, we have large goals and to start we will try to first train and organize those who are interested in True Indoor Bonsai as possible future instructors and associates. So we are especially pleased when Big Islanders --- whether from either East Hawaii or West Hawaii graduate into the Fast-Track Study Group!
This report lays out our past, present and future. We invite everyone to participate. Please contact me for more information. ~~~David (david.f@fukubonsai.com)
E KOMO MAI . . . Come, discover the serenity of nature, the beauty of bonsai, and the spirit of Hawaii!
© Mid-Pacific Bonsai Foundation and Fuku-Bonsai, 2014