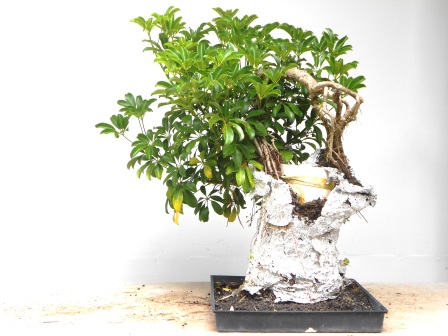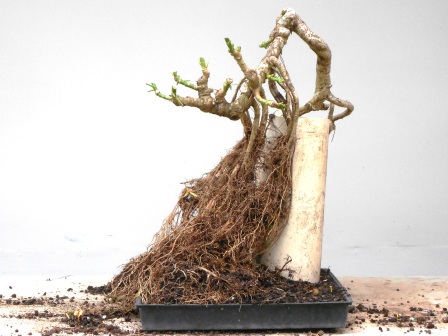 The tree grew well and the foil collar, the 6" pipe, and all ties were removed. While the roots were not yet strong enough to hold up the plant, when partially supported by the pipe it was a lot more interesting and I liked this effect the best.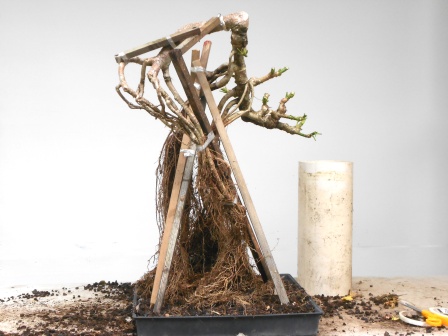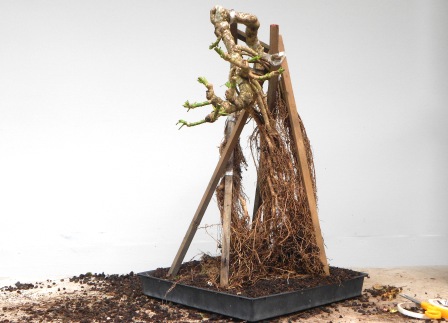 With several sticks and strong 1/4" wide monofilament tape, enough sticks were taped together to support the interesting root structure. It could have gone back into the nursery flat but somehow it was interesting enough to go into more interesting pot.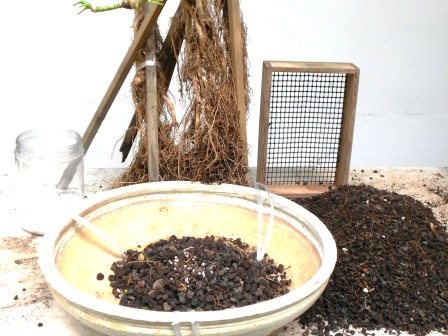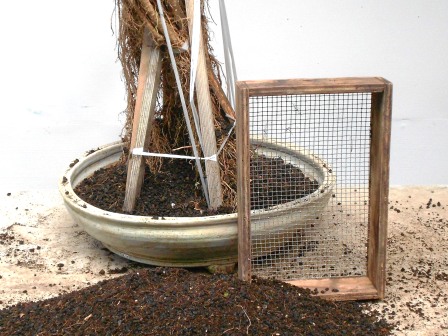 A Sonny Boggs pot was available and all previous media was rescreened and what got caught into a 3/8" screen when into a hill that covered about half of the bottom. Nutrient Granules were added and covered with a thin layer of medium body mix. Note that the tree is standing behind the pot and the pot has three pairs of plastic ribbon ties in place. The media was again screened and what was caught in the 1/4" screen went around the base of the central hill, the plant positioned in the pot, and more of that medium size body aggregate went into the pot. The ribbon ties secured the plant to the pot.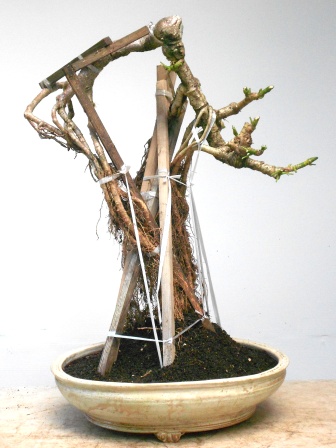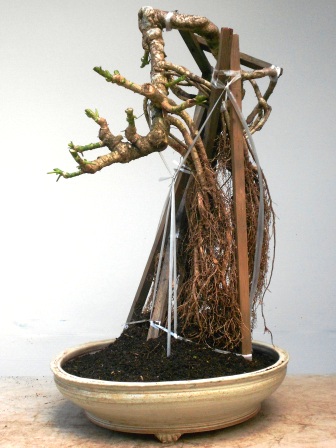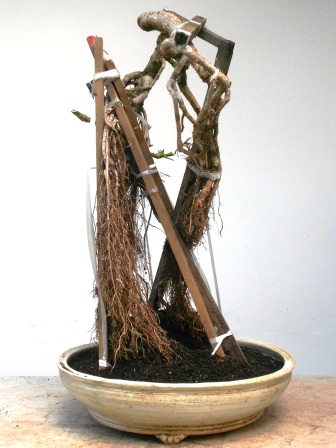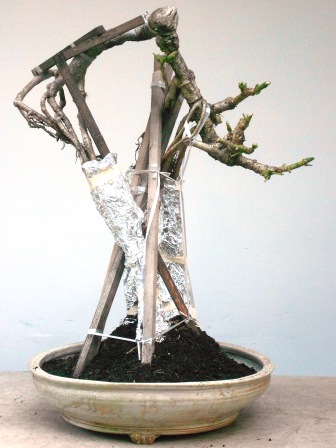 Having the roots being trained and the tree grow around that 6" pipe had greatly improved the appearance of that unique plant. The photos shows the tree from three different viewing points and this will one day become one of the more interesting ROOTS designs in our collection. The roots are arranged with a slight swirl effect and space is maintained between the two sections of roots to give it an interesting light airy effect.
It will likely take another few years for the roots to thicken enough to remove the stick support structure. Since the ends of the roots are into the pot, the partial aluminum foil collar will be needed only for a few months to allow the roots to harden off. Once the foil is removed, smaller roots may dry off but the larger roots will be strong enough to hold the plant upright.
Ceramic bonsai pot by Richard "Sonny" Boggs

(Autumn Moon Studios)