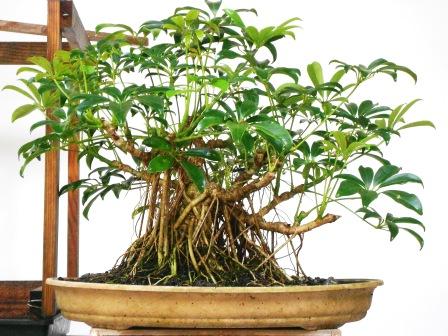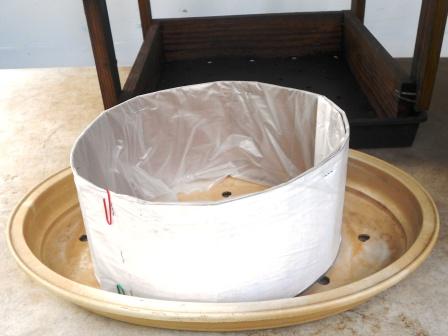 The cove planting (www.fukubonsai.com/1a61a.html) was sent to him last year and the two that he did last year have developed well here. This year, in addition to a class on how to select branches from the regrowth of a major cut-back, Paul was scheduled for a root extension of a premium Rainforest Banyan custom collection tree shown below. He had reviewed Ryan Chang's Rainforest Banyan and I had a modified procedure in mind that will eliminate one of the two-step process that was used with Ryan's. The plant, temporary frame, and plastic covered cardboard collar are shown above.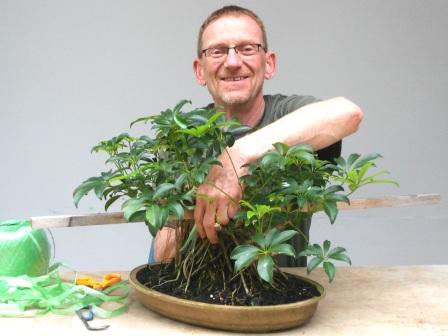 The first step was to affix the tree to a wood support stick to allow cleaning out, straightening, and adjusting the roots to hang straight down like the especially elegant and beautiful Rainforest Banyans. These are possible only with trees that have a profusion of roots and Paul had reserved the best one I had.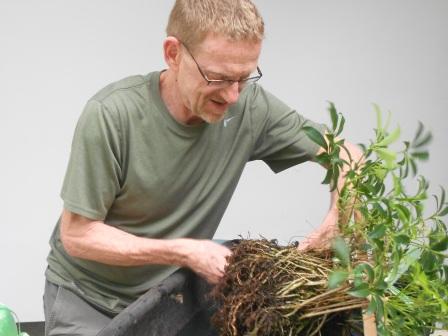 Paul went to work with the tree in a large plastic tub with a single root hook to separate and untangle all roots. Some trees produce a profusion of roots while others don't. Most start developing aerial roots after 8 years or older. While some may be present when we move the tree into the larger Custom Collection pot, this one was originally trained as a Sumo that was planted quite high to show off the roots.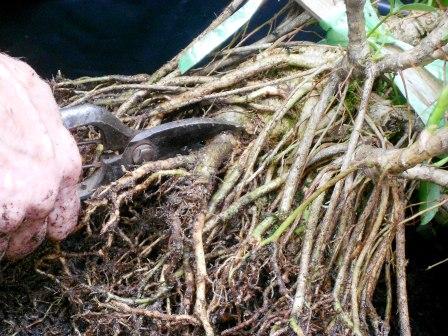 To create a Rainforest Banyan where the aerial roots fall straight down, it is necessary to first remove the very heavy trunk-root buttressing that were once the original surface roots. On this tree those roots were impressive and heavy. Paul is shown removing them as close to the trunk as possible. These large roots cause the aerial roots to flare outwards and by removing them, the aerial roots can fall straight down.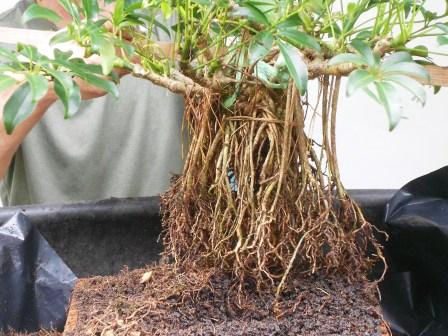 With the heavy horizontal roots removed, the aerial roots have been untangled and guided down. The roots nearest the central trunk that previously were flared out have been loosely tied to the stub of the original trunk to fall straight. Aerial roots that were angled out that could not be straightened were removed.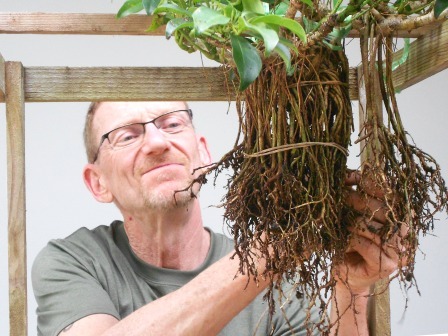 With the support stick suspending the tree, Paul is loosely tying bundles of roots with bindwire. This is tedious work to try to get roots that were wildly pointed in all directions to all point down without crossing and trying to make it appear that they grew naturally like that. Of all banyan bonsai variations, I consider that the Rainforest Banyans with free-falling roots are the most attractive --- but also the most difficult and requiring choice premium stock. It is very likely that Ryan's and Paul's trees, while smaller, will surpass the quality potential of the two original Rainforest Banyans to stay in the Fuku-Bonsai permanent exhibit collection.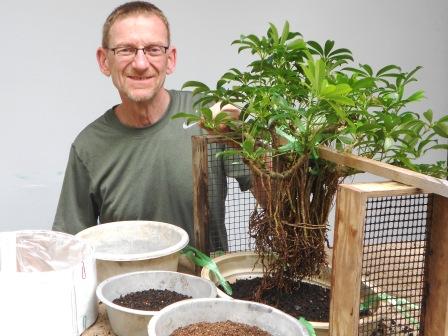 With root work complete, the support stick was placed on two sifting screen frames, the prepared oval pot placed below it, and the coarse bottom hill with Nutrient Granules installed.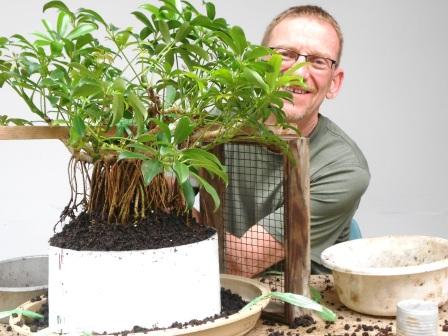 The 6" high plastic lined cardboard collar was positioned and body media mixed with equal parts of coarse bottom. The fast draining media was carefully dibbled between the aerial roots with efforts to try to keep the roots straight up and down.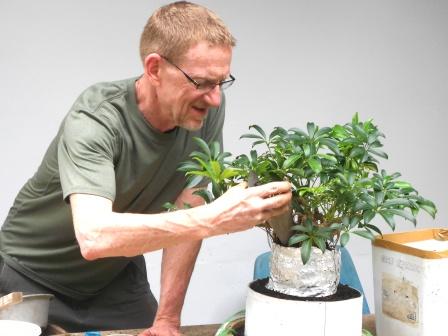 A triple thickness aluminum foil collar is added and using a U-shaped open top funnel, Paul easily adds and positions more coarse body mix and dibbles it in place. Paul adds enough media to go a bit higher than where the thick surface roots were removed as the bottom section of the tree is only supported with the soft flexible aerial roots.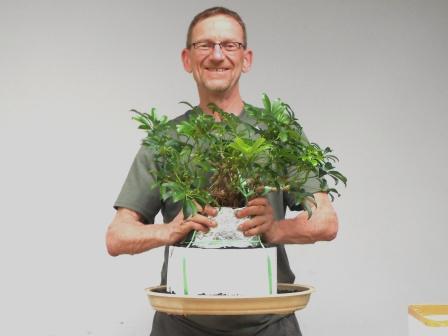 With the bottom plastic ribbon ties attached to the trunks and branches all is solidly secured and Paul has no problem lifting the heavy planting. Like the last two years, this year's workshop trees will be sent by FedEx to Paul next year after it has some time to develop and grow well. We'll ship other trees after he arrives home including other premium prepared bonsai stock and older selected stock that he'll be preparing for creating future rock plantings there.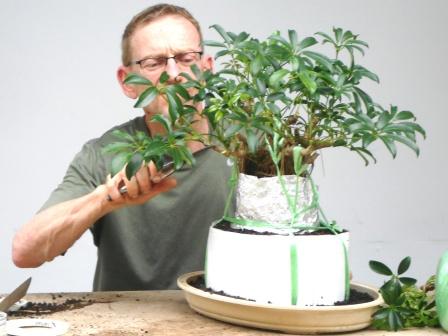 After a refresher class and a discussion and establishment of long-term styling plan, Paul starts pruning. On this trip, Paul is noticeably more confident and was able to make good decisions.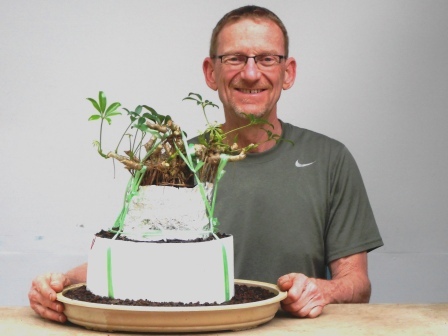 Paul is renovating his home to accommodate his growing collection. He doesn't want the trees to become too tall. So he pruned back heavily and will begin refinement training to develop a compact, complex banyan crown that will grow out over time a bit larger than the oval pot. The smaller tight complex crown will allow the profusion of free-standing vertical roots to stand out and I foresee an impressive specimen in the future.
COMMENTS BY PAUL BAKERMAN:
I had never seen a banyan tree in real life until I visited Hawaii for the first time, and one of the things that I love about True Indoor Bonsai is how they mimic the root pattern of these trees. When I saw Ryan's workshop, I was excited to try something similar. Although I love the rock plantings, the opportunity to plant an extended root Banyan style was too much to resist!
The workshop was a success, and I look forward to seeing the results. As I contemplate where I want to go with my own plantings, root extension is an important skill. I have several rock plantings "in the works", and getting strong root extension, either before or after planting bonsai on a rock is an important skill. Thanks again to David for guiding me through the workshop, and to Ryan, who is a real pioneer. I see the work of these guys, and I just say WOW! And it makes me want to try some of the techniques.