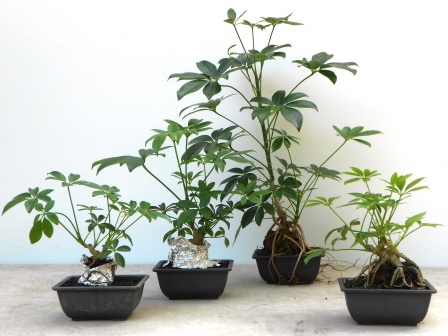 Here's an example of four similar trees that Edison has done as demonstration plants that were selected to show how trees develop over time. The left plant was just done with Linda. The next tree is just a few months older and one section is starting to really grow. Let it! Give it good growing conditions and increase fertilizer. The trunk will thicken faster, but by increasing the growth rate, when you prune the tree, it will throw out more new growth points! That's the major priority for this first stage of training. With more new growth points, you'll have more choices of which to retain and which to remove and that will improve the shape of your tree.
Compare these two trees that are less than one year difference in training! True Indoor Bonsai develops much faster than slow-growing traditional temperate climate bonsai. Dwarf Scheff loves to be rock planted and you can use the rock to encourage an impressive large buttressing root base. Or plan to remove the rock to plant the tree on a larger taller rock.
Note that most of that heavy new growth has been pruned off and only a short stub section is left and new growth points have appeared. But the overall heaviness of the trunks and large roots are very apparent. The tree already had a nice distribution of branches, and from the new growth, only one additional growth at a good location was retained. Note that while there are major improvements in the character of the tree, the overall size has not changed much.
If you want a larger bonsai, now is a good time to up-pot it using the #8 Conversion Kit as the larger root system will produce stronger heavier growth. But you can leave it in this container to create a nice small bonsai. As the roots fill the container, growth will slow down. As more growth points disperse the energy of the plant, the leaves will reduce in size if you give it strong window light.
This style of training is known as "REDUCTION-BUILDING" and is the preferred training method at Fuku-Bonsai to produce heavy trunks, branches, and roots. We like to grow compact trees with short branch internodes. With as many growth points in a compact area, it is very easy to form an attractive foliage crown. When using this method, be sure to keep the plant well fertilized and keep the tree thinned out by removing enough old leaves so you can clearly see the trunk structure and light can get to the new growth. If the new grow develops in a deeply shaded situation, the new leaf will be very thin and long.
If you plan to visit the Big Island, consider taking a workshop here. If that time is far off, consider joining the Beginner Study Group now so you can learn the basics before you come. That will allow us to recommend more advanced workshops using older plant materials to create impressive results!
© Mid-Pacific Bonsai Foundation and Fuku-Bonsai, 2014