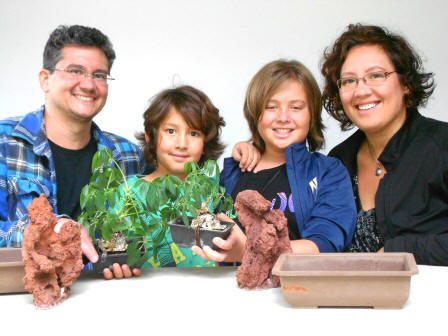 THE ANDERSON'S SECOND FUKU-BONSAI WORKSHOP!
On March 18th, I was delighted to greet Robert and Amy and their two sons Kalani (10) and Aidan (8) of Ewa Beach, Oahu, Hawaii and to see their trees after almost a year. I asked Amy to introduce the workshop and she wrote:
"Almost one year ago, we came to Fuku-Bonsai for the first time. We were staying in the Volcano and saw the old "BONSAI" sign on the side of the road. We decided to see what it would lead to and found an amazing place. There was another couple who wanted to take their first bonsai class so our sons made a bonsai for themselves too. Kalani chose a "sumo" and Aidan chose "roots." They each learned how to trim the small plants and place them into small pots, using foil to keep the plants in place. We flew back to Oahu with our new bonsai, which lived on our kitchen table for a year.
"When we decided to come back to Volcano this year, we wanted to bring our bonsai back and take the next class. We packed each plant and handcarried them on the plane. When we came to Fuku-Bonsai, Kalani and Aidan learned that each bonsai has its own story and learned how to put their plants onto rocks. They unwrapped their small plants, and step-by-step learned how to place their plants onto the rocks.
"Kalani says he's learned about the process of making bonsai --- drilling rocks, finding the right spot to place the plant, mixing the fertilizer and moss. He says that "bonsai isn't just easy --- not just about putting a plant in a pot. It's about having a story and if you have a great story you can have a great bonsai!"
_______________________________________________________________________
This was the first time that workshop trees from a year ago came back and I wanted to share with them the amazing progress that we've made in just one year. By coincidence, the Anderson's live not far from Ryan Chang, so I recommended they join the study group and work to graduate into the Fast Track Study Group that Ryan leads. The Anderson's live in an area that has a lot of coral and Robert thought he knew an area that had some. So I gave them an introduction to rock planting with an emphasis on plant placement, creating the saddle and root trail crevasses, and how to anchor the stone to the pot.
Having successfully passed through the first year, they needed to set their standards higher and I recommended that they move toward Hawaiian accelerated growth, especially since Ryan was nearby to guide them! So we began the workshop and I look forward to seeing how this story continues!