KEITH SCHOFFSTALL'S 2ND IWP & 1ST PIWP!
Keith is in an interesting situation. He lives on the Big Island near Fuku-Bonsai and started with a small tree a year or so ago. Now he'd like to get a stronger grasp of the basic principles and so last month he took an Introductory Workshop with Edison that was in www.fukubonsai.com/1a65.html with a few other workshops at the center. He joined the Foundation and the study group and since part of the requirements is to be able to work independently, to take and submit photos with captions, he took a second IWP home and his formally submitted report follows: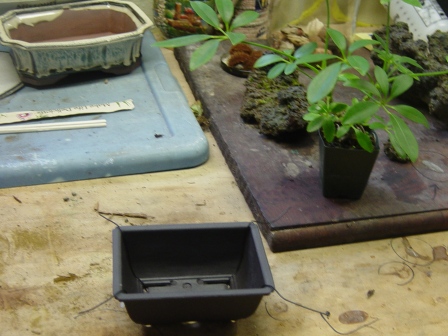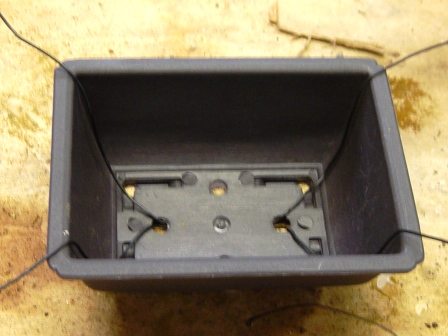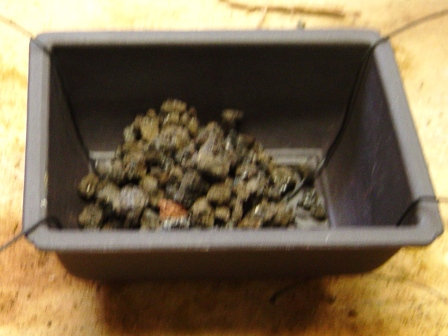 I wanted to keep the Chinese art of Bonsai alive. So I went to seek out the plant expert. Found myself at FUKU-BONSAI. Found David a real Bonsai Teacher. #1 Find My plant ("sai") to take care of for a life time .As the Chinese did all the way back to 800 to 900ís as it is a way of life .You will want to pick out a good hardy specimen . I found mine at Fuku-Bonsai. #2 Found my "Bon" (tray with low side pot) inserted tie-down wire to keep it stable, as the sai turns into a strong young tree. #3 Put gravel in the bottom of the bon (tray) for good drainage .This will also let the roots thrive.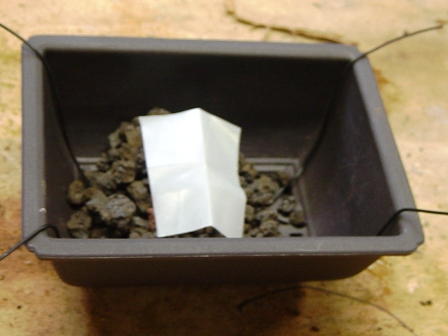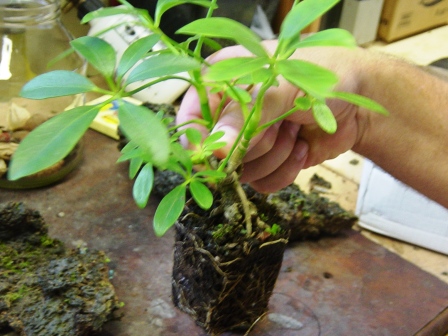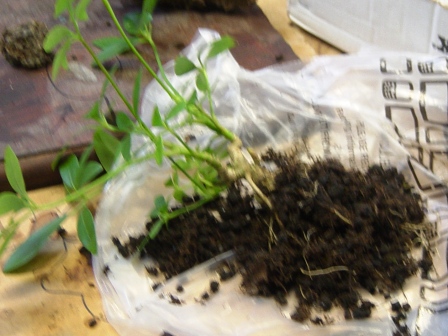 #4 Feed your sai with soil cover the top with plastic to direct the roots like you train up a young child. Set the plastic to the side so it will be well balanced, just like your life must be rooted and balanced. # 5 Take your plant, see its future as to how it will grow. You will mold and train up this young plant into a tree. Take your plant out of the pot it came with. Get it ready for his new home. #6 Clean all the roots and get them straight. So they will grow straight like a young child to keep them from growing astray. Be gentle with the roots not to harm them.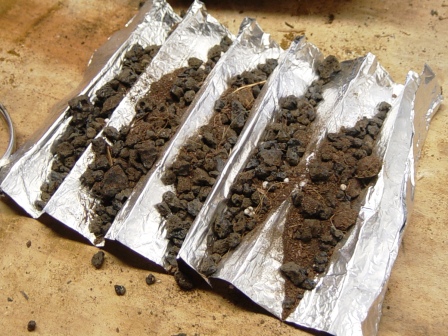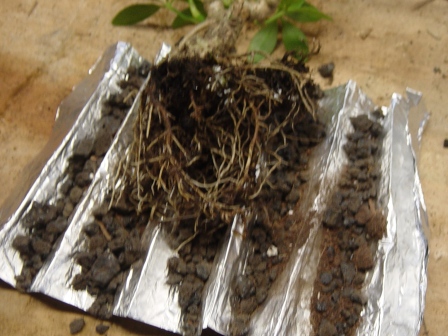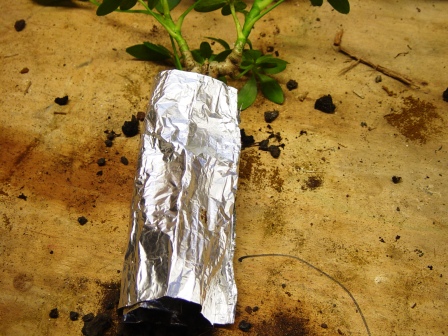 #7 gives the roots a place to grow, so they will grow up like strong pillars of life. Take a 6 inch piece of aluminum foil, fold it. Then fold the ribs. This will house the future structure for the bonsai tree. # 8 put your Sai (plant) on the path of life. Where it will grow for the first stage of growth. Put the soil mixture in the valleys of the foil. This will give the roots food and support. #9 wrap your plant to protect the young roots and to give them a path to grow. Like you would your kids. Make sure it is wrapped tight put the roots against the foil, the soil down the middle.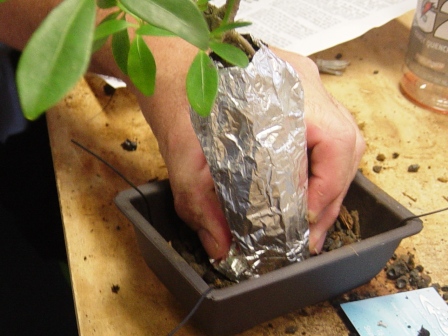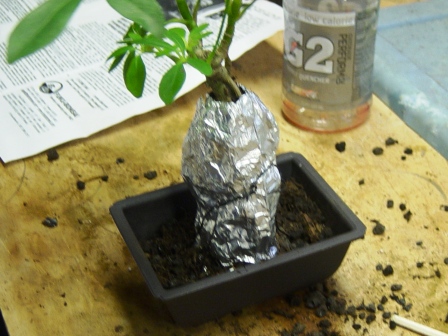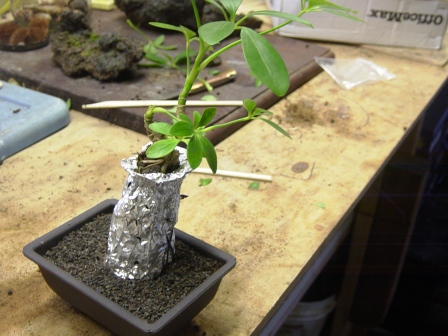 #10 introduce the plant to the bon (the pot) tie him down to the pot for support. Poke holes in the foil one inch apart, so the roots can breathe. #11 Now you have a bonsai the future is up to you. You must keep up with pruning, feed and water. Just like a brand new baby. Fan out the top of the foil to give room to grow. #12 As you look at the new bonsai. What will be the future? The bonsai is in your hands. With help from your coach he will lead you to the road of success. See my bonsai turn in to Penjing! - - - Keith
SOME COMMENTS AND INTRODUCTION TO KEITH'S FIRST PIWP BY DAVID. Keith is not much of a talker and he writes less. So I asked him to double the amount of captions and I've included the expanded version above. But he gets the idea and so it was time to graduate him to older plant material and he had his choice of the experimental PREMIUM INTRODUCTORY WORKSHOP PLANT AND PACKAGE for his next project that was at Fuku-Bonsai. This time he took it from the top while I photographed and later added the captions.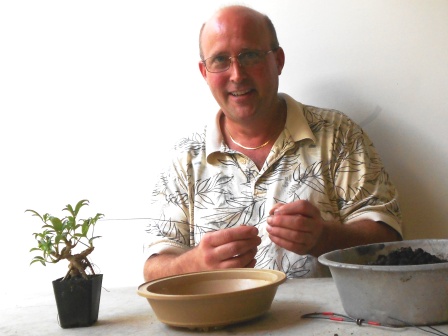 This was one of the final pre-introduction trials of the PREMIUM INTRODUCTORY WORKSHOP PACKAGE that is an upgrade of the Introductory Workshop Package (IWP) that has proven so successful and economical. IWP uses a younger less developed tree in a 5"x3"x2" pot and is a good economical way to start into bonsai. But for those who are committed and want to grow medium size bonsai, the new Premium Introductory Workshop Package is ideal. The pretrained prepared stock is in the same 2" nursery pot but older, with more character, and ready to grow more vigorously.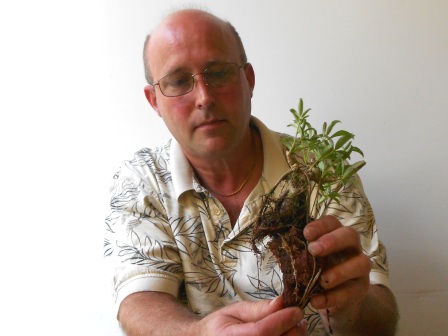 For his second IWP workshop, Keith did a roots. So it was just a small step to do an older tree with more character on a nice but small thin rock. Bare root and find the position where it will look good.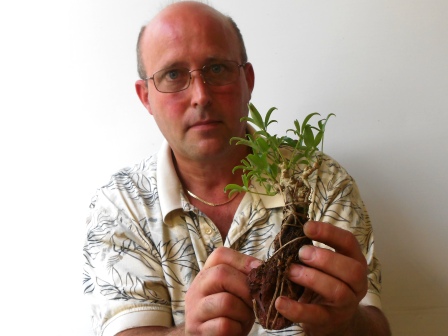 Use paper covered thin bindwire to hold the roots in the crevasses and in contact with the rock.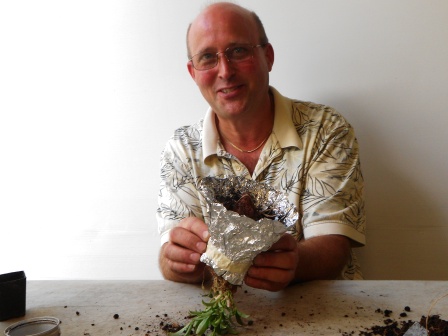 Prepare the larger round pot in the standard way. Like his earlier roots, use aluminum foil but a more generous length and set up the accordion folds. But this time set the top first and use masking tape to hold it in place. Think of it like a skirt and flare it out narrowly or widely if you want to create a larger heavier root system. Fill with an equal part mix of body media and coarse bottom so there will be good drainage. Place a plastic on top, turn over, place into position on the pot. Slide out the plastic.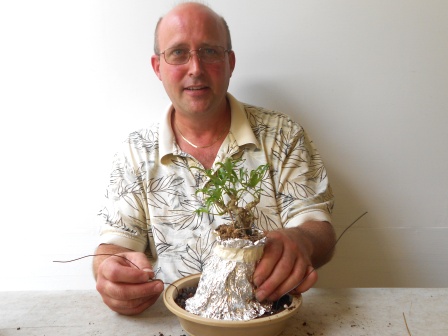 The round pot has three drain holes so two of the x-wires come out of one hole and 1 each out of the other two holes. Tie first one set, then the other, then the two together and cinch it up tight. Then test by lifting up the trunk of the tree. Does it shake? Did all fall apart? Did you do it properly?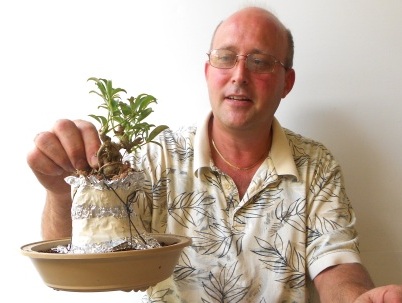 Keith had no problems and passed the test.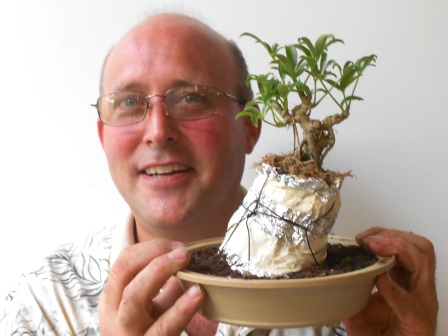 Keith's end result starts him off almost at the intermediate stage and the Premium Introductory Workshop Package is a really good value for those who want to try to grow their first bonsai. Although cost is double the IWP, I think it's a better value! I'll ask Keith to share the side-by-side results of his first two IWP and this PIWP one year from now.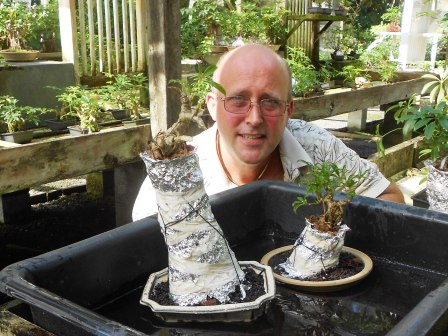 In a relatively short time, Keith can handle the basics. He brought his tree from last year, a nice ceramic pot, and created larger high ROOTS that will one day go onto a thin tall rock when the roots are extended and strong. And he did it with me just watching without comment and he's graduating into the Fast-Track Study Group! Stay tuned for a report on his next project!
© Mid-Pacific Bonsai Foundation and Fuku-Bonsai, 2014