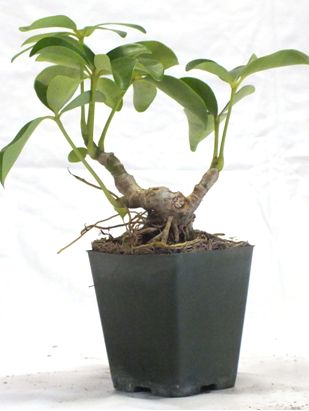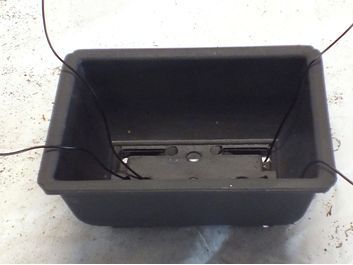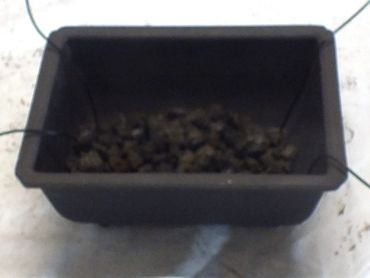 I decided to go SUMO with this one. First, the wires went in. Next comes the coarse media.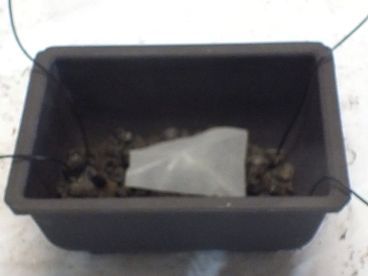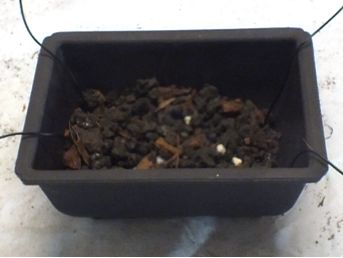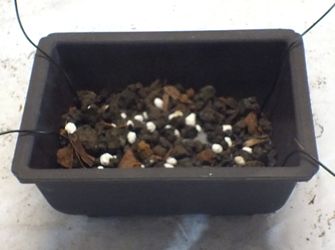 And then the plastic tent. Then some of the medium media --- and some fertilizer.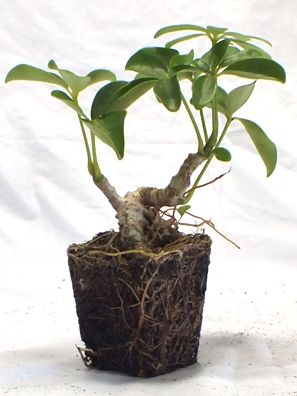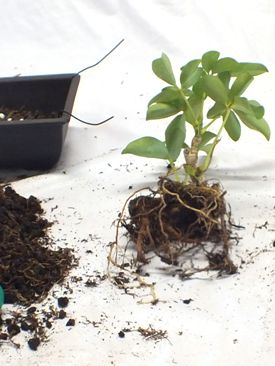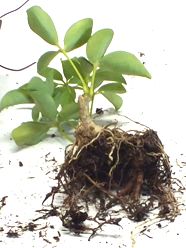 Next came getting the plant out of the nursery pot. Then I tied the roots around the small rock.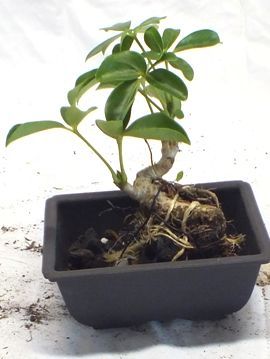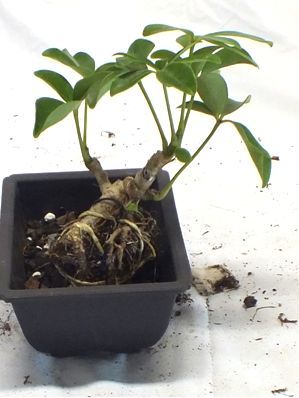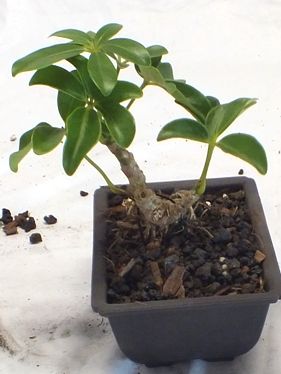 I put the plant in the pot and tied it down with the wires. Added more media.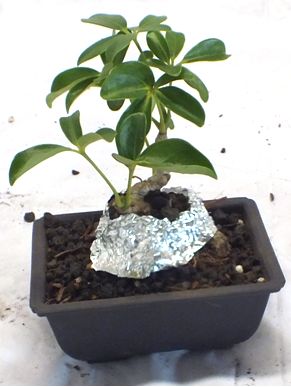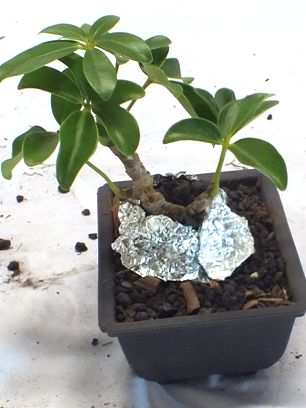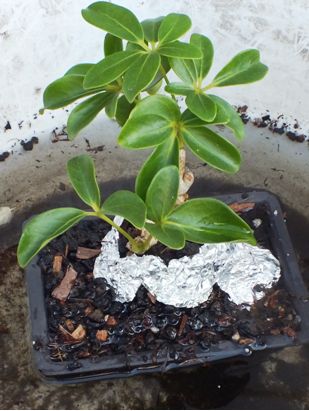 Next came the collar. Then a good soaking (including the media in the collar).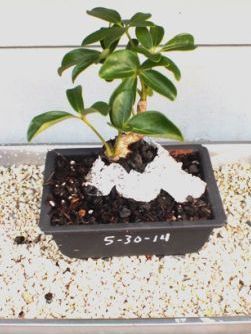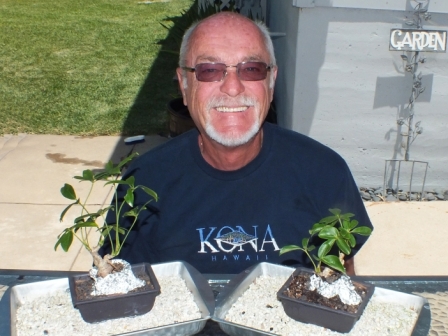 The plant at home in its humidity tray. My first two IWP's --- the one done at Fuku-Bonsai and the second one as described in the photos and captions above!
SOME FINAL WORDS FROM DAVID
As you can see Thomas is a very capable person to a point he can successfully grow plants in non-standard potting media in containers without holes for many years. He seems to understand that there is a better way but I'm not sure why it took him so long to come to that conclusion. Maybe he knows something we don't know! We'll find out in the coming articles. From observing his first done at the center and the second above, I can see he'll do well.
I know Thomas enjoys photography and tends to send more photos than others. I think he needs to include more information in the captions so we will know that he really does know. From the first two that he purchased over 10 years ago, he's rooted a number of cuttings and planted them in rocks. But he planted untrained rooted cuttings into the rock and now he has plants that are growing but have little interest because they don't have character in the lowest 1" of the trunk.
When Thomas was here, I explained that there are two basic ways to do Sumo and because he selected nice trees, both ended up growing over the rock. For his third tree, he should do a Roots, but with a flattened rock separating the roots vertically, tied to train the roots downwards, to be in a accordion-style pleated foil collar 3" to 5" high. This will extend the roots, but create a separation so in the future, he would have a plant that is ideal to plant root-over-rock. This is a better route compared to him planting in a hole in the rock.
But for his fourth IWP, I am recommending that he do a "rock planting in a hole in a rock" --- but with two differences: 1. Use the IWP plant that already has character so your result should be superior to planting an untrained rooted cutting into the rock. And, 2) Don't make a round deep hole in the rock. Instead create 2 to 4 "root trail crevasses" so while some roots will be in the rock, other roots will quickly jump out of the rock into the media in the pot and you'll enjoy stronger and more attractive growth!
By the time Thomas completes his first four IWP's, I think he'll have a stronger grasp of the basics and will be able to grow plants that produces strong vigorous growth that adds character each year. Then the challenge will be to work on his "rooted cuttings planted into rocks" to give them much more character and interest. He has six or more of these and he can choose to obtain bulk potting media if he has suitable pots or these would do well in #8 Conversion Kits.
The final challenge is to restyle his two original lava rock plantings that he's had for over 10 years for which I am recommending the larger #17 Conversion Kits. But I suspect that Thomas will graduate and become a member of the Fast-Track Study Group. I think he's up to the challenge of doing the more difficult Root-Over-Rock with Premium Prepared Bonsai Stock to produce higher potential bonsai. I think you'll be seeing and reading more about Thomas in the future. Welcome aboard! ~~~David
© Mid-Pacific Bonsai Foundation and Fuku-Bonsai, 2014