EDITOR'S INTRODUCTION. Thomas Matkey has been a customer for over 20 years purchasing our plants at Fuku-Bonsai Hawaii Authorized Retailers. He's grown them in a non-traditional way that normally would kill the plants by rotting the roots and over-watering. But the plants grew well and he's even created a few himself! I think he has a good plant sense and I just got to meet him recently. He responds quickly, is a good writer and photographer, and due to his success, I asked him to do a more difficult root-over-rock for his IWP #4 and his report is posted at www.fukubonsai.com/1a68b.html The above photos show (from left): #1 Sumo, #2 Sumo II, #3 Roots, and #4 Root-over-rock. I asked him to summarize and evaluate the Beginner Study Group concept and his report follows.

BEGINNER IWP SUMMARY & EVALUATION

By Thomas Matkey (Glendora, California) Journal contributing writer
Aloha everyone. Iíve completed IWPs 1 through 4 and thought that Iíd pass on some of my thoughts and observations on the process of learning how to grow bonsai correctly. I had originally purchased one plant at Danís Greenhouse in Maui over 20 years ago. A few years later, I purchased another at the Royal Kona Coffee shop on the Big Island. They have been growing and I have had to get bigger pots over the years.
When we bought the plants, the folks at Danís had them in monkeypod bowls that were filled with black lava cinders. Very similar to Davidís mixture, but no organic matter or fertilizer, just plain black lava cinders. They told us to put the cinders in the pot and the rock/plant on the cinders. Once a week we were to take the rock/plant and soak it in water for 30 minutes. That worked for a while, but after some time passed, every time we picked up the rock, the roots brought some of cinders with it. It got too messy to clean up every week, so we started just adding water to the bowl as needed.
We needed bigger bowls after a while and switched to coral gravel as the base media. Coral gravel has similar characteristics to Davidís volcanic cinders. It is light, absorbs water, and has ample air spaces between the pieces. It was also something I had on hand and didnít have to go buy. Itís the same stuff thatís used in the bottoms of aquariums. I used to have a large salt water aquarium and somehow a bag of gravel didnít go with the aquarium when I sold it.
The last potting was something completely different. Since the pots were getting quite heavy, I decided that I needed some sort of filler material so I wouldnít have to use so much coral gravel. Again, it was something I had on hand Ė florist foam. I used the wet kind, not the dry kind. It absorbs water like a sponge and releases it as needed. I put it in the bowl, covered it with coral gravel and put the plants on top. I believe the use of floral foam may have actually helped with the plants growth. I didnít plan it, it just happened. The plants no longer sat in a pool of water all the time. David was very surprised that I was able to grow the plants with that florist foam in the pots. The look on his face while we discussing what I had done was quite interesting. It took him a while to realize that somehow, I had made it work. Finally, they got too tall for the space I had them, and we needed to do something!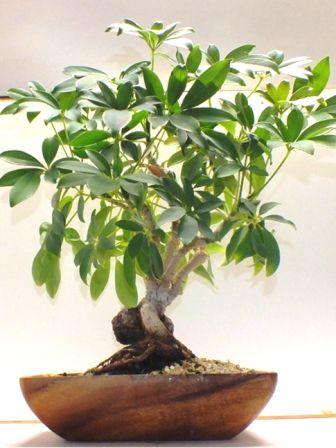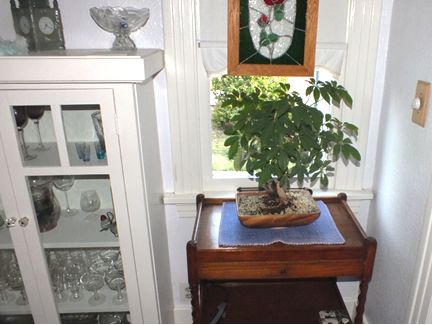 The First plant from Danís Greenhouse Ė the plant is about 16 inches tall and as wide. The plant as it sits at home in a south facing window that gets a lot of light but no direct sun.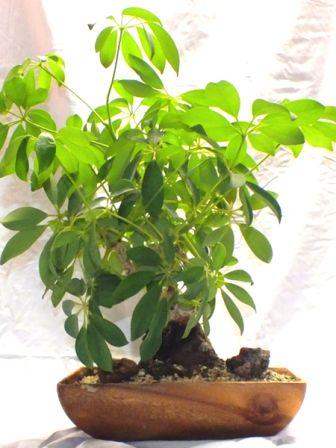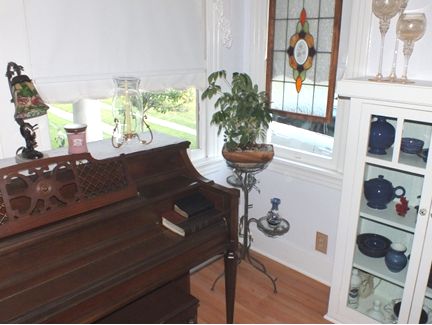 Plant #2 from the Royal Kona Coffee Visitors Center Ė plant is also about 16 inches tall and almost as wide. You can see the pieces of the original rock sitting on the gravel. The roots split the rock into 3 pieces, one of which is still attached to the trunk. Plant #2 at home in south and east facing windows.
I had also planted a few cuttings in rocks. I drilled a hole in the rock, stuffed the hole with sphagnum moss, stuck the cutting in the hole and buried the whole thing in dirt. And I used just plain old garden soil. Many of them rooted and sent roots down over the rock. But still no character or flair!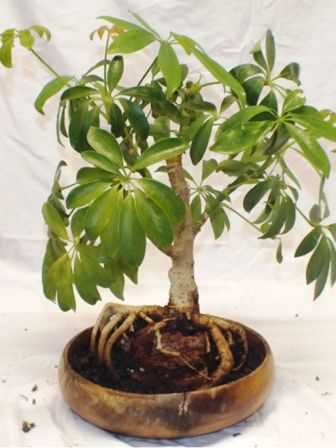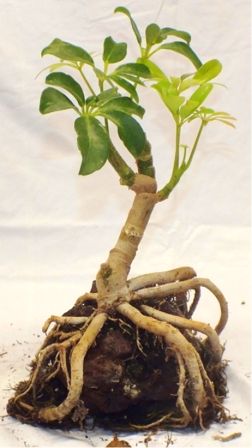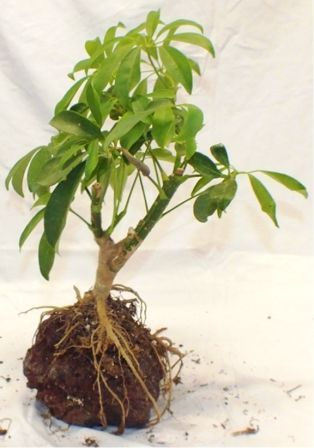 Three of the plants Iíve started myself. The oldest, second (that has some good roots) and the youngest less successful experiment. I took it out of the pot sooner than the earlier pictures.
This year I finally decided to visit the Fuku-Bonsai Cultural Center. I needed some inspiration as to what I was going to do with the bonsai I had purchased at Danís Greenhouse in Maui over 20 years ago and my individual attempts. They were growing, but they had no flair or character. I wanted something better and I figured David was the man to see!
What a revelation! We were met by Myrtle and talked with her for a while as we wandered the property and were amazed at what they were doing there. Myrtle went and got David and we sat down for a chat. I described my situation to David and he was completely dumfounded by my story. He had no idea how I was able to have the results I had using my techniques. He explained how he does things and it made complete sense to me. I signed up for the the Beginner Study Group and the 4 IWP's on the spot. David and I did the first IWP that afternoon. Actually, he did it while I paid very close attention to his technique. He also went into the ROOTS style somewhat so I had a head start on that style too.
I was now completely hooked! I got home and did the other three projects within the month. Iím now planning on redoing the two plants I bought so many years ago and will also revamp the other cuttings I have going. Davidís instructions and the workshop pamphlet instructions made it quite easy to get started. The packages are complete with all the materials you would need which is a major plus.
The second IWP was a repeat of the first, a SUMO. Having watched David, I knew how easy it was to put together the pieces. Doing it myself was fun and easy. The part where you unpot and disentangle the roots was the most difficult part, but knowing that you donít handle that process with kid gloves really made it less nerve-wracking. Those roots are quite flexible and tough.
IWP #3 was a bit trickier, but again, having seen and participated in a demonstration was a great help. The only problem I had was that the aluminum foil collar kept separating as I filled the collar. I now know to wrap the foil with some masking tape or painters tape to help keep the foil together.
IWP #4 was a complete change from the previous IWPs. As it turns out, I only had a partial understanding of the task. David set me on the right track after a couple of emails and after that it was not too difficult. The toughest part was creating the root trails in the rock. I was too timid at the start and made small trails. Again, David set me straight and I enlarged them to a decent size. David told me to fill the root trails and the hole in the middle before positioning the plant and I believe thatís not the best way to proceed. I kept knocking the sphagnum moss and body media out of the trails while positioning the plant. I found that filling in the hole first and positioning the plant on top of the hole and tying with string to hold it in place was best. You can then bend the roots out of the way and fill the root trails with sphagnum, media, more sphagnum, then the roots and top with more sphagnum, media and sphagnum before tying down.
I had planned on keeping the plants outdoors and had even built a set of shelves over my garden bench to store them. Unfortunately, when I put IWP #3 out there, it was too hot and too sunny. The plant got a bad case of the wilts and I was concerned for its health. I guess the transition from Kurtistown to Glendora was too much for it. It wasnít used to so much sun and so little humidity. I took the pot and soaked the whole thing for a half hour. I had the water deep enough to submerge the whole collar up to the top. I then brought it into the house and put it in a sunny, south facing window. Itís now fine and sending out new leaves. All of the other three are also sending out new leaves including one from the side of a branch instead of at the ends where they normally appear.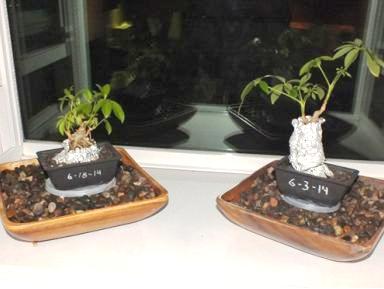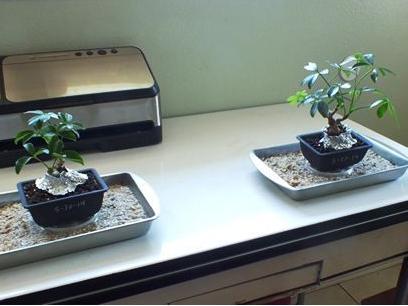 (Left) Kitchen garden window plants Ė south window with no direct sunlight, but plenty of light. Big wood bowls are filled with gravel and water for humidity. (Right) Laundry room plants Ė south facing window with plenty of light and no direct sunlight. That Enamel top table was my grandmotherís. I ate most of my childhood meals off of that table.
I have two places in the house that I have the new plants. They are all by south facing windows. Thereís a garden window in my kitchen that holds two of them and the other two are on a table in the laundry room. Iíll be rotating them from one space to the other to keep growth even. Iíll also be rotating the plants themselves to get even growth.
Overall, the kits provide everything you need to get a good start on this fascinating hobby. The instructions are very clear (I used to write these types of instructions as part of my job, so I know how hard it is to write those things) but you need to read and fully understand them before you begin. I think I read them at least five times, just to be sure. Davidís responses to my many questions were outstanding. He explains things well, sometimes over explaining. Iíd much rather he did it that way though. More and repeated explanations are sometimes the key to learning.
I now plan to revamp all my old plants using Fuku-Bonsai principles. Iíve ordered a couple of #17 Conversion Kits and a US Postal flat rate 3-gallon box of media from David. Weíll see how things go. Iíll probably do a couple of the self-started plants first, just to get more comfortable working with the plants and media. After that, Iíll be doing the two purchased plants. Iím anxious to see what kind of root structure is under there. Iím betting that that florist foam will be full of roots. The big question may be how I can get that foam out without destroying too many roots.
- - - Thomas Matkey