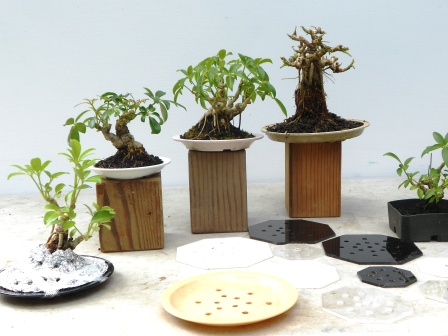 The photo above shows a small portion of our 1:10 Project plants in trials and the various containers being used in those trials. The largest container with a Roots tree is a 7" diameter saucer that is used as part of our Dwarf Schefflera Desk size Hawaiian Lava Planting "saucer and gravel." To it' left is a Sumo in a 5.5" diameter x3/4" deep dish and to its left is a heavy trunked Sumo in a 4.5"x1/2" deep dish. On the lower level, in a black 5" diameter x 1/4" dish is a recently potted Premium Prepared Bonsai Stock and in front is a ivory dish of the same size showing the pattern of the multiple drain holes. In the center foreground are our new "Octogon Plexiglass baseplates" that are being used to create trees with flat bottom root systems that can be moved around like chess pieces to create a range of trial positioning. These are being made 2.5" across, 3.5" across, and 5" across. While most are in clear Plexi, those with black Plexi are easier to see in the photo. Once mounted on the Octogon Plexiglass baseplates, they are potted in cut-down 4" pots to be easily removed, root pruned, and utilized in future landscape positioning learning trials.
SUMMARY & MAJOR UPDATING OF THE 1:10 PROJECT
In traditional outdoor temperate climate bonsai, the primary guideline is that the depth of the pot is equal to the diameter of the trunk. We knew we would be creating 10" to 12" tall trees with trunks at least 2" across, so in the early 1970's we designed the Fuku-Bonsai 8" round and the 17"x12" oval pots to be 2" deep. At that time, 2" deep was a lot shallower than the deeper, heavier ceramic bonsai pots that were used by most bonsai venders. While the trees would likely do okay when grown by inexperienced growers, such heavy pots took away all attention when planted with skinny, scrawny young beginner trees.
In contrast, Fuku-Bonsai's trees were visibly superior and we've steadily built a reputation for producing the highest quality trees available nationally. The original pots have worked well and while we cannot currently afford to modify or replace the expensive molds, we are designing future shallower pots and drilling multiple drain holes into the shallow saucers for our 1:10 Project plants. In 2010, we began the 1:10 Project which uses shallow saucers that are ten times as wide as they are deep.
WE'VE NEVER EVER LOST ANY 1:10 PROJECT TREE! After four years of observation, we are making conclusions and summaries and this will influence our future directions. We thank members of our study groups and those who took experimental workshops at the Fuku-Bonsai Cultural Center in the past who have provided feedback to allow me to understand and to make the following conclusions and summaries. Please contact me at david.f@fukubonsai.com if you are interested in becoming an active participant in these trials as we establish higher standards for the Tropical & True Indoor Bonsai community that we are creating. I pledge to continue to share the latest information in the Journal of Tropical & True Indoor Bonsai and to make available to study group members advanced plant materials not available to the general public.