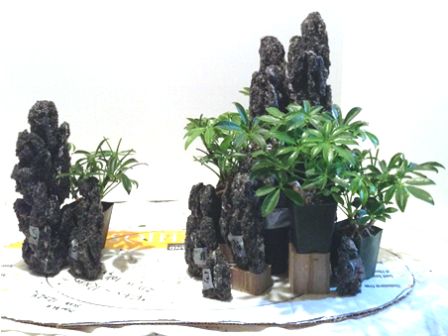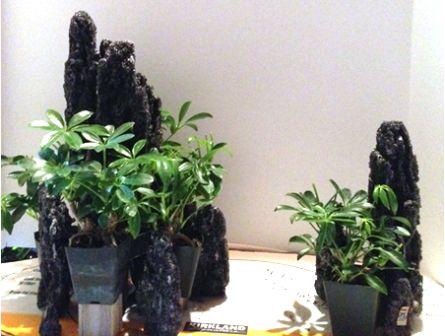 AN INTRODUCTION & INVITATION
TO JOIN JAY IN HIS SAIKEI ADVENTURES
By John "Jay" Boryczko, Journal Contributing Editor (Farmington Hills, Michigan)
This month I had planned to display my completed 360° complex landscape project. Somewhere after the submission of my last article, the second week in April, and during the many e-mail exchanges, David and I veered off course while we were going back and forth about the final rock and plant placement. Pictured above are just two of the many photographs I had sent to David hoping I finally got it? The one on the left is the front view and the right is the back. I used wood blocks to demonstrate the final rock and plant heights.
David replied that my arrangement has improved greatly over my previous submissions, but I still had a lot more work to do. He then suggested my rocks should be mobile to be able to move around like "chess pieces!" At some point, David knew if he left that door open, that I would walk through it, without realizing it. The rest of this article will chronicle the journey that we, (you and I), will be taking to learn and create "Saikei."
How is "Saikei" different from bonsai and penjing? Saikei translates as "planted landscape" Saikei is different from penjing and bonsai because it usually uses more than one tree in compositions and sometimes uses trees of different species and other accent plants. Bonsai and penjing would use only one species of tree and moss would be the only accent plant. Another trait is that the plant material is generally younger and less developed than those used in bonsai and penjing.
As Japan was recovering from World War II, many did not have the resources to purchase mature plant material for bonsai. However, there was interest, especially by the staffs of the international diplomatic corps who wanted to experience a facet of Japanese culture. With few resources and eager to create works of living art, Toshio Kawamoto invented Saikei. Prior to Kawamoto's version, the Japanese practiced "bon-kei" and other forms of "tray landscapes" with small, sometimes artificial plants.
The Saikei classes taught by Toshio Kawamoto and Tom Yamamoto in Tokyo utilized "assembly" techniques. Once we got past basic bonsai training in the first year, David has also been taking all of us through "assembly" is the next logical step in bonsai --- beginning with rock plantings and progressively more difficult and toward complex landscapes. Toshio and Tom taught classes and after a critique and pictures would disassemble the students completed compositions, and put the components back in boxes ready for the next student to use. This method of teaching and learning has many advantages. You reuse the basic components, pots, plants, rocks, moss, and soil repeatedly, which significantly reduces the cost of creating each arrangement. This method also allows you to practice as often as you like. "Practice makes perfect!"
Therefore I changed my rocks so they could be "moved around like chess pieces". The rocks that had already been extended in my previous articles now needed the extensions widened and detailed to match. I used the same formula as last month's hypertufa, minus the perlite. I did not want white speckles of perlite to draw your attention away from the composition and to the fabricated extensions. My other rocks will need a cement base just large enough to keep them from toppling over.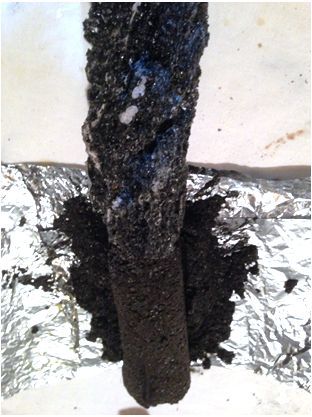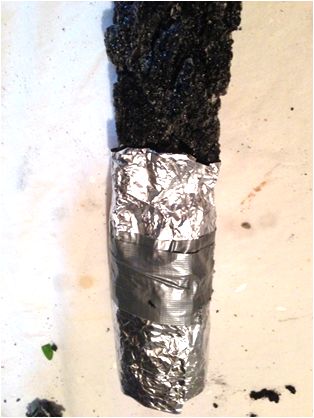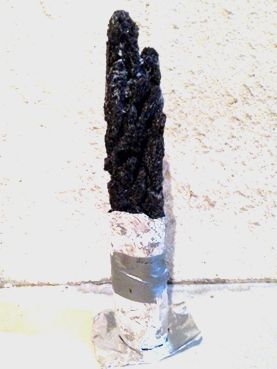 The three pictures above show what I did to widen the bases of my extended rocks. In the first photo, I sprayed the aluminum foil with cooking spray to allow the foil to release from the cement. The second photo, I wrapped it like a sausage and used duct tape to hold the foil together. Once the bottom is filled with cement, I stood the rock up, pressed down slightly at the desired angle, and left it there to dry. After three days, I removed the foil from around my rocks and started carving with my Dremel. I rinsed off the carving dust, let the rocks dry another day, and coated them with a glossy brick paver sealer. Now to the preparation of the plants for our version of Toshio's and Tom's Saikei classes.
A NOTE BY DAVID. Members of the Fast-Track Study Group clue me in on their next project and we discuss the best trees that Fuku-Bonsai can send them. Jay has some inventory of prepared bonsai stock in 2" nursery pots that he has up-potted for further development. He also ordered some of the new Premium Prepared Bonsai Stock (PPBS) in 2" nursery pots that are older and more developed that are only available to members of the Fast-Track Study Group.
To give him a slightly larger plant, I sent him a plant from our 1:10 Project that was potted into a shallow 7" saucer about 3/4" deep that was about 7" tall overall. It's in the 7-8 year range. He was also sent a range of mosses to determine which would grow indoors and out in his area. Fast-Trackers are quoted special prices and receive a lot of personalized training in support. Jay assumes the role of a teacher in writing his reports, and in doing so, really learns the most!
I am familiar with Toshio Kawamoto, his Saikei school, and his primary assistant Tom Yamamoto. Tom is from Hawaii and was part of the US Army post-war occupational forces who retired in Japan and married a Japanese national. He joined Kawamoto to teach the staffs of the various consulates in English. Toshio and Tom made major presentations in Hawaii and Tom demonstrated at the Kona Fuku-Bonsai Center in 1991 and spent several days with us. In Tokyo, their primary pre-trained miniature trees were Dwarf Cryptomerias that had their roots "ball-and-burlapped" and stored in sand boxes between classes.
In developing a similar teaching concept, we are training very shallow, flat, compact root systems that will stay intact and be raised or lowered with potting soil or wood blocks. Trees from the 1:10 Project already have flat bottoms and the one sent to Jay had been in the shallow saucer 1-2 years and still had the aluminum foil apron on. I wanted to give Jay a better idea of the results possible with latest techniques. To pretrain the root systems, we're experimenting with plexiglass with holes for drainage and to aid in securing the plants. Initially we are working with 2.5", 3.5", and 5" octagons to give us a range of finished plants that can be used in these learning trials.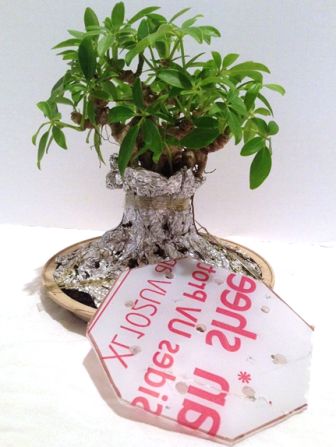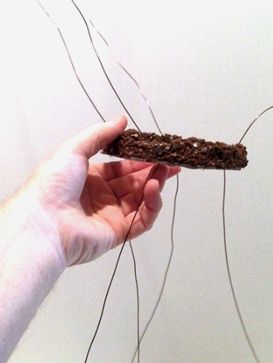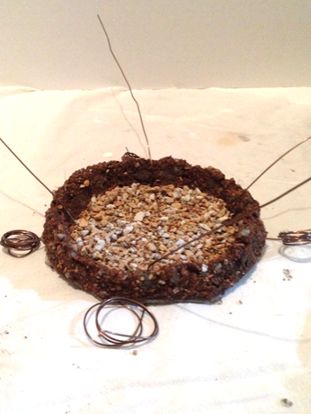 The first photo shows the 7" tall 1:10 Project Roots as received with a 5" plexiglass octagon with several holes drilled through it. These holes will allow for drainage, anchor points for the tree and extensions if necessary. The next picture shows the cornstarch keto-tsuchi wall and the four wires going up to secure the plant to the plexiglass and four going down that will be used to tie the plexiglass to an extension if one is used. The keto-tsuchi wall allows the base plate to retain the roots, soil and moisture so the plant stays healthy while you mix and match your rocks and plants. This also allows us to remove the plant from a completed composition for use in another without harming it. The third photo shows some of my bonsai soil as a planting base along with a few nutrient granules. I coiled the extension wire tie downs so they would be more manageable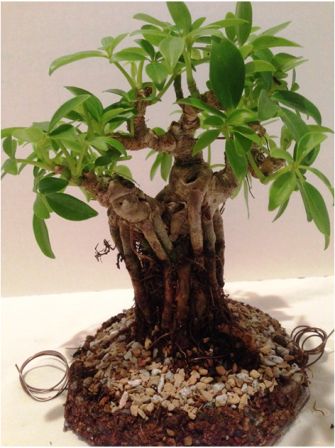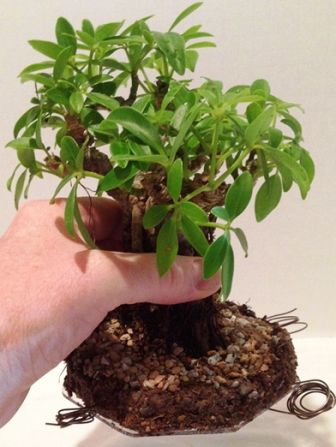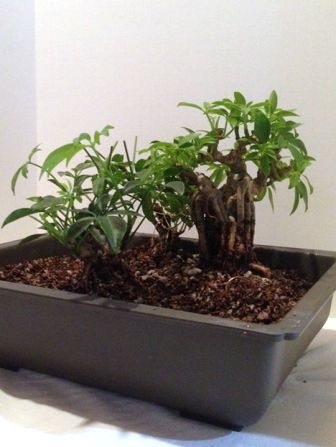 The 7-inch roots bonsai on a 5-inch Plexiglas hexagon disk. I was shocked that I only needed to remove just a few of the roots to get this tree inside the walls. I also added a few nutrient granules to the top dressing. Now I will repeat the whole process for the small plants in the 2" nursery pots that are going on a 2 ½-inch plexiglass octagon. When I sent David the above photos his reply was, "Opps, I should have told you what needs to be done to a roots bonsai when you remove it from the "foil wrapping." I will carry out the task of taking a toothbrush to clean the stains, remove the fine root hairs, and spread out the vertical roots to give the tree more visual stability. Once I completed my transplanting to the plexiglass disks, I filled the plastic training pot half full with coarse soil for drainage and the rest with my regular bonsai soil with a few handfuls of coco-peat. I will use this pot to store and transport my "mix and match" True Indoor Bonsai between saikei compositions. There is room in the pot for two more plants. Those two are currently in 4" nursery containers waiting for me to take them outside this summer to grow larger. Therefore, these two plants will fall in between the 7-inch roots and the smallest trees to provide more plant variety for our classes to come.
FIRST EXPERIMENTS!
Now that our plant and rock components are "movable like chess pieces," it is time to experiment. I put together a tall three-rock grouping for us to look over and experiment with just the 7-inch roots. These experiments will give us a lot of practice and I invite readers to participate by sending me your thoughts and sketches to my email Bonsaijay@outlook.com I would like your opinion and why you like one of the photos over the other. In the months to come, we will work on design and layout concepts for Saikei and we will share the exploration together. We will be creating some compositions that might not fall into traditional Saikei compositions, but the components will all be recycled.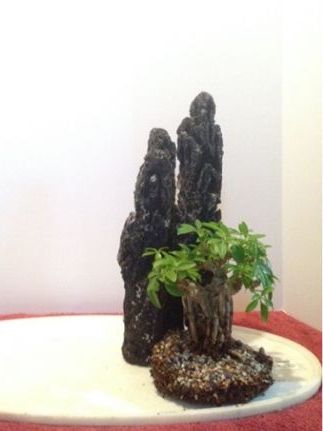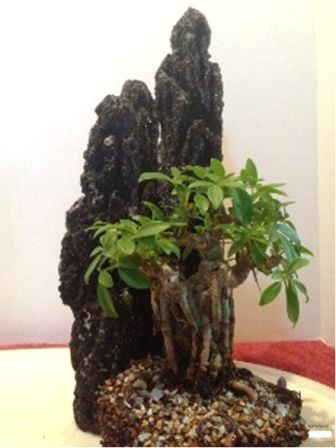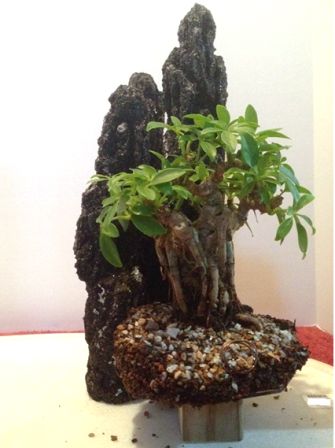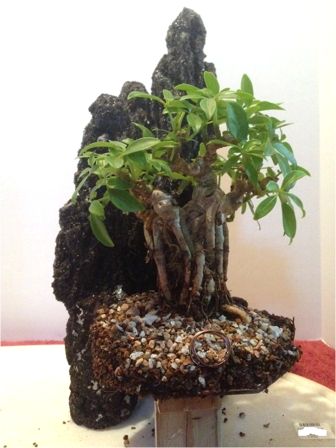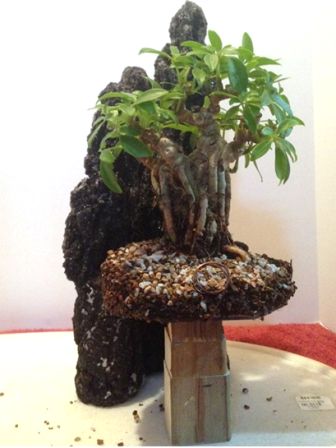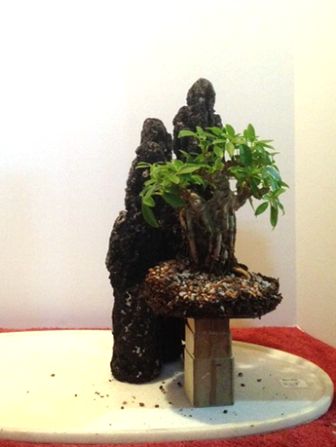 The first of the above photos show the "7 inch Roots" with the three rocks in my oval marble display slab with no vertical extensions. The second photo shows a closer view but with a 1" extension, then a 2" extension. I use blocks of wood for the extensions because I can mix and match for many height combinations. In addition, wood scraps are easy to come by and not permanent.
The fourth photo (in the second row) has a 3-inch extension. As you can see it is starting to look interesting. I might be leaning towards the 2-inch extension myself but I want interested readers to tell me what appeals to you and why?
The last two photos have a 4-inch extension with two different views. David calls all photos with just one or two tall rocks "Witch Mountain" scenes. Trees can be smaller or larger and planted higher or lower for different effects. More trees (and more rocks) can be added. The trees can be planted between rocks or with other rocks hiding the extensions. With such a large number of variables, it would be possible to create many different scenes!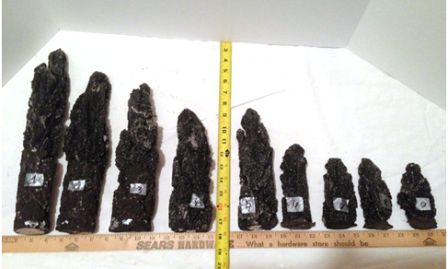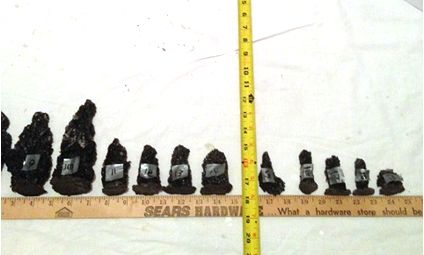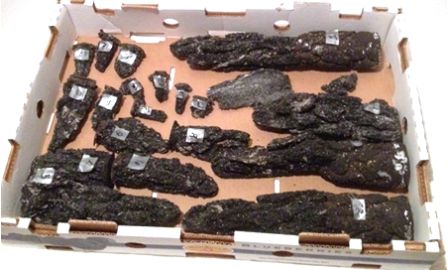 The photos show the rocks we have to work with for our teaching and learning segments. They are numbered 1-19. I used rocks 1-3 for the first part of our visual experimenting with mobile components. All of the rocks including the plant material are now mobile components to be moved and reused in various compositions. We will get to the layout and assembling these various components in upcoming journal articles. The third photo shows my rocks in storage waiting as we come up with our trial composition.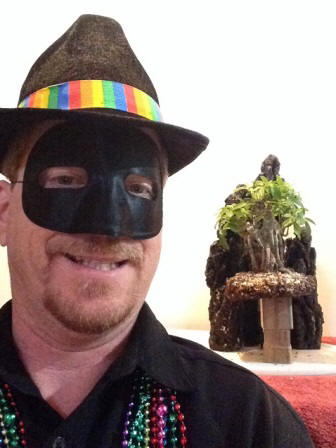 CONCLUSION
I was looking forward to presenting my 360° complex landscape project this month. However, as luck would have it, I put my foot in my mouth. David had an idea, and I ran with it.
I have never attempted something like this before, but I am game, are you?
We will take this journey together and broaden our horizons together. Over the course of next month, I will redo my plexi plantings as David suggested. It gives me another chance to make and work with keto-tsuchi.
I also have some wild junipers growing in a pot and a few more in my landscape outside. I plan to replant these on plexi disks as I did in this article. Also, refine some of my hard Michigan rocks to get an outdoor saikei project box started as well. I hope to hear from those interested in exploring and learning with David and me, the many facets of saikei.
Please email me at Bonsaijay@outlook.com
- - - Jay
SOME FINAL WORDS BY DAVID
When we began the Journal of Tropical and True Indoor Bonsai in January 2013, I got a commitment of support by Jerry Meislik and enthusiastic interest from Ryan Chang. Jay first contacted me in August of 2013 and although he has been participating for a relatively short time, he has a lot of dormant years of bonsai experience. Living in Michigan, he was a bit bored that there was little bonsai activity during the winter and he didn't think rock plantings were suitable there. Now he's taking on the toughest challenges!
Ryan Chang had a large head start on creating taller rocks and Jay fell behind as he worked with difficult materials that is showing a lot of promise. But as each of his rocks improved, it seemed a shame that so much work would end when he planted it. I recalled how Saikei was taught in Japan and recognized that if I could get Jay to agree to "teach" all Journal readers, and if Journal readers participate by providing designs for Jay to choose from and recreate, that Jay would be the biggest winner because he'll learn more! It has the potential to be a real win-win situation for everyone who participates! So contact Jay directly with your ideas and sketches for him to recreate with his rocks and plants!
So why's Jay wearing a mask and is in costume? The real reason was that Jay was rushing to head for a Mardi Gras fund-raiser and proposed the original title as: "The Unknown Saikei Student." I liked the photo but changed the title. So I asked Jay to help me to explain it. He wrote: "How about this for those that do not want to let their bonsai friends know they also do True Indoor Bonsai or are afraid to ask questions. They should not worry because we have a Bonsai Identity Protection Program, like the witness protection program."
Send Jay your sketches and ideas for him to try to create --- and if you don't want your name to appear in the Journal, tell that to Jay and he'll keep your identity secret!
In Japan, a "bonsai master" is a person who can consistently create high standard multiple tree / multiple rock plantings or multiple tree forest arrangements. With this first set of components, we're all entering the complex end of bonsai and I look forward to Jay's and Journal participants' Saikei Adventurers!
Please contact me if you want to get involved in our Beginner Study Group! Those who have the discipline and who "graduate" will be invited to join the Fast-Track Study Group for custom projects, supply, and assistance. You are cordially invited to join the active part of the Tropical and True Indoor Bonsai community that we are developing! ~~~David (david.f@fukubonsai.com)
© Mid-Pacific Bonsai Foundation and Fuku-Bonsai, 2014