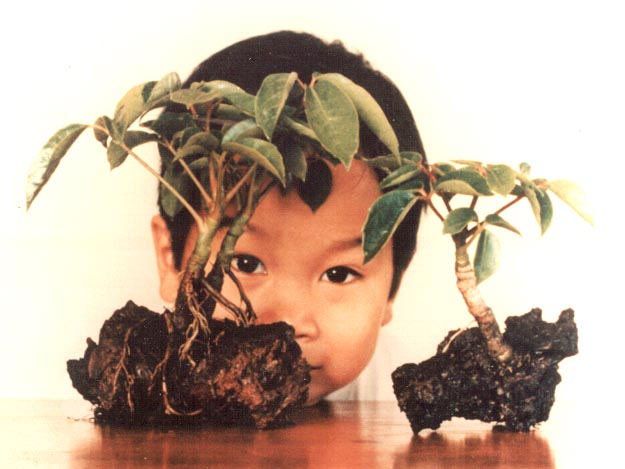 Fuku-Bonsai's first Hawaiian Lava Plantings were meant to be "fun bonsai" to give as gifts while our Tropical Outdoor Bonsai was maturing for sale.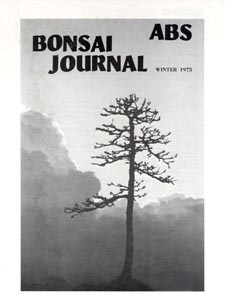 A sequel article "Successful Island Hopping" included the the photo of the dead trunk of one of the few trees that did not survive silhouetted against a sunset which was used as a cover of the Winter 1975 issue.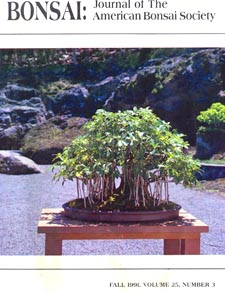 When the Kona Fuku-Bonsai Center had a soft opening in 1991, it was introduced in an ABS Journal article and included the cover.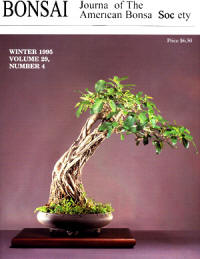 The Winter 1995 issue of the American Bonsai Society Journal cover features the 19" tall exposed root Natal Banyan (Ficus natalensis) requested by and donated to the National Bonsai and Penjing Museum in Washington DC by Fuku-Bonsai Inc. It was trained from a cutting rooted in 1976 and is one of the youngest trees in the national collection.
ALOHA! David Fukumoto and Fuku-Bonsai have an association with the American Bonsai Society since the late 1960's. Then, there were few bonsai clubs throughout the country. ABS was an organization of individual members banding together to advance the art and culture of bonsai and much of the leadership for ABS came from the northeastern part of the United States from the New York, Pennsylvania, and Massachusetts areas. There were only a few members from Hawaii.

In 1973 the Fukumoto family moved from Honolulu (on the island of Oahu) to the Big Island of Hawaii to start Fuku-Bonsai as the first Hawaii certified export nursery. An article "Island Hopping" published in the American Bonsai Society's Journal told of having to bare root and fumigate the bonsai collection to meet inter-island plant quarantine requirements. The article was featured at the American Bonsai Society's booth at the joint Pasadena convention co-sponsored by the California Bonsai Society, American Bonsai Society, and Bonsai Clubs International. This was my first opportunity to meet then ABS president Dorothy Young (who was my contact and who later became the editor of ABS Journal), John Naka, Ed Potter, Bill Valvanis, Chase Rosade, and many of the early national bonsai pioneers.

In those early days we considered our original Hawaiian Schefflera (Brassaia actinophylla) Lava Plantings to be easy-care "fun bonsai" and our mission was to create the finest nursery source of tropical outdoor bonsai that could be grown throughout the United States outdoors whenever night temperatures were above 50°F and brought indoors and protected during the colder seasons. These plants grow outdoors year around in Hawaii. We learned how to shade acclimate, pack and ship through the U.S. postal system via Air Priority Mail. But our initial trials of tropical bonsai had very mixed results and even some of the more experienced bonsai hobbyists struggled with some of them. The Schefflera and Ficus were the most successful. We were assisted especially by Constance Derderian of Massachusetts and Ernesta Ballard of Pennsylvania who were the early pioneers of tropical bonsai in their areas.

We became a research affiliate of the Harold Lyon Arboreteum of the University of Hawaii at Manoa as the arboreteum has a huge collection of Ficus or Fig trees that includes most of the famous banyans. They assisted in obtaining species and varieties for trials and I corresponded with Ira J. Condit whose book Ficus; The Exotic Species is the authoritive text on this family of plants. By 1979 I had over 200 ficus specie and clones under trials and began publishing a series of ABS Journal articles titled: "FICUS; An Inspiration for Bonsai for Indoors!"

The family has a vast range of shapes and sizes from towering rainforest banyans to tiny vines with leaves smaller than a finger nail! Although ficus was amongst the most successful tropical bonsai if grown in bright light, it was much too difficult for most "non-bonsai" people. It was not suitable for gifts because ficus requires much more light than available in most indoors. That series of articles were written over 30 years ago and is largely responsible for ficus bonsai being the most popular tropical bonsai grown in the United States by members of the bonsai community who generally grow outdoors.

Hawaii burst upon the international bonsai scene at the 1980 International Bonsai Congress co-sponsored by Bonsai Clubs International, Hawaii Bonsai Association and the American Bonsai Society and including the first international participation by the Nippon (Japan) Bonsai Association. As one of the more prolific Hawaii writers I produced a steady stream of articles which resulted in large participation and at the later 1990 convention. We participated in national bonsai activities, several conventions and bonsai tours to Japan and China and share our bonsai knowledge and experiences.

Fuku-Bonsai incorporated in 1985 to become the catalyst to build an international bonsai center in Hawaii. David was elected as a director of the American Bonsai Society and headlined the ABS Symposium in Lansing, Michigan. There I met Jerry Meislik who, along with several other ABS members, became Fuku-Bonsai stockholders to participate in our efforts to build the bonsai center. Jerry is featured in a portal section at www.fukubonsai.com/1a9.html. He has continued ficus research and has published an outstanding book: FICUS; The Exotic Bonsai. His website is www.bonsaihunk.8m.com

In 1989 Fuku-Bonsai sprayed defective DuPont Benlate that was contaminated with weed killers and this killed our dreams and forced us into a 20+ year battle for survival. All of our old plant bank in training since 1973 got wiped out, we lost the Kona Fuku-Bonsai Center, and the residual contamination forced us to completely develop new crops and create a new business plan. Losses totaled over $30 million and; after being subjected to a brutal legal war, we were forced to accept a net total settlement of less than 10% of our losses. Life is not fair and Fuku-Bonsai survived while many of the other 5,000 businesses that filed lawsuits closed.

By 2009 we were getting closer to recovery. We had reinvented the company, developed a strong website, and successfully switched to Dwarf Schefflera as our specialty. Beyond Hawaiian Lava Plantings, we had expanded the product lines to include Potted Bonsai and Workshop Packages and developed impressive credibility and the most successful gift bonsai for anyone anywhere who can grow houseplants.

I have a lot of respect for Japanese bonsai as their discipline and attention to detail. I know that I could never live up to their standards of keeping all perfect all the time! By the late 1960's I fully realized the Japanese bonsai was far too rigid for me and focused primarily on codified forms based on "single apex-tier branched pine-tree" styles. Everything else was lumped into "broom or natural style.

So I drifted over to and began exploring Chinese penjing which is totally different and largely based upon the principles of art. China is a huge diverse country like the United States and there are many regional forms of penjing. Some are fairly quirky and others are purely commercial. I've come to practice what I call the "aristocratic form of penjing" and in doing so, move away from commonly used Japanese terminology and standards.

For the last thirty years or so, I've pioneered an evolving form of Tropical Bonsai that combines the horticultural principles and form of tropical trees with an emphasis on banyan tree styling. "Banyan" is a term describing trees with aerial roots and the best tree to create Banyan Bonsai is Dwarf Schefflera which is also the best houseplant for training into bonsai. It's such an outstanding plant that it is our primary specialty and part of our trademarked "TRUE INDOOR BONSAI™".

As one of the oldest active members of the American Bonsai Society for over 40 years, I am proud to have played a role in the society being a major force in promoting and assisting in developing a truly American form of bonsai. Most of my best in-depth articles were published in the ABS Journal. As we near completion of our recovery, I committed to writing an article for each issue of the American Bonsai Society Journal beginning with the Spring 2009 issue.

Although I reserve reprint rights to include the information in a future published book, these articles will not necessarily be reprinted on this website and I recommend those interested to become members of the American Bonsai Society. They publish a magazine with four issues per year and individual membership is $40 per year including mail delivery.
~~~David W. Fukumoto, president and founder, Fuku-Bonsai

Phone (808) 982-9880; Email: david.f@fukubonsai.com
August 2012
<![if !vml]>

<![endif]>
AMERICAN BONSAI SOCIETY
For more information, please contact:
Executive Secretary Barbara Bogan at telephone (812) 922-5451 or email her at: abssecretary@frontier.com . The American Bonsai Society website is at: www.absbonsai.org