I hope readers will find my articles useful and inspiring. Like when I read the stories on Fuku Bonsai's website prior to contacting David, they were all inspiring --- leaving me with the feeling that this is something I can do. It seemed remarkable that David was willing to lend his assistance. What was even more awesome was that Fuku Bonsai sells incredible advanced starter stock. I think every plant even the young cuttings have more potential for exciting bonsai than other regular bonsai nursery stock around in the country.
I'm not sure how the other countries compare in starter stock, but in America its hard to beat Fuku- Bonsai's Dwarf Schefflera. I started out buying plants from local nurseries like Walmart, Lowes, and Home Depot and although they have a few plants that can be trained into bonsai, it really didn't scratch that itch. Then I started the online search, I was intrigued by some mainland companies who sold varieties of bonsai that were not bad and pretty decent. They all pretty much looked the same and not much excitement from the base to the branches because all the trunks were the same either straight up and down or some had a few curves clearly trained by bonsai wire. But when I came across Fuku Bonsai's website, I was sold. The website and its vast information led me to believe that they were trustworthy, and being local I couldn't ask for more. And so the fun began!
David likes to stress that he is not sensei which is good because I feel everyone should develop their own way too. In the first few months I was pretty much clueless, so I looked to David. What do I do next? How do I do it? Now, I look back and see that David was trying to get me to think for myself; think, plan, execute, adjust and if must, redo.
I struggled to understand the basic horticultural needs of the plant because I was unclear of what really was over-watering and under-watering. Well, I experienced both with the same plant. I eventually concluded that my 1:10 Roots plant was initially overwatered because I left it in the rain then left in the direct sun with lots of wind didn't give the chance to build humidity and quickly dried out everything above the soil and left beneath the soil holding too much moisture.
With advice from David and some ideas from a few others on the Mid-Pacific Team, I was able to solve the drying out problem. I basically created an area that would generate humidity to hold moisture in the right places. It seems to be working as I've been noticing good growth from all my plants. Thanks everybody for reading, and I look forward to seeing new people and their stories. And any updates that my new Bonsai friends want to share; you know how to contact me.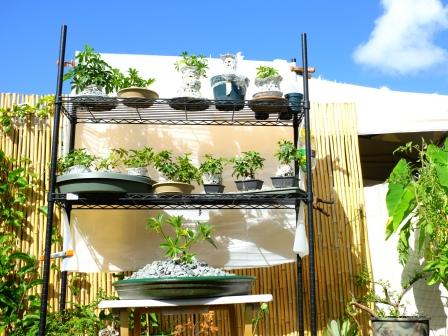 Here are some of the plants that I've potted and in training. This is my rack where I keep the plants that get the most direct sun and already holds moisture well enough in high winds. I've added the back plastic as a little wind breaker. If you have read the article on my IWPs, they are the three on the bottom right next to the fly trap. They are growing well.
LOYAL RONIN is on the bottom shelf in what David calls "accelerated growth training." The plant naturally lends itself into a strong character with nice elegant flowing foliage. In time, it will fill out nicely and quickly considering how well the other plants are growing. So, my job is to manage the nice spacing in the foliage to keep it looking like a cloud or hair flowing in the wind. The plant is positioned straight up and will be a high potential sumo with time. The main branch along the apex has a nice bend that sets the elegant flow. While, the long secondary branch grows vertically with a few leaves growing starting to slightly bend the other direction gives a great chance that the foliage will look cloud like at different heights and sizes, the branches themselves look like swords being wielded just like the lead photo.
The plant is taking to the full sun well and has begun to sprout new growth on every branch. It gets watered every other day. Not allowing to full dry out between watering. This is the first of Advanced Prepared Bonsai Stock attempt and am quite intrigued as to how it will all turn out in a few years.
Aloha! - - - Ryan Chang, Journal contributing writer (Hawaii)
_______________________________________________________________________