AN INTRODUCTORY NOTE BY EDITOR DAVID FUKUMOTO: While there are many forms of bonsai and many training strategies, Fuku-Bonsai trains "NURSERY BONSAI" that begins with high-potential "prepared bonsai stock" that all have lower trunk character, multiple trunks, and low branches within one inch of the soil line and a shallow compact root system within 1/2" of that soil line. It takes two to four years to create plants that meet that standard and those in the Beginner Study Group begin with our Introductory Workshop Package that features the pre-trained prepared bonsai stock. Introductory Workshop Package has become the easiest and most successful way to learn (or teach) bonsai! DO WE MAKE IT TOO EASY?
Developing prepared bonsai stock to high standards is the most difficult part of bonsai. If such pre-trained plants are not available, a beginning bonsai hobbyist faces the most difficult challenge with the least amount of knowledge and experience. By providing prepared bonsai stock, carefully selected components, cultural information and personalized assistance, the members of the Beginner Study Group have great odds for success! BEGINNERS TELL ME: "EASY IS GOOD!"
While a part of the workshop teaches how to root cuttings to begin at the start, the new hobbyist already has passed the challenges of beginning where there are the most failures. Those completing the Introductory Workshop Package as part of the Beginner Study Group receive personalized assistance and upon graduating, can become members of the Fast Track Study Group to go on at their own pace into increasingly difficult challenges. WE WILL ASSIST AND MAKE AVAILABLE OLDER AND MORE ADVANCED PLANTS LIKE THE TWO THAT RYAN USED IN THIS ARTICLE.
Ryan Chang began in January 2013 and is the leader of the Fast-Track Study Group and a Journal Contributing Editor. Because of his enthusiasm, the time and resources that he devotes to learning bonsai, and his natural ability, Ryan is making record progress!
The first year of bonsai training is devoted to learning basic bonsai principles and how to get optimum growth. This is the "GROWING-ON" stage that develops the basic tree structural lines and branches. It also develops the tree's bulk according to your finished desired size. If you want to grow small bonsai, you can start "REFINEMENT" shortly after you complete the Introductory Workshop Package and learn the basic bonsai principles and how to get optimum growth.
Ryan wanted to grow medium size bonsai (about 10" to 14" in 8" diameter pots) and larger bonsai (about 20" tall in 17"x12"x2" oval pots). As part of his "growing-on" training, he learned the Fuku-Bonsai "1:10 Project" techniques of how to grow trees in shallow saucer that are ten times wider than they are deep. His first plant in this article: "Dancing Banyan" is trained with 1:10 Project techniques in a 9" diameter saucer that is less than 1" deep! Most bonsai beginners use pots that are much too deep and the pot grabs all attention. Ryan has demonstrated that he has mastered the techniques and can grow plants in shallow containers in full tropical sun. This method produces more compact growth and really is a start into refinement.
For the second "Thrilling Waterfall-Roller Coaster" tree in this article, Ryan wanted a larger heavier bonsai to be in the 17"x12"x2" oval pot. So he learned to greatly increase bulk using Fuku-Bonsai's "Accelerated Growth" techniques with a larger nursery flat as the container and utilizing extreme optimum growth to develop the needed bulk. As these two plants achieved that stage, he is now ready to start training using "REFINEMENT" techniques.
RYAN REACHED THIS STAGE IN RECORD TIME IN JUST A YEAR AND A HALF AS THE PIONEERING MEMBER OF THE FAST-TRACK STUDY GROUP! This is an innovative concept for those who are in a hurry. If he started growing his own trees from seeds and cuttings, it is very likely that Ryan would have taken at least 12 to 15 years to get to his current stage. As a member of the Fast-Track Study Group who is willing and able to share what he is learning, he has special access to older plants in training. In the first year and a half, Ryan has visited and studied at Fuku-Bonsai three times so far and will be here on May 29 and 30, 2014 and special workshops are planned.
Ryan is a young man in a hurry and I see him as part of the long-range post-Fukumoto successor team. I have a dream that Fuku-Bonsai will continue to build an increasingly strong team of individuals in all parts of the United States to be willing and able to assist the next generation of hobbyists interested in Tropical and True Indoor Bonsai. I invite others who are interested in learning and want to be a part of Fuku-Bonsai's future to contact me at david.f@fukubonsai.com ~~~~David
______________________________________________________________________

"DANCING DRAGON" began as Fuku-Bonsai special advanced older stock and was featured just a few months ago in the article:

"DANCING BANYAN!"

in the March 2014 Journal. It is already ready for refinement and will need more detailed training from this stage forward.

AN INTRODUCTION TO REFINEMENT

By Ryan Chang, Journal contributing editor (Waipahu, Oahu, Hawaii)
During David's visit to Oahu, he briefly went over the basics of the early stages of refinement. He congratulated me on my ability to achieve good growth; partly due to the amount of tropical sun I get in my south-eastern side of my yard. He pointed out that some of my trees can move toward refinement because they have good branching and size. The next step is to create ramification by pruning.
I put together the sequence of the branching in my mind because I have seen how they sprout new growth after being cut back. I can then choose what new growth I want to keep. I can see how it will grow, if it needs to be removed, or if it will get in the way of another branch. Knowing this, you can control your growth. When you can control growth, you have the ability to style the tree. Then refine, refine, and refine!
I still have a lot of learning to do. David pointed out I need to pay more attention to below par leaf color due to my high level of sunlight, the plants being under fertilized, or both. He pointed out a shady area in my yard that could be modified to learn how to acclimate trees, how to use the shade for finishing trees, and how trees change during the refinement stage.
I starting with the Dancing Banyan while the lessons were still fresh in my mind. I was surprised to see how much longer David would allow the cuts to be made during the early stages of refinement. However, when I thought about it, it makes sense. As the tree grows, new growth will sprout along the cut branch, and thus another selection process begins. Another semi-grow-out should be allowed, but not too much. David pointed out that at this point the objective is to control growth, enhance refinement after each pruning, and not allow the tree to grow too wildly This will allow leaves to become smaller and branches to become more compact.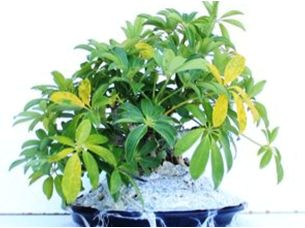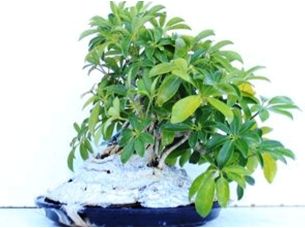 The photos above show the tree before the start of refinement and removing the foil. It was growing on my south-eastern plant rack with at least six hours of direct sunlight each day. The tree is shown from various angles and you can see the foliage has filled out nicely since March. I also took a tip from Jerry Meislik who advised to tilt the tree 20 degrees and it will become a semi-cascade type tree.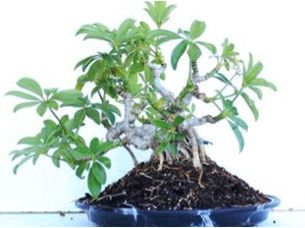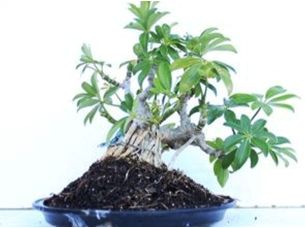 I started selecting which branches to cut back, and which to allow to grow out. I removed leaves that were growing under and above the branches, as well as old leaves. The branches with more leaves will grow faster. This opened up the foliage visually, and I was able to see the branching and where the cuts should be made. Keeping in mind the desired future shape, I made sure to have the cuts on the opposite side of the expected new growth points.
I began to style the tree. Instead of a semi-cascade, I liked the idea of a wind-swept scene. I want to develop character on the upper portion so it will look like its growing into the wind. But eventually the tree must conform to the superior force of the wind and will begin to flow with the wind as it gets taller. The lower branch really sets the pace of the wind and the trunk follows the flow nicely. The series of photos above were taken before I added the fines for finishing.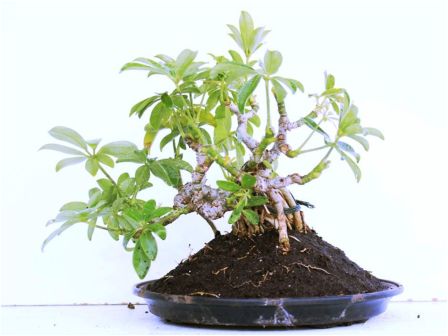 I still have the bind wire on the tree. I added the fines and now is a good time to remove the bind wire, I just haven't done so in this picture.
____________________________________________________________________
ADDITIONAL INFORMATION BY DAVID. We are modifying our "1:10 Project Shallow Saucer Planting Procedures" with an entirely different set of potting mixes. Normally in standard potting, we use three mixes: 1) Coast bottom - larger aggregate only for drainage with a plastic separator. 2) Body media about 75%-80% medium to fine aggregate and 20%-25% coco-peat organic. And 3) Fine top dressing - coffee grain aggregate only with dust removed after 2-3 waterings to dress the surface.
While this works well with regular potted trees, it is more difficult to create a sloping contoured surface using the shallow saucers as media in a slope easily washes down, even with a full surface aluminum foil collar. It was difficult to retain that sloping contoured surface. So we switched as follows.
First obtain screens with 3/8", 1/4", 1/8", and 1/16" mesh sizes. Mix what we send as "Coarse Bottom" and "Body Media" and insert onto a stack of screens with the largest on top.
Call what is caught in the largest 3/8" screen "COARSE BOTTOM."
Call what is caught in the next 1/4" screen "MEDIUM BODY."
Call what is caught in the 1/8" screen "FINE BODY."
Call everything that goes through the 1/8" screen: "FINE ORGANIC TOPPING."
When doing 1:10 Project Shallow Potting, start with a cone of COARSE BOTTOM in the middle and tap it into a compact hill in the center. Spoon and add MEDIUM BODY onto the hill a little at a time and tap it into a larger compact hill. Position your plant over the hill and anchor it down with the x-tie wire. Spoon in more MEDIUM BODY between the roots and tap it compact and start contouring the surface. Spoon in FINE BODY to seal between the roots, tapping it compact, and finish contouring the surface so it is about 1/4" below the inside rim of the saucer, rising up and blending with the tree that appears to crown the hill.
Then add about 1/4" thick of FINE ORGANIC TOPPING over all surfaces and tap compact with the spoon of small trowel. Cut a full sheet of aluminum foil long enough to equal the circumferance of your container. (For round saucers cut at a little more than 3 time the diameter --- for a 9" diameter saucer, cut it about 27"+ based on the formula: Circumferance = Pi x Diameter. Crumple the foil, form it into a 6" wide by 28" long strip with heavier edges. Start at just inside the saucer rim and keep going around --- keeping the inner edge perpendicular to the saucer edge --- and join the ends when you go around completely.
Starting at the outer rim, press portions of the foil to be in contact with the FINE ORGANIC TOPPING, over-lapping increasingly as you climb up the sloping contour and get to the main trunk-root base. Then squeeze in close to the roots and flare the remainder of the foil collar like rain catchment funnel. Tape the full aluminum foil collar down and make a lot of ice-pick holes every 1/2" for air to enter the media.
This system has proven much more effective in developing a lot of fine hair roots that quickly colonize the top 1/4" of FINE ORGANIC TOPPING and these fine hair roots effectively holds the contoured surface in place. I recommend leaving the foil collar on for six months or a year or risk loosing the contoured slope. AT FUKU-BONSAI, TREES IN THE 1:10 PROJECT SHALLOW SAUCERS ARE OUTDOORS IN FULL SUN THROUGHOUT THE YEAR AND WE HAVE NEVER EVER LOST A SINGLE PLANT! DWARF SCHEFFLERA WILL THRIVE IN SHALLOW POTS IF CAREFULLY WATERED!
I request reports from those who have tried the 1:10 Project Shallow Saucers. Please contact me and send photos to david.f@fukubonsai.com ~~~David