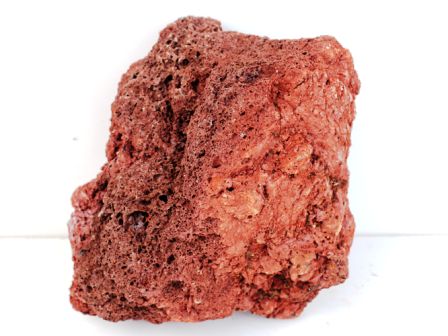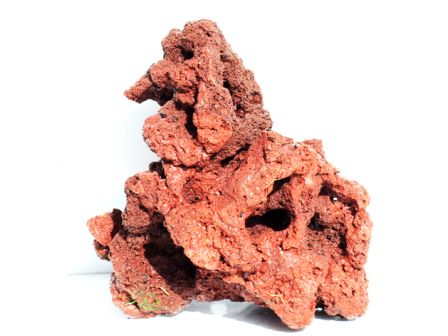 "REVISITING NOVEMBER"
By Ryan Chang, Senior contributing editor (Waipahu, Oahu, Hawaii)
There is something breathtaking about landscapes and mountains filled with vast green of trees. "Majestic" is the word that often comes to mind. I respect the North American bonsai enthusiasts as they develop the skills to grow difficult growing trees as bonsai. Theirs are trees that I wouldnít grow due to the slow growth and because my environment is not suitable for those species. However, none matches the beauty of winter those trees can display.
I love Christmas and all that it stands for. Magic, happiness, giving, and hope. It was last November that I decided to break the rules and put a tree directly on the top of a sculpted rock. I wanted it to be my pine version of Dwarf Schefflera Christmas tree style. The bottom branches need to be the lowest, widest, and longest. The top needs to be the tallest, while everything in between needs to be managed and kept short. Therefore, the triangle form is achieved and each branch should be easily visible. The rock needs to be strong, it will be the base of the tree, and I had just the rock for the job.
The first step is to start carving. As you know I only use 2 to 3 different sizes depending on the size. And this rock being about 6Ēx6Ē at its tallest and widest points, I felt only 2 sizes were needed. I used a 3/8Ē and a 1/8Ē or the two smallest in the set. In 2014, I bought a Dremel to carve, and now I mostly use that for fine detailing and finishing. If the material is soft enough, Iíll use it all the way through using the smallest bit. That's just me, sometimes a different tool is called for, but mostly I like to stick with only what I need.
Working with David, he helped me plan my objective and guided me by taking my plans and improving them for me and explaining ways that work better. Although, I donít think I mentioned Iíd be planting directly on the top of the rock. The picture below shows one of our discussed drawings. NOTE: I had finished the rock in copper and black. I had big plans about putting many trees, but in the end, only one was used.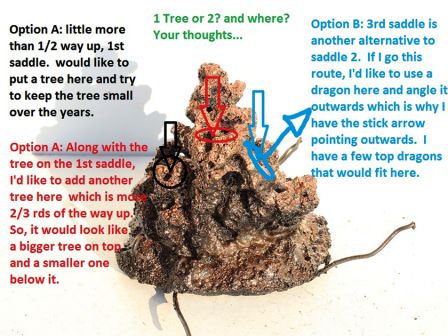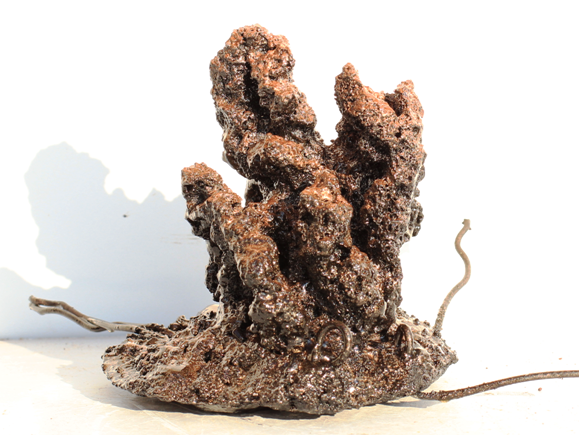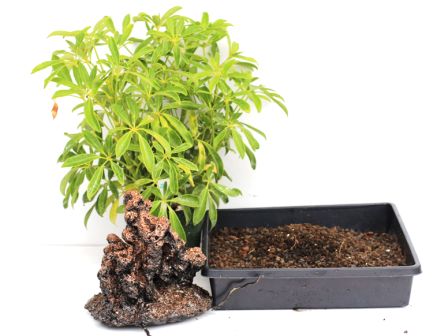 (Left) This is a side view of the finished rock. There are a lot of channels and open crevices for the roots to grow strongly. (Right) Getting started, I always like to lay everything out as Iíll need them, so I wonít have to run around looking for something while the roots dry out. Here pictured is the tree selected and the training half flat and the media.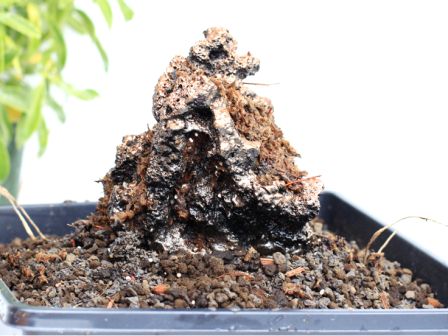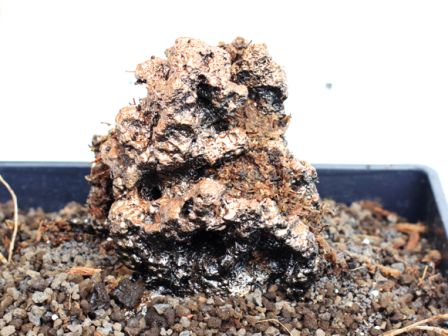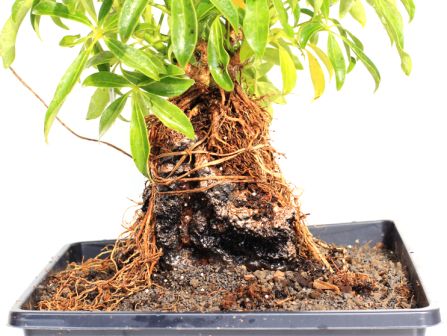 Prepping the rock is always fun because its like a foundation map of where the roots will grow. You can be creative or straight forward. I chose to be straight forward with this one because it was one of the first one I was doing that was not going to be in the article for a while. Here you can see, I layered out the keto-tsuchi mix in the areas I want the roots to grow. Donít forget use spoonfuls of nutrient granules, the roots will thank you for it later. Planting the tree on the rock, I made sure to secure the tree and the roots to the rock using paper covered bind wire. Nutrient Granules is spread everywhere and media is applied generously. I also got some tips from David.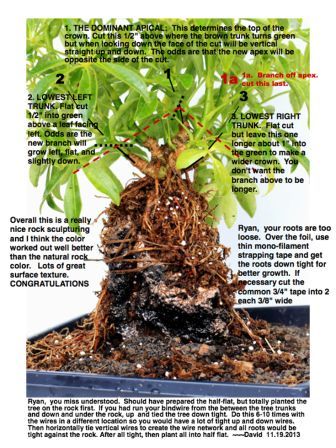 NOTE BY DAVID: Ryan Chang was the first member of the Beginner Study Group just before we began internet email teaching and publishing the Journal of Tropical & True Indoor Bonsai in January 2013 . He's had an article in every Journal and is now the leader of the Fast-Track Study Group to help others in addition to his role as a member of the editorial team. From the start, the basic principle was that I would assist the individuals in the study groups by answering questions, making recommendations, and critiquing their "reports" that become articles for the Journal. I ask each member to write their report as if they were teaching others and this carries on a Hawaiian Bonsai tradition that was begun by our late Haruo "Papa" Kaneshiro who we honor as the "Father of Hawaiian Bonsai."
In the 1960's when I began, bonsai was a very secretive cult and knowledge and information was not freely shared. Papa was the exception and he took a number of us and taught us what he knew, but stressed that he's still learning and we should keep trying to learn more too. We were very appreciative and he encouraged us to teach others to incorporate the spirit of aloha into Hawaiian bonsai. I am delighted that Ryan, Jay, Jerry and all associated with the Journal continue this philosophy. None of us are "sensei" --- all of us are students, still learning, and sharing --- and I hope the Journal reflects this forever!
In those early days, there were a lot of questions and I had the time to work with each study group member to try to stay in front of each person's situation. I continue to do so and the articles that I write for the Journal are really to document and assist those in the Fast-Track Study Group who are learning new principles and techniques. In their articles that follow, they often expand upon what was taught and they try different ways and share failures and successes to help others. In sharing and teaching others, each person learns more and Ryan's extraordinary progress is proof of this. Everyone interested is invited to join the Tropical & True Indoor Bonsai community being formed and I hope we all become friends!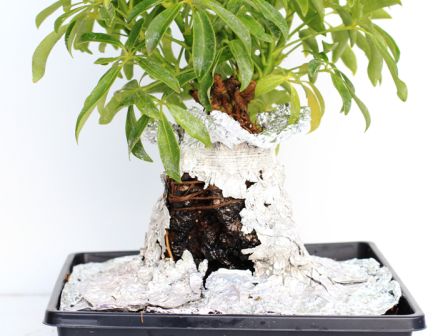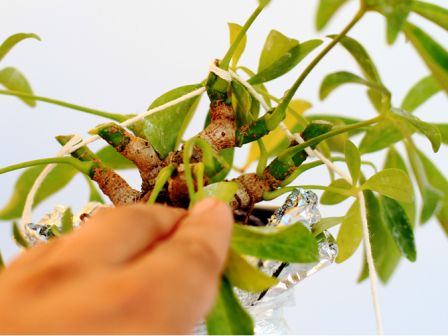 With everything set and all directions followed, I went ahead and finished it up with the aluminum cover. The right photo shows how I made the cuts. Keep that triangle in mind and the next photos that will follow shows the years growth.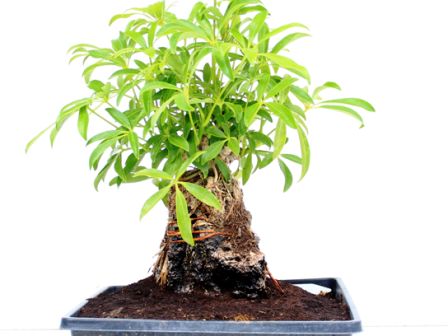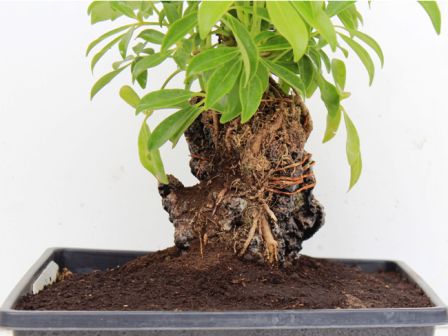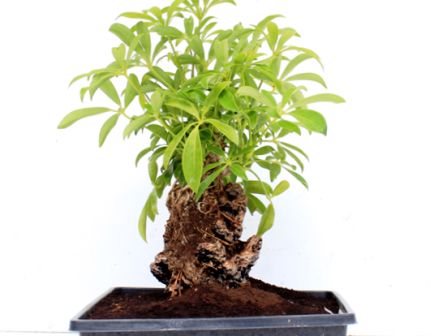 APRIL 2014. A few months later I decide to take the foil off and take photos. The roots have grown well on one side and thickened up nicely too. The other side will need some catching up to do. Even the side that wasnít growing as well shows potential as the roots are growing down into the pot.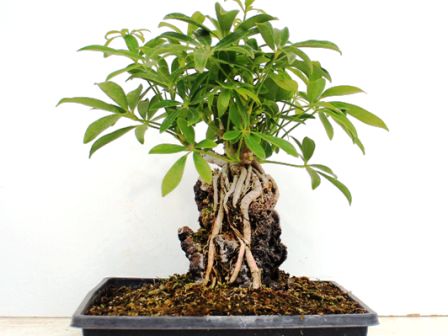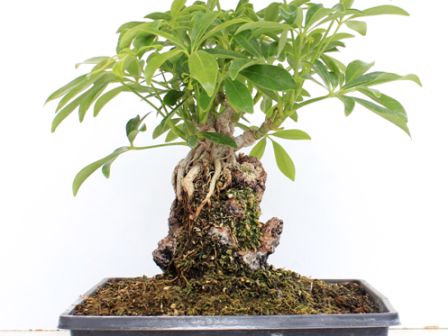 OCTOBER 2014. The first two are before I cleaned up the foliage. You can see both sides of the roots. One side needed an extra push, so a few weeks ago, I added some sphagnum moss with fine media and Nutrient Granules to assist the weaker side.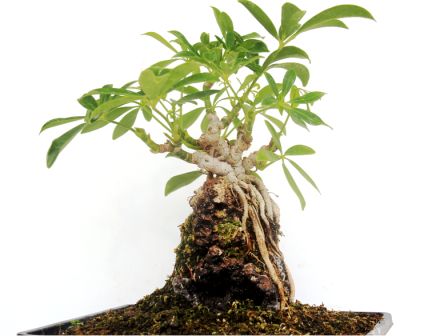 The foliage is always fun to decipher whether what direction you want to go and what leaf to cut. Thankfully, after having some hands on experience with David watching me, I feel confident about my own pruning and I donít really feel that timid anymore.
It used to be a big question mark in my mind, but after a while the lessons sink in, and you can start to see the cuts even before you make them.
CONCLUSION
The objective of this planting was for me to learn how the roots grow on a sculpted rock; it grew at a faster pace than the larger ones, and I was able to see how the foliage grew from the 1st heavy pruning as well. From there, I was able to understand further designs and also when to start picking off the new unwanted growth. The trick now, is to let the tree grow strongly once more and then refine, and keep refining. Once the weak side roots grows in; I will put it in a more permanent pot. For now, The extra media in the training half flat benefits the roots that will grow into it. It has been a pleasure watching the roots transform from thin threads into nice sized roots that fill the channels. My next goal is to get the lowest branches to grow out the widest. - - - Ryan Chang (ryan_a_chang@msn.com )
SOME COMMENTS BY DAVID
I continue to be impressed by Ryan, our oldest study group member who next month will be celebrating two years. His commitment and enjoyment of bonsai has resulted in him submitting an article in every Journal issue. I think he's doing a lot of things right! First of all, he has learned to propagate plants and to grow them well. He is getting a stronger understanding of the processes that make bonsai a very logical and predictable hobby.
He starts with Dwarf Scheff which is the easiest and fastest growing of all trees grown as bonsai and has learned to produce strong growth. He focuses on building an individual story and concept for each and every tree with a gameplan that includes documentation and photographic records of each tree. That's a commendable discipline and it allows him to produce articles such as this one that tells of how he started, how it was planted, allowed to get strong, and develop character, --- the first major pruning that will guide the plant toward the intended goal, and the trimming of the first regrowth --- ALL IN LESS THAN TWO YEARS FROM PREPARED BONSAI STOCK!
I recommend everyone to reread this article. I think it may be one of Ryan's best and it includes all the essential bonsai steps. The creation of this bonsai to date has taken two years. The first year was used to grow-out the tree. The second year included rock sculpturing and rock planting and Ryan used a large 10"x10"x2" half-flat to build a larger root system. His tree is already well established on the rock --- largely due to the extensive amount of rock sculpturing that created an ideal environment for the roots to develop to produce impressive growth.
I call attention to Ryan's method of rock sculpturing in which he patiently removes a major portion of the soft portions of the relatively soft Hawaiian welded splatter (cinder) rock. This rock has a dense outer glaze-like surface with interesting texture and design. Once you penetrate that surface, the interior may have some dense grain, but is usually softer and easier to bore out. The primary disadvantage is the unattractive color and Ryan has used a combination of finishes that seem to be weathering and holding up very well.
At this point, Ryan's tree is moving towards refinement and finishing. His tree is growing very strongly and he can build out a large crown. Or he can choose to keep his tree at its current height and start creating a more complex network of branches. Once he decides where he wants to go, it will be time to start thinking of the container that will best compliment the tree as well as help determine the type of growth rate.
At this stage, I would tend towards a shallower container to reduce from the current 2 1/2" depth to about 1". I would move toward either a 10" diameter round or an oval about 12" long x about 9" wide. The reduced amount of media will slow the growth rate. But it should continue to be generously fertilized and while growth will be strong and heavy, it will also become more complex and compact. The decision to hold off and resist going into a "finished pot." makes sense. Too often I see young plants that have barely started the "growing-on" stage already in expensive ceramic bonsai pots that are almost always too deep.
Next month I've asked Ryan to make a two-year report to summarize and advise those who are in the earlier stages of their bonsai hobby. CONGRATULATIONS RYAN AND MAHALO FOR A GREAT ARTICLE! ~~~David (david.f@fukubonsai.com)
© Mid-Pacific Bonsai Foundation & Fuku-Bonsai, 2014