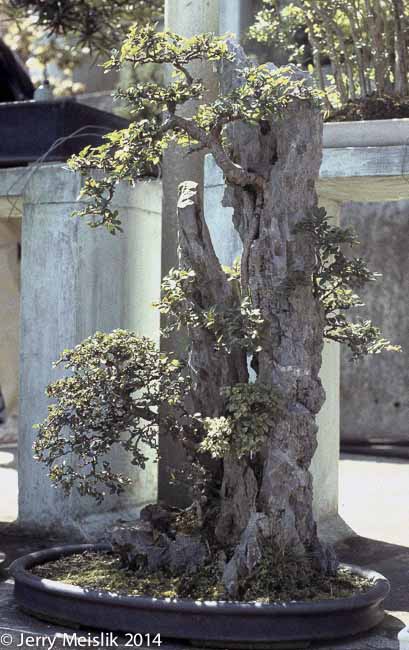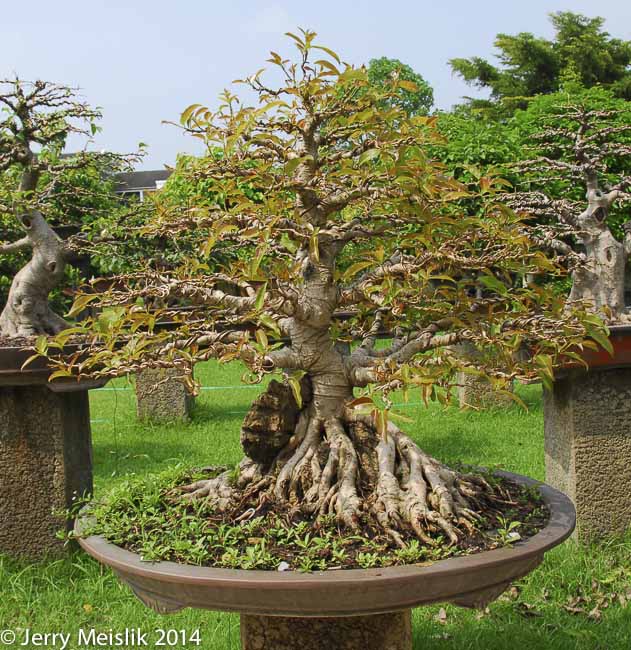 Two Root-Over-Rock Ficus plantings. The left is a large Ficus virens on a small rock to depict a close-up view. The right from the Yee-sun Wu collection (Hong Kong) has a large rock and smaller bonsai to be a more distant view.
MY ROOT-OVER-ROCK ADVENTURES - PART lll
By Jerry Meislik, Journal contributing editor (Whitefish, Montana)
This is the last installment detailing my "rocky" road through the world of root- over-rock tree designs. Parts l and ll can be seen in the previous two months at: www.fukubonsai.com/1a9a18.html and www.fukubonsai.com/1a9a19.html .
TREE SIX - FICUS MICROCARPA 'MEDIUM LEAF'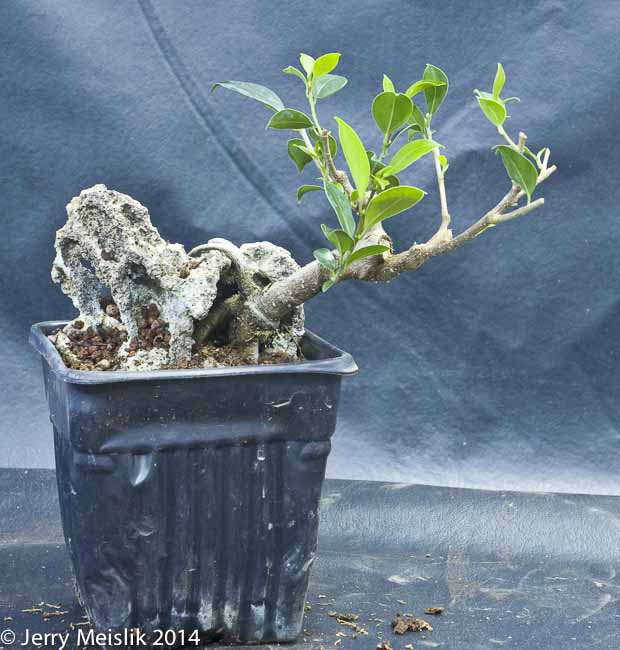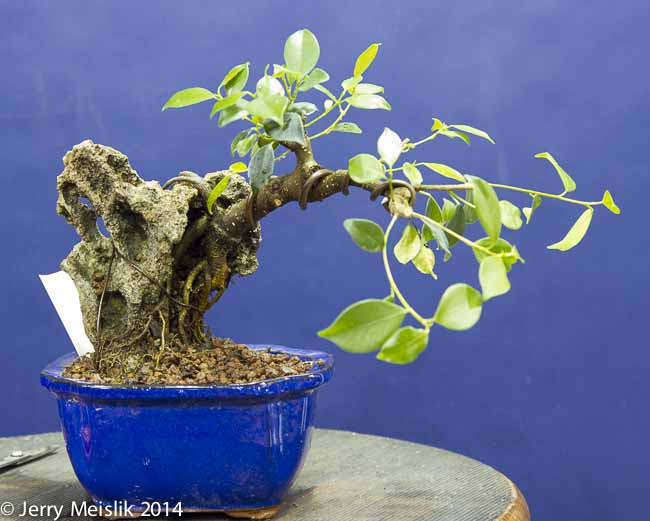 (Left) Ficus microcarpa 'Medium Leaf' on stone nearly buried in the soil (Right) The stone was lifted up and wild growth trimmed back a bit to help develop strong roots and adhesion to the stone. Abundant growth is permitted to help roots adhere - future shape of tree is not yet fixed and rock may be elevated even higher in a shallower container in the future. A visually unstable design may be the way to go.
This small tree was planted over a lava rock a few years back. Initially the roots were wrapped around the rock and then the roots covered in coarse soil and aluminum foil covered the base of the tree and superficial roots. After perhaps 6 months the foil was gradually removed and the roots were thus gradually hardened off to tolerate room air and dryness. Initially the growth was un-restricted to allow the roots to thicken and to adhere to the rock. Once the roots seemed well set on the stone I began trimming back on the growth and shaping the plant.
LESSON - Once again I used a small leaf cultivar, in this case Ficus microcarpa 'Medium Leaf', and this greatly slowed down the growth and thus the adhesion of tree to stone. The technique of burying the stone and superficial roots until the tree was well anchored to the stone was used and seemed to work well. The next process is shaping the top structure of the bonsai to an attractive shape. Initial shaping is basic and limited to keep the tree growing until the roots adhere to the stone. Fine styling begins once the tree is secured and the superficial roots are well developed. This tree has a long road ahead of it before it can be considered a successful bonsai. I suggest using normal growing cultivars and not miniature forms if you desire to get the root-over-rock design to shape up quickly. Smaller forms should more readily be used for accent plants and background foliage in a landscape type design.
TREE SEVEN - FICUS 'MYSTERY'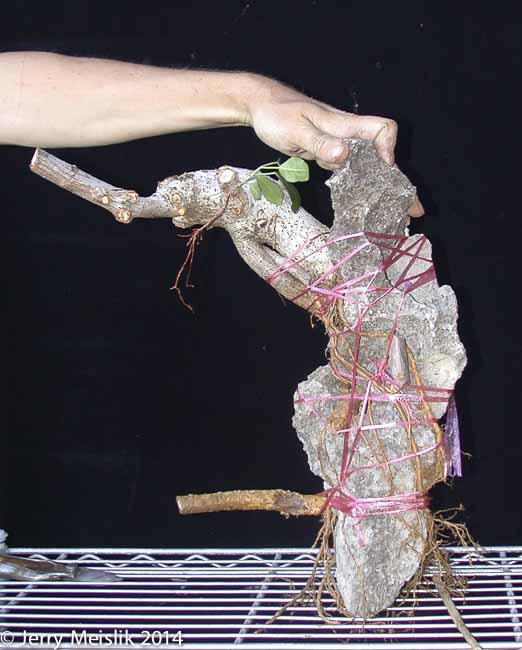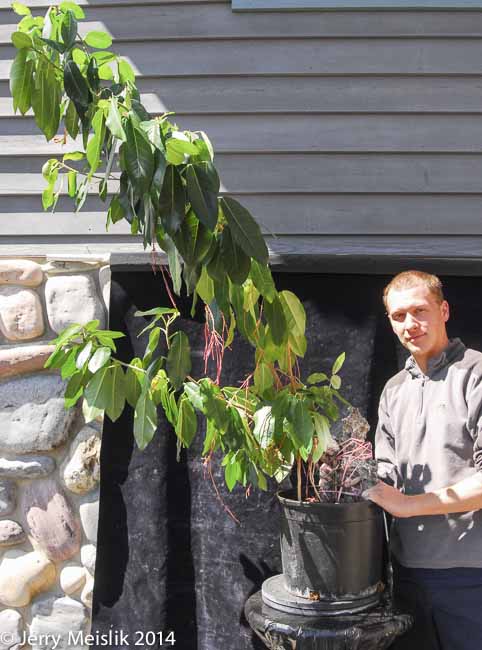 (Left) Ficus 'Mystery' rooted cutting placed on rock with plastic tape. (Right) A wild growth phase will allow strong root growth and adhesion to the stone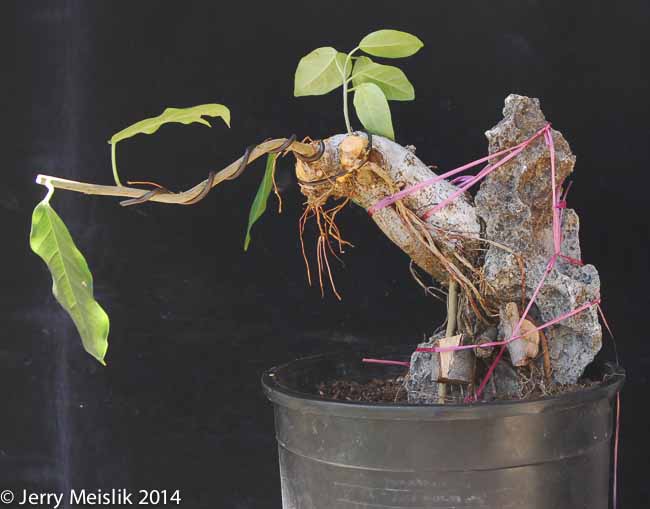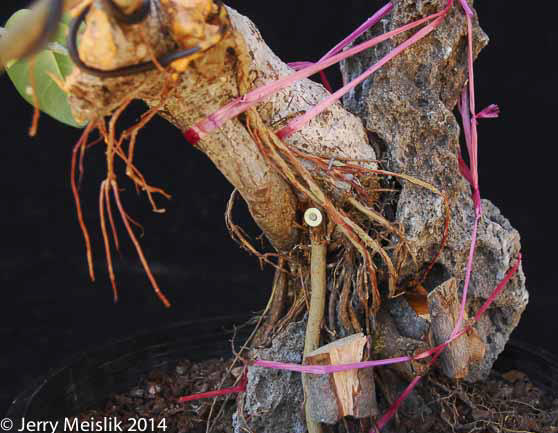 (Left) Growth chopped back to a selected apex. (Right) Close up view showing plastic tape, screw and staple used to keep roots and the tree attached to the stone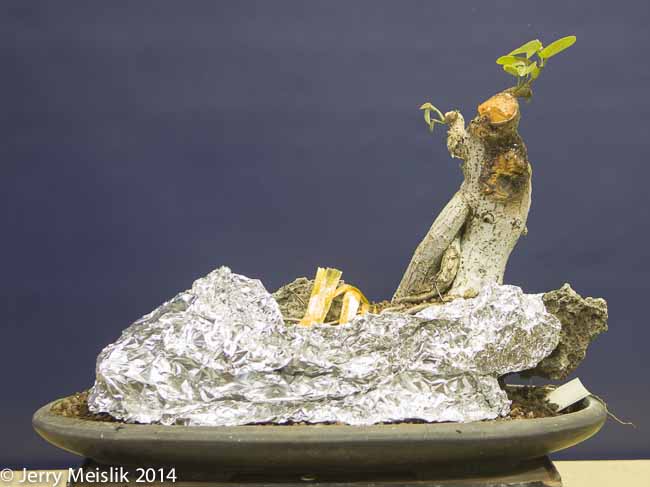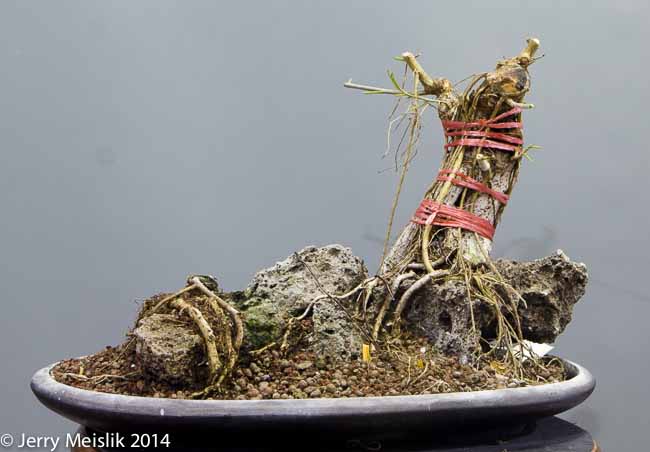 (Left) Stone turned horizontally and protective aluminum foil keeping roots from drying out. (Right) Foil removed and new aerials tied to the trunk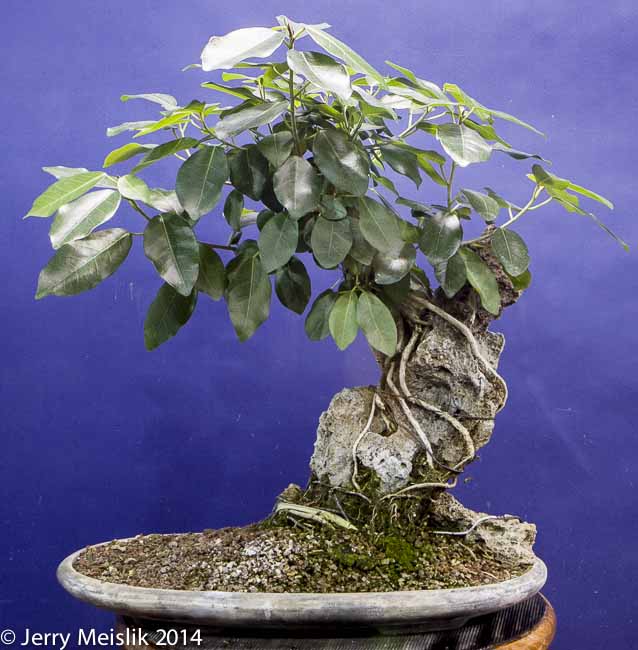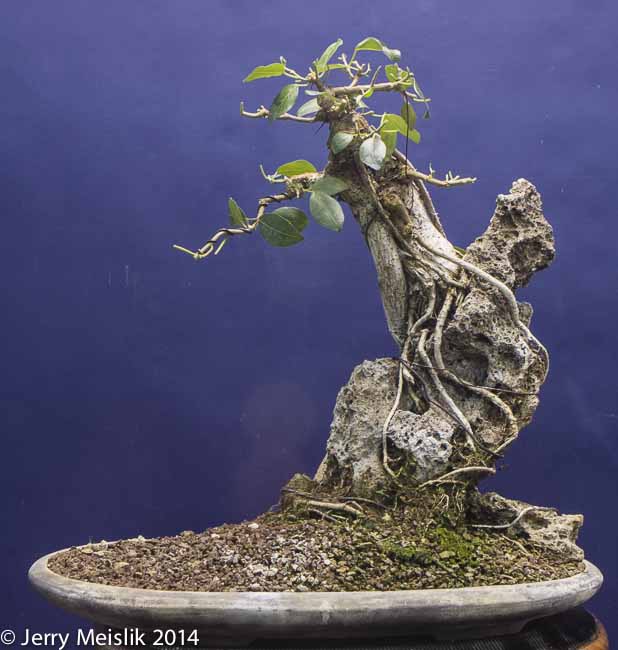 (Left) Stone moved upright and with lots of foliage the rock seems secondary. (Right) Most of canopy removed to bring attention back to the stone and roots. Future canopy will be kept small to keep the emphasis on the rock
This tree started as a very short and blunt cutting from a larger 'Mystery' fig given to me by David. (In a future article I will show how this original material was split into many pieces to form several quite different designs.) This cutting was the ugliest of all the sections of the original tree and I almost threw it out as a worthless piece. Fortunately I combined it with a lava rock.
The original roots on the cutting were small and pliable and so I could keep them on the rock using wire and pieces of wood and even using screws to make sure that they were applied to the rock and directed in a proper direction. The rock was then partially buried and roots covered with aluminum foil where the roots rose above the soil surface.
Over time the roots thickened and adhered to the rock and I decided to lift the rock vertically for more drama. An additional unsecured stone was placed at the base of the vertical stone to provide some support. Perhaps one day I will use a cement foot-pad to keep the stone vertical and yet not bulk up the base which removes the visual tension of the upright stone. It is not yet a finished design but it is not quite as ugly as when I started working with it. I still have hopes that it will mature into a worthwhile bonsai
LESSON - Vertical rock designs are dynamic and exciting. Even routine looking materials planted on a vertical rock can be quite powerful. Sometimes adding a basal element to the vertical rock movement is helpful to stabilize the display but it may remove some of the 'tension' and drama of the vertical design.
Part of the training of this fig was to keep the rock in a horizontal position as I initially thought this horizontal stone position might be interesting. Over time I changed my mind and decided that a vertical rock position was better. Fortunately, during this horizontal growth period the roots did succeed in grasping the stone more realistically.
CONCLUSION
1. ROR designs are a terrific way to produce attractive bonsai with less than world class materials. Still, starting out with well selected rocks showing lots of character and combining those with plants grown specifically with long roots suitable to be attached to rock is the best way to develop bonsai sure to be admired by all.
2. Plants for ROR designs can be used that have minimal long roots by planting the material on the stone and burying the stone and the surface roots. Gradually the stone and roots can be exposed. It can take years to get an initial design underway and roots properly attached to the rock.
3. A better and faster way is to use plants with already established long but supple roots especially developed to drape over and be inserted into crevices in the rock. See all the work done by the study group using more advanced materials.
4. Rocks can be large or small in size depending on the perspective one desires for the design. Small trees on larger rocks suggest distant views while larger trees on smaller rock are characteristic of a closer viewing position.
5. Extra drama can be created by using vertical rock positions by introducing a bit of imbalance and tension to the design. Broad based rock plantings will be more visually stable and static.
6. Aggressively growing plants material are the key to having a bonsai that is properly attached to the rock.
I suggest that all bonsai lovers consider a root-over-rock design to add to their collection. I know that you will love yours too! Hope my ficus versions of root-over-rock compliment the articles by the study group members. Please contact me if you have questions. - - - Jerry "Bonsaihunk" (jerry@bonsaihunk.us )
COMMENTS BY DAVID
Many think that rock plantings are difficult and many collections don't even try. But this is an ideal area that we recommend to those in our Tropical and True Indoor Bonsai community because the primary plant Dwarf Schefflera and Ficus are really ideal for rock plantings. These are often epiphytes (trees that grow on other trees) and that have very strong root systems. They can handle some drying out and exposed roots and those qualities are ideal for rock plantings.
The principles of potted bonsai are relatively straight forward and as you can see from these Journal articles, those in our study group master the basics in less than six months. But then bonsai progress slows dramatically as time really goes slowly when there are no bonsai activities except watching bonsai grow and occasionally making a snip or two.
The alternative is training plants on rocks! Fuku-Bonsai provides a wide range of plants of different ages, sizes, styles, etc. There are numerous ways to utilize rocks, to assemble composite rocks, to sculpture those that are softer, and even create beautiful artificial rocks using hypertufa! Each rock planting is unique and those in the advanced Fast Track study group are working on complex landscapes. We invite you to join us! ~~~David (
david.f@fukubonsai.com
)
© Mid-Pacific Bonsai Foundation and Fuku-Bonsai, 2014