By Jerry Meislik (Whitefish, Montana) Journal contributing editor
I acquired my Mystery as a gift from David Fukumoto in 2004. You can read about it in my article in BCI magazine, 'Breaking Up is Easy to Do', Bonsai Clubs International, Vol. 48, No. 3, 2009, p. 38-45 or on my website at http://www.bonsaihunk.us/info/BreakingUpIsEasyToDo.html
In the article I detail how the original plant was split into 5 pieces, each of which has become a unique bonsai. I will review some of the highlights and updates in this article.
Despite some careful study and research the exact scientific name is still in question. David acquired his original plant under the name Ficus natalensis. In comparing David's plant to other specimens of F.natalensis that I have seen and own, I feel that it is not true natalensis. So far David and I have not seen figs on the Mystery tree to help confirm a scientific identification. So for accuracy I am calling it Ficus 'Mystery'. Perhaps one day it will fruit and we can confirm its species.
By whatever name it is one of the most suitable figs for bonsai and should be in every fig collection.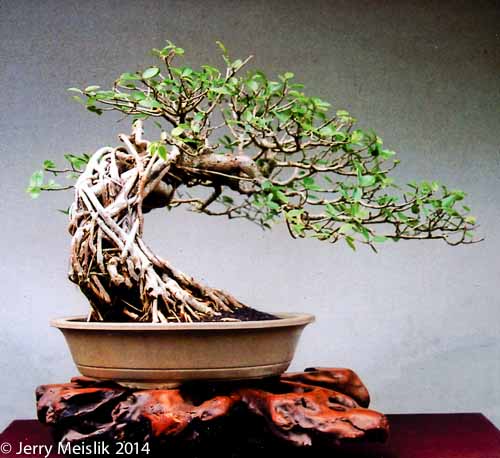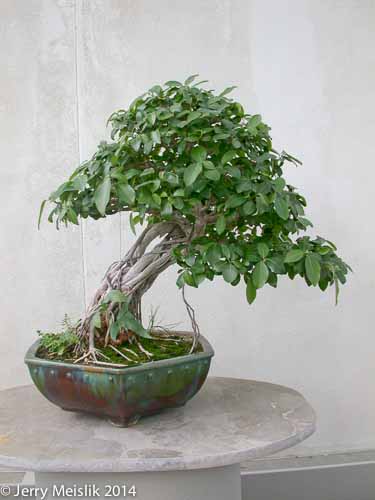 (Left) "Benevolent Dragon", one of David's large Mystery figs. (Right) One of David's Mystery trees in the National Bonsai and Penjing Museum in Washington DC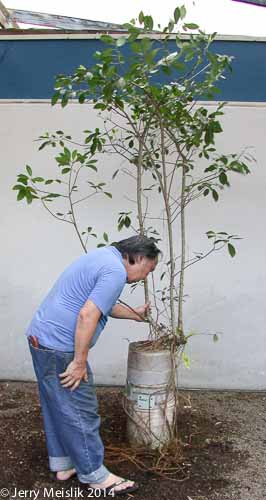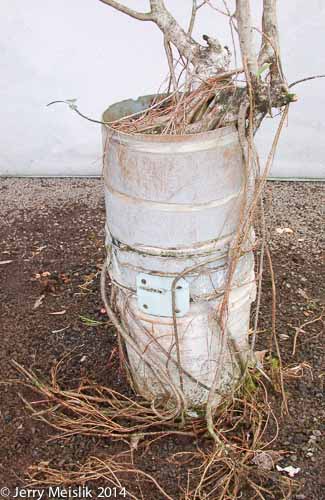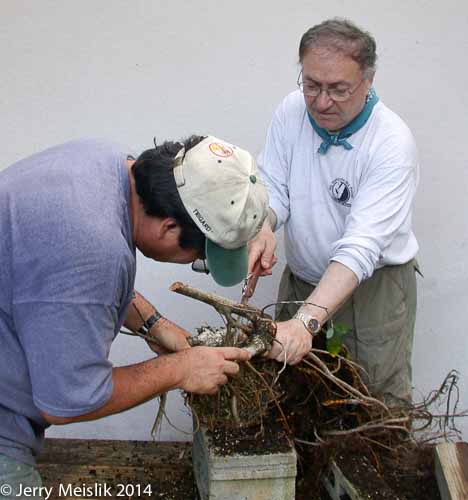 (Left) David examining the Mystery fig that he gave to me, 2004 (Center) Two 5-gallon pails joined together as a deep container for the tree, 2004. (Right) Mike Imaino (Mid-Pacific Bonsai Foundation president) and Jerry Meislik reducing the tree to small segments, 2004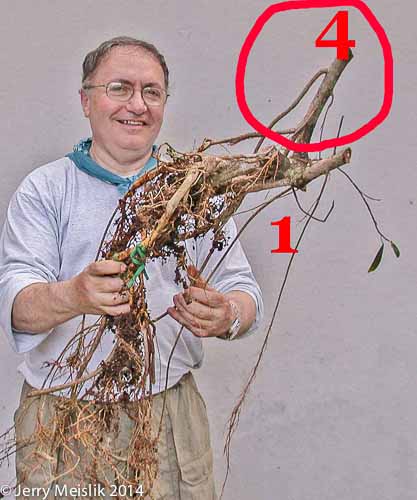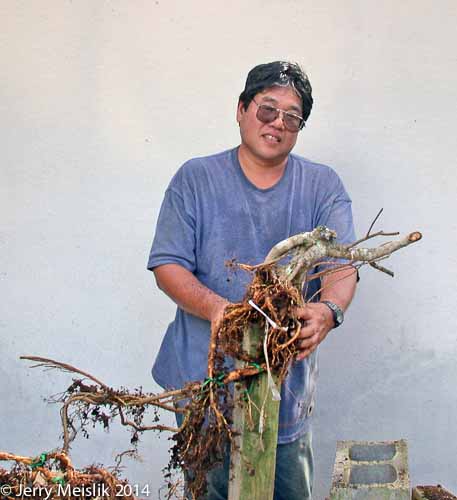 (Left) Jerry holding segment 1 and 4, 2004 (Right) Mike holding segment 2, 2004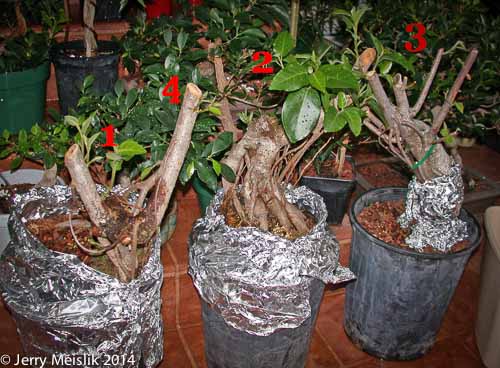 The trees in my plant room in Montana, 2004
DESCRIPTION OF ANATOMY. The Mystery has a moderately thin leaf texture and is never fleshy like Ficus microcarpa. Leaves have some small hair on top of the leaf, along the petiole and the main vein and are quite hairy on bottom of leaf and petiole. The leaf color is a light green, bark color grey brown, stipular bud is dark brown and hairy, and leaf venation is prominent on both surfaces,
STRONG POINTS. Mystery is an extremely vigorous grower, with excellent leaf reduction, good twigging, good bud-back, easy cultivation, and one of the few figs to very easy develop aerial roots even under relatively dry conditions. Propagation is easy from cuttings of branch or roots. It has some of the most aggressive roots which allow easy root-over-rock, exposed root, as well as banyan designs.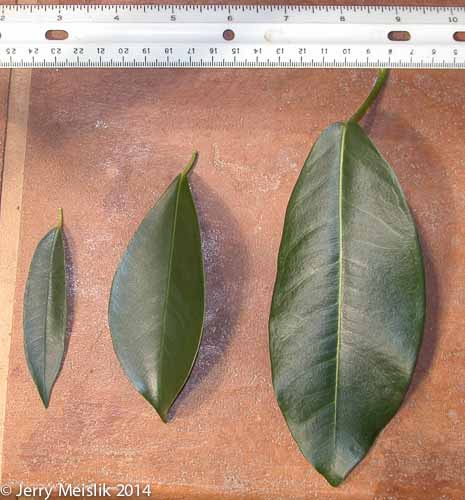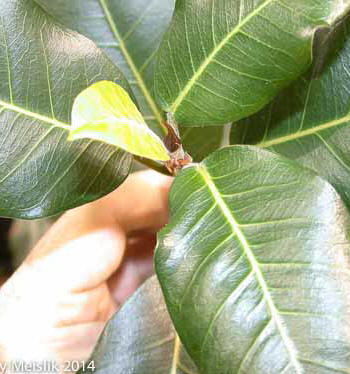 (Left) Leaves of the Willow Leaf Fig on left, Ficus microcarpa leaf in middle and Mystery Fig on the right (Right) Close up of the naturally large leaves of the Mystery Fig
WEAK POINTS. Mystery has a relatively large leaf but this reduces very easily with defoliation and good cultural practices. I am not sure how well it will do in home environment. I suspect that it needs supplemental light and humidity in an average home growing situation to be at its best.
CULTURAL NEEDS
LIGHT. Give it as much light as possible. It can grow indoors in a bright window but supplemental artificial light is really helpful to get strong growth. In warmer areas or in the summer time in the north you can leave it outdoors in full sun once sun acclimated. I have tested plants outdoors in freezing weather and it has tolerated several days of freezing without killing back.
TEMPERATURE. Normal range of 65-95F
HUMIDITY. Will grow in dry air or moist - aerials can form in quite dry air!
SOIL. Potting media should have open spaces, well aerated with large particles sized 3-4mm
WATER. When the plant is nearly dry, check soil every few days
FERTILIZER. A regular fertilizer routine as health and growth dictates with little fertilizer during a winter rest period
PESTS. Scale and mites, but it is not particular susceptible
PROPAGATION. Very easy from branch or root cuttings; so far no fruiting or seed.
SUITABLE BONSAI STYLES. This fig can be grown in any style but due to extremely aggressive roots the material is really valuable for: 1) Root-over-rock, 2) Exposed roots, 3) Banyan, and 4) Epiphyte
DISCUSSION OF THE TREES: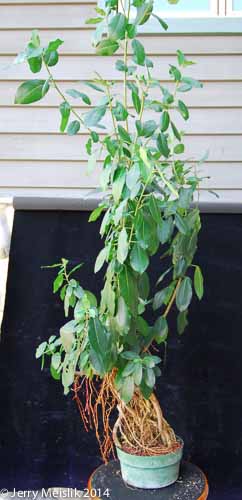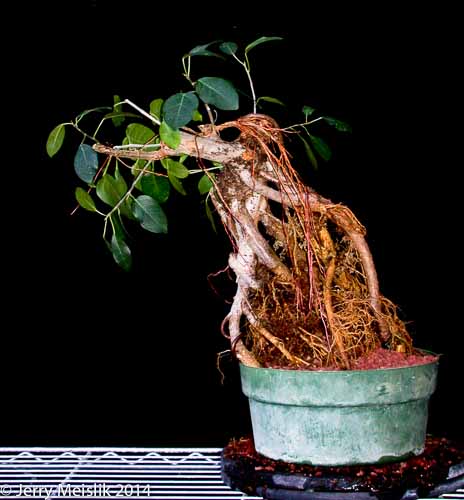 (Left) Wild growth encouraged to thicken up roots and develop branches, 2006 (Right) Tree #1, 2005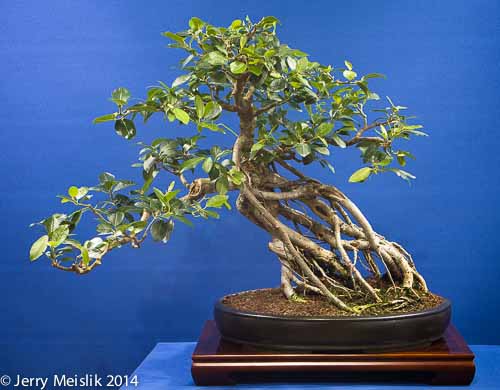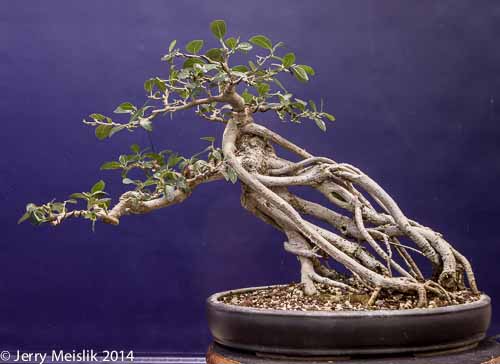 (Left) Tree 1 accepted for display in the 2nd US National Bonsai Exhibition in 2009 (Right) Top shortened back, 2014
TREE #1: This was the largest section of the original plant. As with all the pieces wild growth was allowed to get the sections healthy and to develop many choices of branches, as well as to thicken up the exposed roots.
The tree was so adaptable that in 5 years it was in quite nice shape and was selected for display in the 2nd US National Bonsai Show in 2009. This is a remarkably short time to take a material from raw stock to a show-quality tree. The incredibly powerful growth of this material is a major factor in the speed of development.
Despite the fact that the tree was quite handsome, I chose to remove the entire apex of the tree. With David's prodding my thoughts were that the emphasis in this tree's design should be on the roots. By removing the apex and re-growing a new shorter apex and keeping the foliage mass tight the focal point would be the roots and not the foliage canopy. It took me another 5 years to re-grow the new apex. But I think that the design now is more powerful and coherent.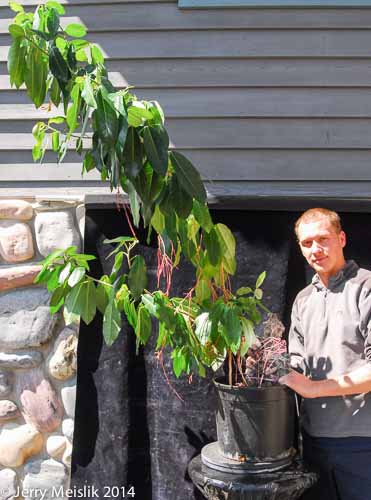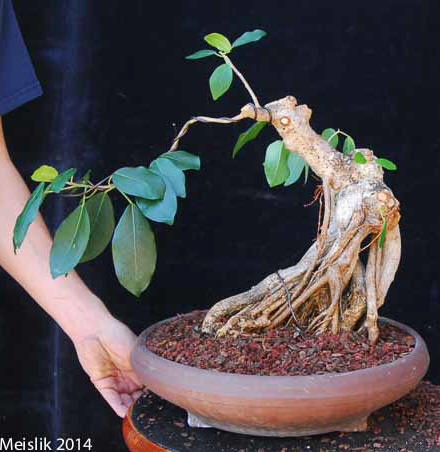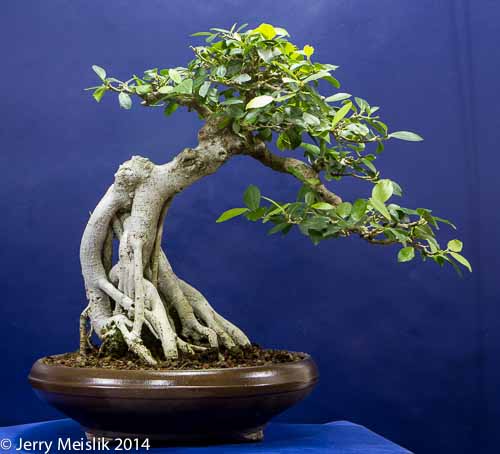 (Left) Tree # 2,in wild growth 2006, (Center) Tree potted and cutback, 2006, (Right) Tree #2, 2014
TREE #2 was a smaller section of the original material with a lovely root display but really no trunk. The tiny branch that eventually became the trunk was allowed to grow vigorously and cut back many times over the years to produce movement and taper. Over time the canopy was brought back close to the roots and the tree tilted more to the right to emphasize the dropping primary branch.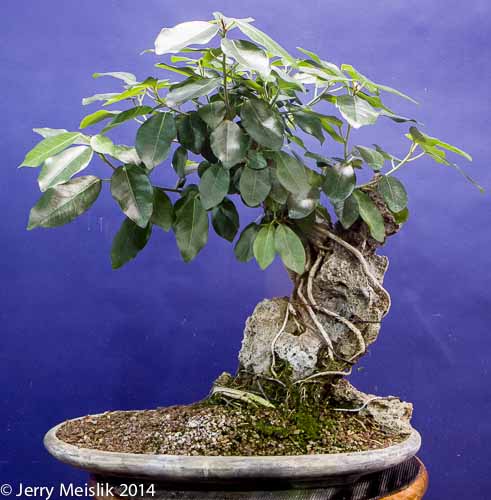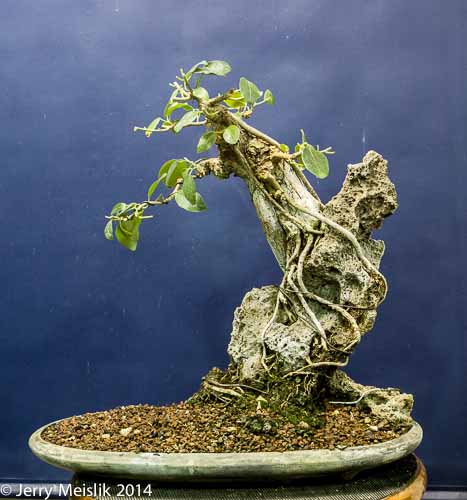 (Left) Tree #3, in foliage, 2014, (Right) Tree #3, defoliated, 2014
TREE #3 was an ugly blunt cutting which I nearly discarded. At a loss of what to do with it, it was placed on a lava stone and grown on. The tree can be seen illustrated in my Root-Over-Rock article Part lll in last month's issue of the Journal of Tropical and True Indoor Bonsai. (www.fukubonsai.com/1a9a20.html) Although initially one of my ugliest trees it seems to be coming into its own and may one day become a good bonsai.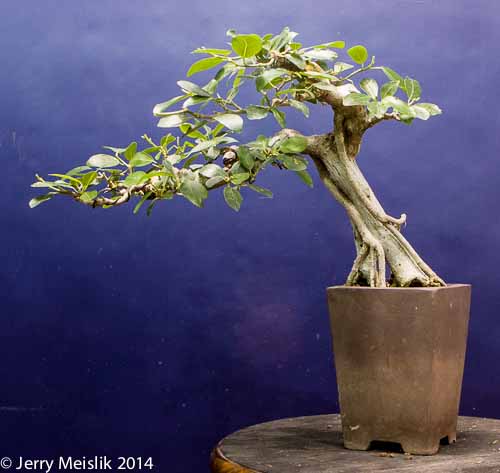 Tree #4, 2014
TREE #4 was a straight piece of stem with several attached aerial roots as can be seen in the photos. Over time it has filled out and become a very attractive tree.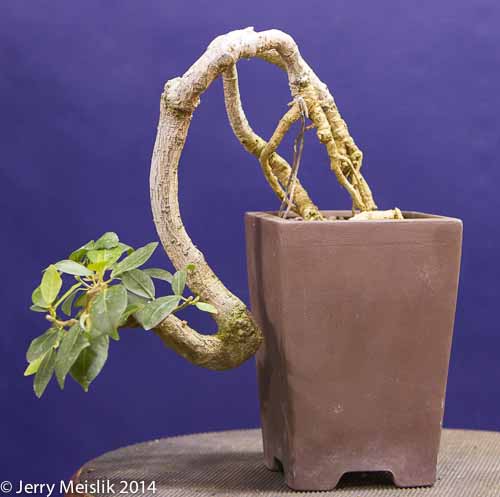 Tree 5, root cutting developed from the original tree
TREE #5 started out as a root cutting with no leaves. Root cuttings of some species of fig will sprout leaves from their cut ends. One of the sprouts was selected to become the trunk's terminal. The loop in this trunk has become the focal point in this design and the foliage is kept tight and short to keep this in focus.
SMALL CUTTINGS. Over the years I have taken many, many cuttings of both stems and roots and formed some interesting bonsai. I have an assortment of styles and shapes to share with you. Most of these plants are less than 6" in longest dimension. Leaf reduction in these small trees is critical to keep the proper perspective but leaf reduction only will be done after these trees are nearly done being shaped. Excuse the large leaves on these small bonsai. With time I will get them properly sized and shaped. Most are still early in their development but are attractive in their own right.
CONCLUSION. The Mystery Fig is one of the best figs that I have ever used for bonsai. It is aggressive and vigorous, forms aerial roots with ease, propagates from roots as well as stem cuttings and its naturally large leaves will diminish in size. I highly recommend this species for bonsai growers who can provide it with medium to bright light levels.
- - - Jerry (jerry@bonsaihunk.us) URL: www.bonsaihunk.us