ADVENTURES IN SOUTH AFRICA - 2014, PART 1
By Jerry Meislik, Journal contributing editor emeritus (Whitefish, Montana)
Rhona and I just are back from a fabulous trip to South Africa. I was fortunate to be invited to present programs for the South African Bonsai Association meeting in George this September.
Tobie Kleyhans and his wife Sandi were our hosts during the South Africa trip. Before and after the convention we were shown the many incredible sights of South Africa by this energetic duo. Tobie is a gifted bonsai artist and writer. He has just completed his first book, Potensai, an introduction to bonsai. I must say that this is the best book on this topic that I have ever read. The pre and post convention tours included great scenery, wildlife and incredible trees growing in habitat. In addition the food in South Africa was excellent, including meals featuring seafood and even a few with ostrich.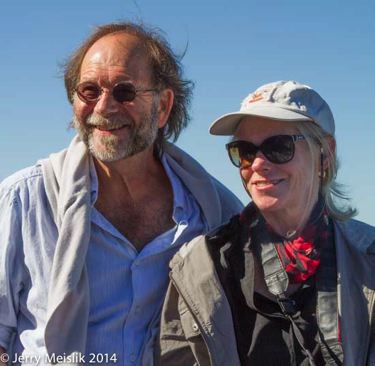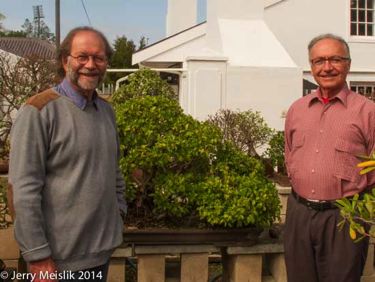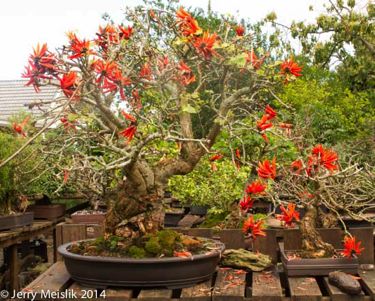 (Left) Tobie and Sandi Kleynhans (Center) Tobie and Jerry in Tobie's bonsai garden (Right) Erythrina bonsai in Tobie's growing area

Panorama of Tobie's bonsai garden

.

Tobie's private bonsai collection is one of the best that I have ever seen. I will post a few shots of Tobie's bonsai now but I will show more in a future article. During the visit Tobie and Sandi, his wife, toured us around much of the southern part of South Africa, the Garden Route. We saw stunning landscapes of mountains, ocean, as well as incredible specimens of familiar bonsai materials growing in their native habitat.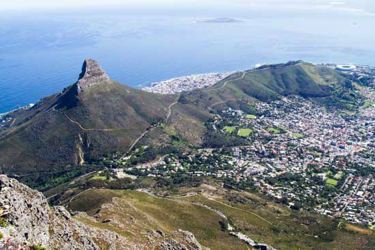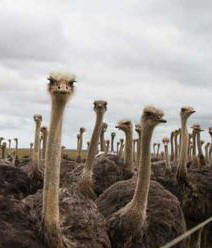 The vista from the top of Table Top Mountain in Cape Town (Center) Meerkats sunning themselves to get warm. (Right) Ostriches watching us watching them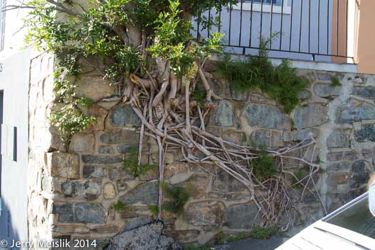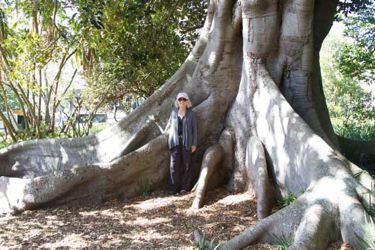 Ficus burtt-davyi on a rock wall in Cape Town and Ficus macrophylla, a non-native, with Rhona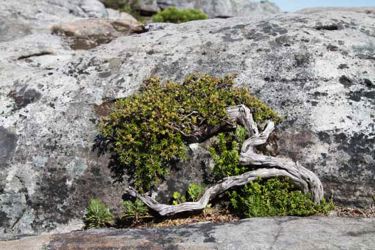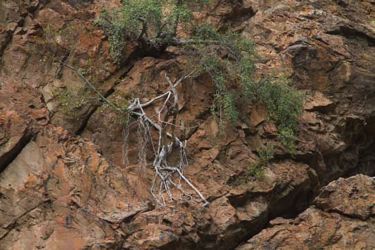 Native juniper-looking material and native Ficus burtt-davyi sprawling over rocks in typical habitat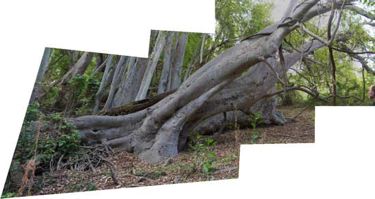 Native Ficus sur showing an immense tree that was very alive but toppled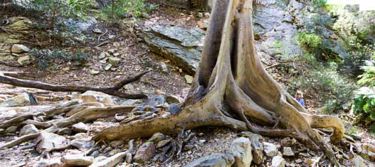 Ficus sur with Rhona behind the right side of the root in habitat
During the convention my demonstration/lecture was on a Ficus 'thonningii complex' from the Tobie's collection. Starting with great material made my job look easy. It is rare for me to style a fig or deciduous demo material that has even a proper trunk line let alone a nice apex and primary and even some secondary branches.
The first process was to remove all the leaves so that the structure of the branches, major roots and trunk were visible. Once that was done small branches that were not appropriate, too small, too low, and poorly shaped were removed.
All the while the tree was rotated to determine the best front as dictated by the rootage, the major branches and the apex. Once the appropriate front was selected and the major branches committed, secondary branches that were useful were retained. All other branches were quickly removed.
The final tree was quite attractive but I have to admit the tree itself was so good that little needed to be done. As is always true the best way to end up with a great tree is to start with one!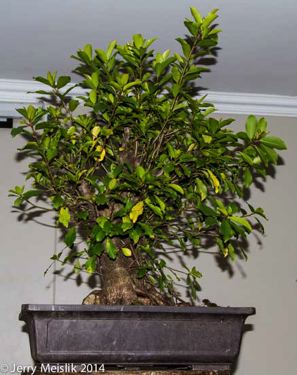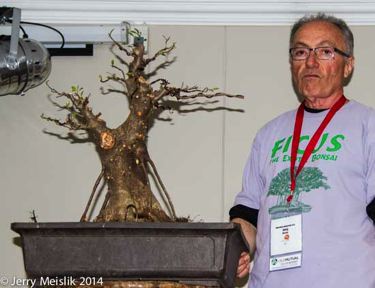 (Left) Jerry's demo tree before styling, and right, demo tree after styling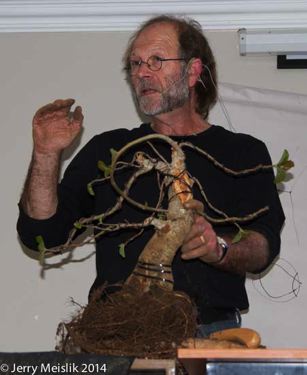 There were demonstrations by the other headliners that are shown here as well. Tobie Kleynhans, bonsai master, styled out a Ficus sycomorus with root splitting and thread grafting techniques. Using this rough pre-bonsai material he offered a tremendous amount of information on how to address a young piece of material.
Tobie and his Ficus sycomorus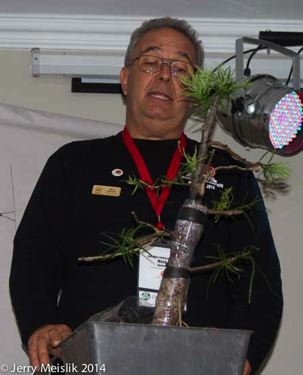 Mack Boshoff is passionate about Strangler Fig design and has written a book on this style. He created several strangler figs and their variants by planting figs on some dead trunks and some living trunks to simulate the various types of strangler fig development.
Mack and one of the stranglers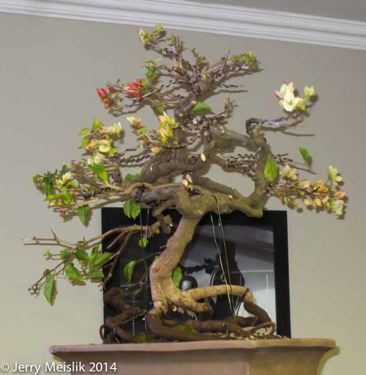 Bernie O'Callaghan of Namibia demonstrated on a Bougainvillea turning it into a wildly un-orthodox design as well as shaping a huge trunk Portulacaria that evolved into a semi-cascade.
Bougainvillea with atypical styling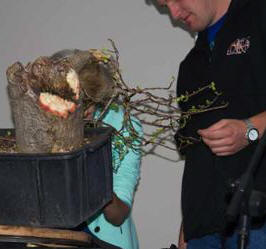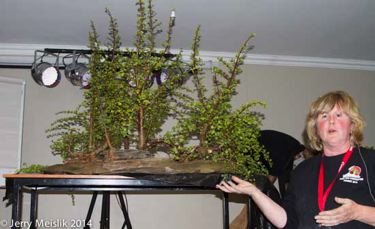 (Left) Portulacaria with huge trunk in semi-cascade

(Right)

Michelle van der Burgh with the nearly completed Portulacaria forest.

Bonsai lecturer Don Stephenson of Namibia discussed all the particulars in using Portulacaria afra for bonsai while a team of designers worked on creating a Portulacaria forest. Portulacaria is native to South Africa and is readily collectible and available. I got to see many growing wild during our drives about the countryside.

Aloha David and everyone, we're back home. Digesting all the facets of our recent trip to South Africa. Life is almost back to normal and jet lag is a faint memory. There should be a second and perhaps even third part depending on what shapes up with the images that I have available and the story to tell.

We are getting chilly here at night and have had a first significant frost the other night. All my plants are indoors and they don't mind looking out at the winter coming along. I hope this gives you a feel for the time we spent in South Africa. Next month we will have more to tell you about the trip.

- - - Jerry Meislik (jerry@bonsaihunk.us) URL: www.bonsaihunk.us

SOME COMMENTS BY DAVID

Jerry wrote earlier that some parts of South Africa are not tropical and temperatures drop pretty low and this may explain why some of the south African ficus do not do well indoors. One of my continuing comments and suggestions to the national and the regional bonsai organizations is to include more information about the themes or essence of the major demonstrations, rather than just photos of the exhibit and the social activity reports to allow those of us who cannot attend these conventions or meetings can have a feel for what's happening in the bonsai world.

Compared to most of those who are invited to lecture and demonstrate, Jerry is amongst the most prolific writers who is also willing to share his subject matter with the greater readership audience. As much as the subject is Tropical and True Indoor Bonsai, I welcome this type of reporting that includes tropical trees that are known to grow indoors. Some of our customers have tried Portulacaria and may have gotten a better idea of how it is being grown in its original place of origin. Look forward to further updates from Jerry. MAHALO!

*** Return to the November 2014 issue of Journal of Tropical & True Indoor Bonsai

*** Go to the Mid-Pacific Bonsai Foundation website

*** Go to the Fuku-Bonsai website

© Mid-Pacific Bonsai Foundation & Fuku-Bonsai, 2014