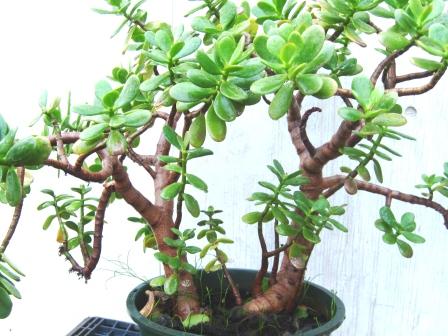 Jade Plant; a succulent that grows well outdoors in Hawaii in dry areas; will rot if over-watered.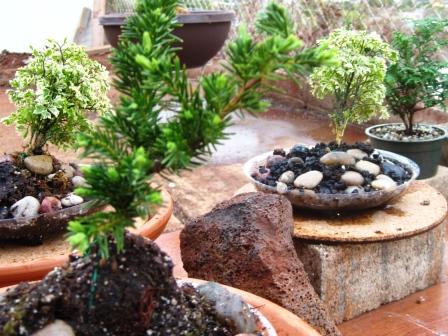 Variegated Parsley Panax and various evergreen plants being grown outdoors in Hawaii where the year-around temperature range is between about 55°F on the coldest night of the year to about 90°F on the hottest part of the hottest day of the year. Plants that grow in Hawaii have the possibility of growing indoors whereever temperatures are maintained between 65°F and 85°F. with air conditioning or heating PROVIDED LIGHT, WATER, AND CULTURAL NEEDS ARE MET.
Aloha David & Staff, I know you are all busy, and would appreciate any and all feed back when you have the chance. Much aloha.

My name is Ryan Chang born and raised on Oahu, currently residing in Waipahu. I recently started researching Bonsai. I always wanted to grow Bonsai, but never knew where to start. I kept researching and found your website to be filled with invaluable information. I am blown away with your True Indoor Bonsai. I have been going through the site, and it's vast information over and over. I even tried applying some of your techniques to my own backyard plants that have been neglected over the years, but have kept a steady growth. I started filling out the order form, but had a few questions before I submit. My questions are:

1. Are all levels of the workshop handbook from beginner to advance available for purchase.

2. Are your indoor bonsai able to grow outdoor in full sun with the packaged media/fertilizer etc.

3. I know for most part that indoor bonsai needs to drain faster than outside. Is your media suitable for outside use. If not, will standard potting soil mixed with black cinder, moss do the trick?

4. Fertilizer vs Granules - If I plan to grow your plants outside, what do you recommend? Do I use both the Shultz liquid drops and Granules. which leads me into next question.

5. Do you offer custom bulk orders? For example, I can't find any Granules, and would like to purchase your media for other plants if its suitable for other potential bonsai I have in my back yard.

Sorry for all the questions. Just one last one: Is it possible to learn all the same techniques from the workshop handbooks as I would if I were to attend a workshop @ your location? I know everyone follows the handbook in your workshops, but was wondering if I would miss anything important by not taking up a workshop and just purchase the handbooks.

Again, much thanks for reading. Hope to hear from you all soon.
Aloha, Ryan Chang (December 30, 2012)
_________________________________________________________________________________
COMMENTS FROM DAVID: Ryan first wrote on December 30, 2012 in the morning and before I had a chance to respond received a second email a few hours later stating that in reading further into the website that he knew most of the answers to his questions and sent in a large proposed order. I recommended that he start at the beginning with three each IWP-8 Introductory Workshop Package (Workshop I) which would give him some experience in creating two Sumos and one Roots. If he wanted to observe slightly older plants I recommended adding a 4LL8-Sumo Intermediate Workshop II and a 4LL8-Dragon Intermediate Workshop II. I also recommended that he join the Mid-Pacific Bonsai Foundation and learn "Fast-Track Bonsai" by writing reports (that could be published in the Journal) to receive special assistance.
On Wednesday, January 2, 2013, his email provided more information, authorized the order, asked more questions, and that he would call in his credit card authorization which he did. So his order was sent on Monday, January 7 and arrived in Honolulu the next day and I received another email that he was set to go with a final question!
ON TUESDAY, JANUARY 8TH, I RECEIVE HIS FIRST REPORT BUT THERE WERE HUGE PROBLEMS! Ryan is 28 years old and in the IT field where he mans the night help desk for a local networking company. He is far more advanced than I am but in only a few areas of computer work that I don't know anything about! His high-tech first report was typical of peers of his age group! It was in a format that I couldn't handle, extremely brief with odd formatting and graphic tweaks!
For the next few days, our emails steadily clarified and provided Ryan with the criteria for submitting information and photos in a manner that I can handle. Then on Monday, January 14, I received 11 emails including text and photos. Besides resubmitting the first one, Ryan couldn't resist it and did all five workshops over the weekend! It contained a lot of good efforts but also a lot of problems and work that must be redone.
Ryan and Dean are the inspiration for the editorial "FAST-TRACK BONSAI!" Now its time to slow things down and to develop discipline and an effective working relationship that can be win-win for everyone. Ryan and Dean represent the future. These sharp high energy guys are aggressively pursuing knowledge, and not afraid to make mistakes! In too many ways, I see in them what I was 50 years ago when I first met the late Haruo "Papa" Kaneshiro who was very conservative.
He encouraged but tried to convince me that bonsai was the result of years of pinching. By his standards, you never cut anything larger than a 1/4" diameter for fear of leaving scars. He taught me his love of bonsai and answered my questions and enjoyed my results. Papa could never bring himself to do major "reduction-building" but was always happy to take home trees. He nurtured several of us who were then the "Young Turks" and urged us to follow our own path and we did. A few of us took the lead to bring Hawaii out from the secrets of a version of traditional Japanese temperate climate outdoor bonsai. We participate in the International Bonsai movement and Fuku-Bonsai when on to pioneer Tropical and True Indoor Bonsai.
There are many forms of bonsai and more than anyone I know, I've always focused on creating a form of bonsai that could be grown by anyone, anywhere who can grow houseplants and these are now Fuku-Bonsai's True Indoor Bonsai. We went past Hawaiian Lava Plantings that are great for gifts and introduced several sizes of Premium Potted Bonsai in three major stylings: "Sumo," "Roots," and "Hawaiian Dragons." In the near future, we will introduce other stylings in our older Custom Collection offerings.
INTRODUCTORY WORKSHOP PACKAGE (INTRODUCTORY WORKSHOP I) is the ideal way to get started. For those committed to the hobby, consider starting with three. If you are willing to share your efforts by writing reports and sending photos, I'll be happy to provide personal assistance. By including these reports in the Journal, it becomes a win-win situation!
I invite you to join us! ~~~David W. Fukumoto (david.f@fukubonsai.com)