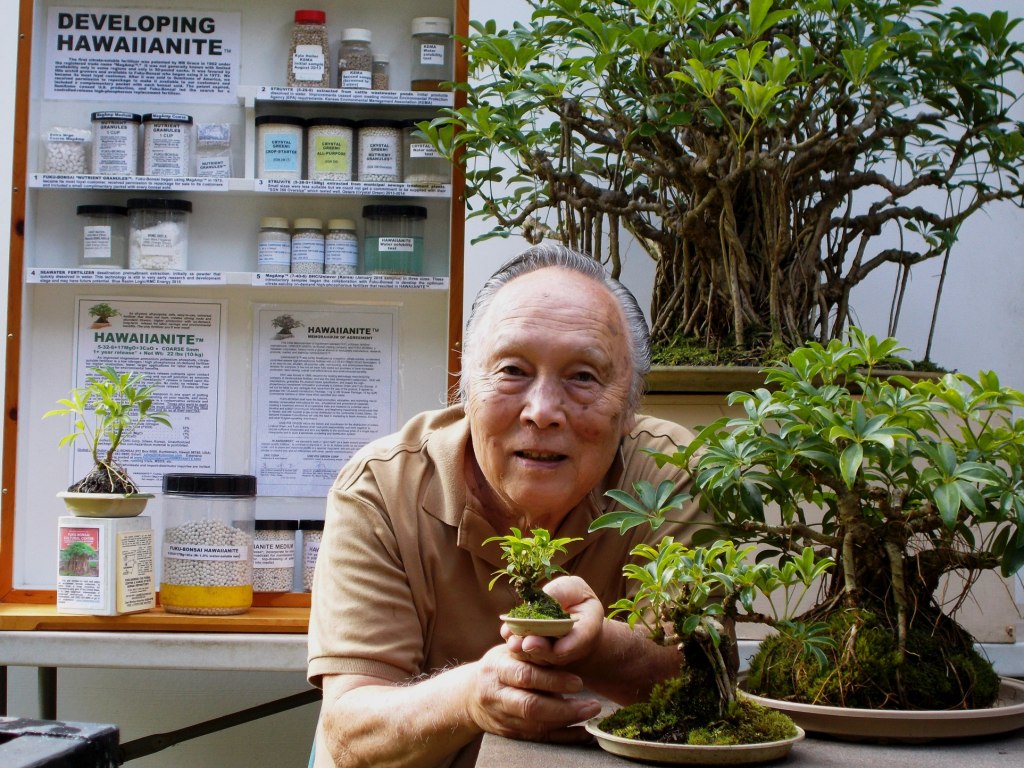 Aloha and welcome to the first FBnews as FUKU-BONSAI ENTERS A NEW ERA!
It is a joy to reconnect and share our bonsai journey that began in a newlywed apartment in 1962, an exploding passion after we moved to the suburbs, and as Hawaii's first export nursery since moving the the Big Island in 1973. Our unique easy-care Hawaiian Lava Plantings have been hand-carried by Hawaii visitors or shipped to all parts of the United States. We incorporated in 1985 to be the catalyst to develop the 17-acre Kona Fuku-Bonsai Center as a major Big Island visitor attraction and were joined by over 200 stockholders. The center opened to critical acclaim in 1992 but it was doomed. Unfortunately in 1989 we had sprayed defective DuPont Benlate contaminated with weed killers and eventually suffered losses well over $30 million! The net total recovery of the 1994 Benlate product liability and the 2007 DuPont fraud settlements after taxes and legal costs totaled less than 10% of our losses. Life is not fair and DuPont escaped paying for the damages they caused. The center closed, we retreated back to Kurtistown, reinvented the company and now preparing to expand!
Residual contamination prevented growing our original Brassaia crop and it took us over 16 years to learn how to grow Dwarf Schefflera as a superior replacement crop. It is ideal for bonsai with smaller leaves, better branching, faster growth, and amazing root systems that make it possible to create a wider range of styling than any other plant trained as bonsai. It is easy to grow, will grow in homes and offices throughout the year and outdoors whenever night temperatures are above 55°F. DWARF SCHEFFLERA WILL ONE DAY BE THE MOST POPULAR BONSAI IN THE UNITED STATES AND IS THE IDEAL GIFT BONSAI FOR ANYONE, ANYWHERE WHO CAN GROW HOUSEPLANTS.
Fuku-Bonsai is committed to be the best Dwarf Schefflera bonsai educational resource as well as the best source of premium high-potential plants! Our website began in 1999 and is amongst the oldest, largest, and highest rated for True Indoor BonsaI™ content! In January 2013, with the 501(3)(c) Mid-Pacific Bonsai Foundation as co-sponsor, we began the monthly email "JOURNAL OF TROPICAL AND TRUE INDOOR BONSAI" with friend and ficus bonsai authority Jerry Meislik in the role of assistant editor and Ryan Chang as an enthusiastic beginner contributing articles. Others joined us. It was free and a lot of work, but provided Fuku-Bonsai with an incentive to keep improving! The back issues are at: www.fukubonsai.com/MAIN.2.JournalofTropicalandTrueIndoorBonsai.html
After issuing the November 2014 issue,, our computers crashed and although we kept some of the website updated, we lacked the technical resources to put together and issue a monthly email newsletter. . Emailing service "Constant Contact" will assist us in maintaining and keeping the emailing list current. To avoid sending spam, we've sent emails to past customers, recipients, and others informing of the new FBnews and invited everyone to receive a copy by signing up on the Constant Contact "opt-in" form. We will continue to produce highest quality products and prompt personalized service with one-on-one email responses.
www.fukubonsai.com HAS BEGUN TO BE REBUILT, RE-EDITED AND UPDATED. With a new hosting company and computer associates we have begun to make major changes to include re-editing the entire site, omitting older materials, updating, and reorganizing so the extensive resource information is easier to find with a site map and navigation aids. The bonsai that were featured in previous Journal "how-to" articles have continued to develop and we will update and include photos of how the trees developed. We'll include a Bonsai Gallery of trees created here with the url link below the photo so you'll be able to quickly find the website articles that explain how each was created.
INTRODUCING HAWAIIANITE™ . . . to be available soon!
A large part of our success is due to a little known "magnesium ammonium potassium phosphate" slow-release high-phosphorous fertilizer patented in 1962 and no longer manufactured in the United States. It was known primarily to professional and especially orchid growers. We obtained permission to repackage and included a complimentary packet with each bonsai we sold. We led the search for an improved replacement and were lead collaborators to develop Hawaiianite as a unique, safe, all-purpose universal fertilizer for everyone. We own the Hawaiianite tradename, exclusive formulation and global distribution/marketing rights.
To raise needed working capital, we are placing a large number of our oldest bonsai on the market and have created a HAWAIIANITE SUPPORTER MEMBERSHIP program to create a common interest community to complete development, introduction, and marketing of this unique fertilizer. We invite individuals, users, retailers, distributors, and agricultural organizations to become members. A significant amount of information is already posted at the www.fukubonsai.com/HAWAIIANITE.html portal section. For additional information, please contact David W. Fukumoto at david.f@fukubonsai.com