WELCOME TO THE FIRST 2019 FBnews!
ALOHA! Fuku-Bonsai is now beginning to make progress toward publishing a free monthly email newsletter to continue our efforts that began with publishing the Journal of Tropical and True Indoor Bonsai in January 2013. That effort ended in November 2014 when our modest computer system had a major crash. We were able to restore email capabilities, do modest website changes, but could never complete and publish a full newsletter.
Part of our problem is that we live in a very rural part of the Big Island of Hawaii where there is very limited computer transmission speeds. We don't have cable service and while sattelite TV reception is a great improvement over roof-top antennas, reception is very erratic on rainy days and I'm told satellite computer is not recommended. It may take another 10 years before fiber optics or cable service is available. That's part of the trade-off in living in the best part of Hawaii!
But other parts of our problem may be that we really don't know what we are doing when it comes to computers! I put up the website in 1999 using MSFrontPage that is totally outdated and unsupported. But it worked for me until the November 2014 computer crash. Publishing an email newsletter is very time consuming if you're committed to not spamming. After publishing each issue, it's a time-consuming period to correct and updating the emailing list of those who changed email addresses, want to be added, or ask to be removed. We lost the huge clean emailing list in the November 2014 crash.
WE'RE GOING TO IMPROVE OUR COMPUTER SKILLS! If you can help and want to learn more, please go to www.fukubonsai.com/1a1a.html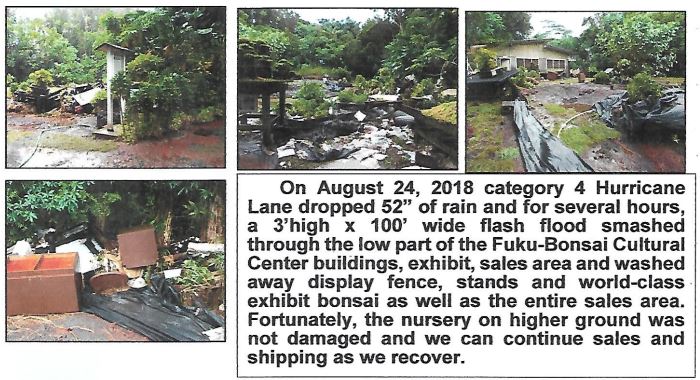 A lot has happened since November 2014 when our computers crashed. For MAJOR FLOOD DAMAGE AT FUKU-BONSAI report go to www.fukubonsai.com/1a1c5.html
To date, all Hawaiianite™ trials have exceeded expectations. For a current report
*** Return to Fuku-Bonsai website homepage

*** Go to www.gofundme.com/save-fukubonsai for more information or donate.