FUKU-DARUMA BECAME OUR SYMBOLIC MASCOT IN 2001!
Now in 2001, having rebuilt the nursery and staff, we continue our legal battle to collect damages from DuPont and a trial is tentatively scheduled for 2003. We perservere. But we also renew our commitment to teaching bonsai. The great American philosopher Walt Disney was a quiet, effective teacher of All-American values, an advocate of the power of fantasy and dreams, and a unique, creative individual. To help him sell his message, he created Mickey Mouse. Following his footsteps, we created "Fuku-Daruma," the great-grandson of the original Daruma who moved to Hawaii to help teach True Indoor Bonsai™ to young and old children of the world!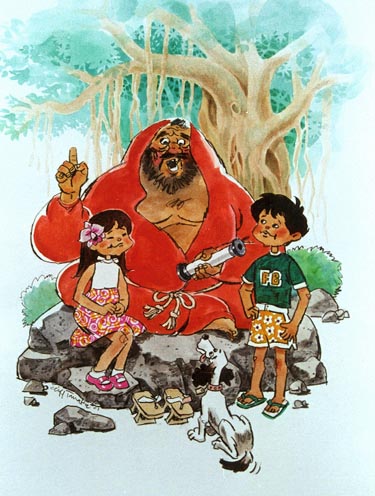 " FUKU-DARUMA & FRIENDS "

Acrylic watercolor on panel board by Cliff Tanaka (A Fuku-Bonsai Inc. commission with character

development by Cliff Tanaka with input from David Fukumoto and Michael Imaino) © 2001, Fuku-Bonsai Inc.
Bonsai can be impossibly complex or delightfully simple! Our goal is to create the most successful workshops and gift bonsai and rather than teach everything about bonsai, we'll focus only on what is needed to be successful with Fuku-Bonsai materials. We define success as attractive workshop results that have outstanding artistic potential with excellent likelihood of being alive and thriving a year later!
The likelihood of success is based upon the choice of plant material. In selecting a common durable houseplant, our workshops and gift bonsai are suitable for anyone who can grow houseplants. Attractive workshop results can be predicted if there is detailed preparation, selection of appropriate components, and a significant amount of pre-training of the prepared bonsai stock. The emphasis on the cultural requirements of the workshop plant focuses specific information to successfully grow that plant.
The workshop is successful because most extraneous bonsai information is eliminated. With fewer things to remember, the retention rate is high. At Fuku-Bonsai, the workshops are presented by our experienced staff who handle these plants daily. On a "mail-order" basis, we believe that younger workshop participants will be able to relate to Fuku-Daruma and friends and that with a little coaching by an adult, that even 10-year old children will be successful. We expect adults to sail through in an enjoyable experience! We've had participants as young as 5 years old and with a little help and coaching, they did very well!
A successful bonsai workshop experience is crucial to teaching and building a long-term interest in nature, plants, and bonsai. Growing bonsai demands an interest and commitment and the workshop objective is to create the same kind of bond between the workshop participant that exists between a month and child. We're excited about the potential and look forward to hearing from everyone as we continue our efforts to create the most successful bonsai workshop and gift bonsai!
*** Continue to next section August 2001

© Fuku-Bonsai Phone (808) 982-9880 E-mail: sales@fuku-bonsai.com