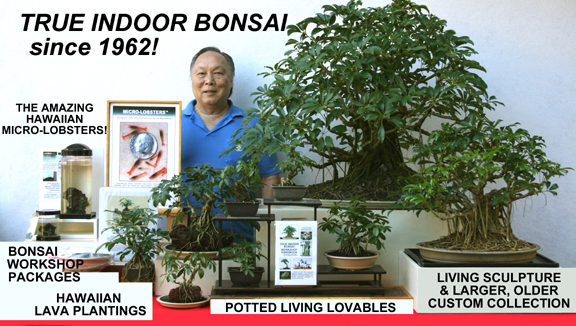 ALOHA AND WELCOME TO THE FUKU-BONSAI STORE! Fuku-Bonsai was Hawaii's first certified export nursery in 1973 and we specialize in producing the finest Dwarf Schefflera bonsai simply because it is the ideal and most successful gift bonsai for anyone, anywhere who can grow houseplants. We ship to all parts of the United States via Federal Express with satisfaction and safe arrival guaranteed. We produce only premium quality - the highest-quality proven, durable houseplant bonsai available anywhere - by the pioneer of TRUE INDOOR BONSAI since 1962!
As suggested, we have updated the website to include a PayPal cart and check-out to make it easier for those who know what they want. You can expect an order confirmation and we will continue to ship each Monday, Tuesday, and Wednesday to arrive anywhere the U.S. in 48 hours or less. Our flat-rate shipping is attractive: "$15 for the first plant; $22 ($11 each) for 2 plants going to the same U.S. address; $24 ($8 each for 3 plants to the same U.S. address. FREE SHIPPING WHEN 4 OR MORE PLANTS ARE SHIPPED TO THE SAME ADDRESS. (Arizona: $15 phtosanitary certificate fee; Alaska ($10 FedEx surcharge).
But we will continue our commitment to the finest prompt, personalized service and will accept orders with phone credit card authorizations, We'll be happy to answer questions and assist with your order, More are know that I'm getting hard of hearing and I, therefore, prefer email rather than phone calls. Our product lines are evolving and we're developing Premium Prepared Stock Workshop Packages and creating custom combinations for those in the beginner or fast-track study groups. In the past few years, we've made remarkable progress in teaching True Indoor Bonsai. Please feel free to phone our staff or to email me for more information.
Regards and aloha, ~~~David W. Fukumoto, president & founder (david.f@fukubonsai.com)