2018 GIFT LIST #1

HAWAIIAN LAVA PLANTINGS

THE MOST SUCCESSFUL EASY-CARE GIFTS FOR HOMES & OFFICES!
There's a lot of confusion about the term: "INDOOR BONSAI." Many improperly use this term for any tropical or imported Chinese bonsai but these need high-light greenhouses and are not houseplants! To differentiate, Fuku-Bonsai trademarked: "TRUE INDOOR BONSAI™" for our houseplant bonsai that can grow indoors throughout the year! Combine the interest and beauty of Hawaiian lava rock with a durable pre-trained houseplant, skillfully and efficiently grown by Fuku-Bonsai's hard-working staff in large quantities to the highest standards. The plants are pre-trained BEFORE they are rock planted. The rock restricts root systems to slow the growth. Fuku-Bonsai's Dwarf Schefflera Lava Plantings are the most successful easy-care gift items for anyone, anywhere who can grow houseplants!
MORE INFORMATION ABOUT HAWAIIAN LAVA PLANTINGS
DWARF SCHEFFLERA (Schefflera arboricola)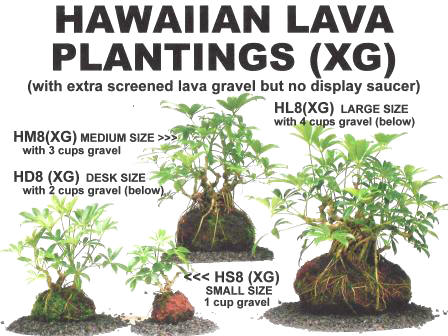 HAWAIIAN LAVA PLANTINGS are grown in four sizes: small (S), desk (D), medium (M), and large (L). Older larger sizes are the best values. Fuku-Bonsai has grown Hawaiian Lava Plantings since 1962. Give them a lot of light and thin out and remove oldest leaves. You will be able to enjoy the structure and light will reach the inner growth. If you have questions, we're just email or call by phone.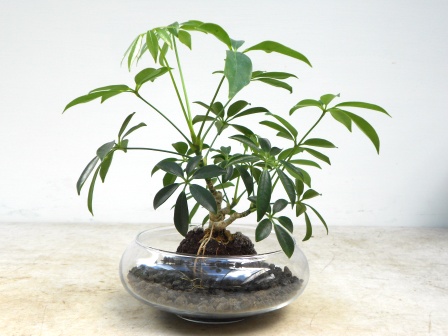 Our basic model is now "HAWAIIAN LAVA PLANTINGS (XG) with extra screened lava gravel but no display saucer. We are learning that our screened, porous lava gravel is the ideal size. The porous material holds just the right amount of moisture in almost all indoor conditions in homes and offices. It is superior to hard aquarium gravel or larger rounded river rocks that are less effective in holding humidity. This allows you to select your own display container. In very dry situations with interior heating or air conditioning, an incurved glass container is proving very easy-care as it acts like a semi-terrarium. Our most popular HS8(M) is available with a melamine display dish for a nice compact ideal gift.
For more information, go to www.fukubonsai.com/2b2a9.html