2018 GIFT LIST #2
PREMIUM POTTED BONSAI
FOR THOSE WHO WANT FASTER GROWTH AND TO TRAIN BONSAI!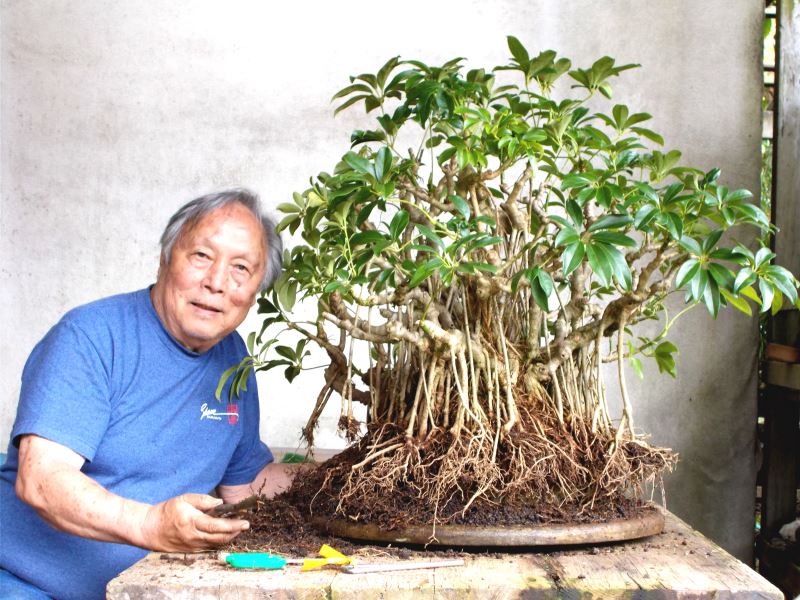 As Fuku-Bonsai Enters a New Era, I thank our loyal customers for their strong support since the series of computer crashes in 2014! We are enroute to rebuilding the Fuku-Bonsai website and again sending out a monthly email newsletter. Please sign up on the homepage to get on the emailing list.
There are several major product line changes and there will be others in the coming months and years. The standards for each model item have been raised and the overall quality standards are continually going up. Fuku-Bonsai offers the highest quality Dwarf Schefflera bonsai available on the internet. We will be offering increasingly older and more mature bonsai as Custom Collection. In addition we offer some oldest and largest bonsai that are very suitable for the finest public and private bonsai collections! Please email me for information if interested in highest quality Dwarf Schefflera premium bonsai.
Regards and aloha, ~~~David (david.f@fukubonsai.com)
SIX CURRENT CATEGORIES WITH OTHERS TO COME:
1. 4LS8 (PREMIUM SMALL POTTED BONSAI) in 5'X3"X2" rectangle plastic pots: $59.95 + shipping ("4LS8-S Sumo," "4LS8-R Roots," and "4LS8-D Dragon" stylings) This premium small bonsai are already 4 to 6 years in training and much heavier than the smaller younger prepared bonsai stock used in the Introductory Workshop Package
2. 7RLS8 (PREMIUM SMALL/MEDIUM POTTED BONSAI) in 7 3/4" x 5 1/2" 2 1/2" rectangular pots: $89.95 + shipping; ("7RLS8-S Sumo," "7RLS8-R Roots," and "7RLS8-D Dragon" stylings). This size is similar our former 8LS8 round pot items and are basically "up-potted" form into a slightly vigorous "growing-on" training. They are mostly 6 to 8 years in training. Those who like this as a "finished size" should move into "refinement training" to keep it at this size. Many prefer to "pot-up" to the slightly larger medium size.
3. 9RLS8 (PREMIUM MEDIUM POTTED BONSAI) in 8.5"x6"x2.5" rectangular pots: $179.95 + shipping; ("9RLS8-S Sumo," "9RLS8-R Roots," and "9RLS8-D Dragon" stylings). The trees in this category are 10 to 12 years in training and use standard depth bonsai pots. They are amongst the most desirable and popular "finished" size for most homes or offices.. At this stage, the trunks and roots are very well established, growth is slowing, a nice overall shape is established, and future training could be primarily light pruning of branch tip to keep growth compact. From this stage, there are three primary training strategies:
a) Leave it in the current container for several more years and do light repotting every 4-6 years with the plant going back into the same pot. This is the easiest care route requiring the least bonsai skill. Continue fertilizing and light trimming of the ends of the branches to keep the tree compact and refining the shape. Generally from the point the branch was last trimmed, allow 3 to 4 new leaves to develop and trim back to one or two leaf positions if you want the bonsai to grow out a bit larger. If you like the size, prune back a bit harder for branches that are too long.
b) Advanced bonsai hobbyists would move this bonsai into a shallower, smaller volume bonsai pot (such as our 12" diameter x 1" deep saucer-pot) to further slow the growth rate, to shift the visual emphasis to the tree and away from the pot. A very few would actually do more severe reduction pruning to create a more impressive smaller bonsai. This takes much more skill to properly fertilize and do more frequent partial repottings. These two strategies produce the highest quality bonsai refinement results. Our premium "private collection" trees are handled in this manner. Old-timer repeat Fuku-Bonsai customers who want smaller older trees trained to highest standards are making private purchases from a small number of "private collection" or older "educational collection" bonsai. These are in very limited quantities and are primarily available to visitors to the Fuku-Bonsai Cultural Center. We may have in larger quantities in the future and will one day list them in the Custom Collection section. Please email for more information if you're interested.
c) Advanced bonsai hobbyists will often want to purchase a larger older bonsai but are limited financially due to costs. The ideal situation is to purchase the equivalent of a 9LS8 but already potted into a larger 17LS8 pot. Fuku-Bonsai can provide #17 Conversion Kits (listed in Giftlist #3). Many prefer that Fuku-Bonsai do the professional conversion and we once sold them as "Entry-Level Custom Collection." They were so popular that we almost never had current photos of specific bonsai. As our inventory enlarged and grew older, we are now offering these as "17LS8" as described below.
4. " 17LS8" in 17"x12"x2" oval pots priced at $400 plus shipping. These are the older end of the 9LS8 plants and generally 12 to 15 years in training. In making this into a "model category" we don't offer specific individual photos. But it is far more likely that we can now keep these items in stock. The will be available in "Sumo," "Roots," "Dragon" stylings. Although there is a range available, there is still some leeway for us to select a tree toward your preference styling without going through the time and cost to send individual photos. Please email to discuss prior to purchasing. We are delighted to work with advanced hobbyists, especially those who started with our Introductory Workshop Package (IWP) or Premium Workshop Package (PWP) and are now making public demonstrations and teaching! These are great public presentation demonstration trees if you allow them to grow wild prior to a presentation. Because the essence of the bonsai is already a high-quality bonsai, at the end of the presentation, the odds are that you will have an attractive commendable result!
5. CUSTOM COLLECTION in 17x12x2 oval pots (or larger containers). While a percentage of trees show in the Custom Collection Category are older "17LS8" that have achieved more maturity, most were developed outside of the "model standards" that allow efficient larger scale production that are higher-quality and great values. From the HUGE inventory, we'll often set aside trees that may have an interesting uncommon shape. These may go into 10"x10"x2" half-flats or 18"x18"x2" full flats to be sheared from time to time and to age. From time to time, I may go through these choice trees and will very heavily reduce them to enhance a particular feature. In establishing a range of non-standard training, we greatly increase the range of styling to be in our oldest, largest Custom Collection. From the start of the certified nursery in 1973, a large number of trees have gone into the "old plant bank" Some are allowed to grow wild for several years before they are cut back hard. The oldest trees are over 40 years in training and increasingly we will be moving these into refinement training and offering them in the Custom Collection section. Large older trees are in 25"x15"x2" rectangular plastic bonsai pots. Still larger trees may be in 28" fiberglass oval trays just 1.5" deep. Most of the Custom Collection are at least 20 years in training with the older ones being over 40 years in training. In addition to Sumo, Roots, and Dragons, there's a growing number of "root -over-rock-into-pot" bonsai.
6. PREMIUM LARGE OLD PRIVATE & PUBLIC COLLECTION BONSAI. The Fuku-Bonsai certified nursery began in 1973 and from the start, trees were trained from seeds and cutting on benches in non-soil media with periodic certified nursery inspections. This allows us to ship to all parts of the United States. Our 1:10 Project (in which pots are ten times wider than they are deep) are great for smaller bonsai. But we also have the large version that uses large training pots with the largest being 32" diameter fiberglass pots just a bit over 3" deep! Still larger bonsai are on 3', 4', 6' with our largest being 7' diameter concrete discs mounted on revolving turntable hardware. These are the "stars" of the Fuku-Bonsai Cultural Center Exhibit Collection. The collection is impressive but is getting too large and some are being offered for sale. See additional information below and the new informational file.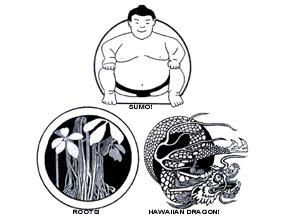 THREE MAJOR BASIC TRAINING CONCEPTS
Our logo designs tend to follow Japanese, Chinese, and modern traditions. How do you tell people that one group of trees have short stout trunks with a lot of branches? We decided that the Japanese sumo warrior was the ideal symbol. Roots was initially difficult but it turned out to be the easiest. Hawaiian Dragons is our favorite and the symbol of our family. This design took many years to complete.
1. SUMO: Short and stout; heavy trunks, multiple trunks, low branches with heavy trunk-root buttressing. These are favored by "traditional" bonsai growers who are impressed with the large heavy trunk-roots. All Hawaiian Lava Plantings are SUMO so this is our basic original style.
2. ROOTS: Sumo crown on tall elegant exposed roots. This was our second major styling and is the most popular of all Premium Potted Plants. Indoors, many consider the taller root trees as the most attractive as the roots are the distinctive feature of banyan bonsai. Most are upright with some slanting. Root-trained trees are also ideal for root-over-rock-into-pot plantings. While it is harder to untangle older trees, once untangled, the roots can be guided into "root trail crevasses" and more easily established in the pot.
3. DRAGON: Twisty, turning, fun bonsai! These are the picture of activity and are never boring! As time permits, we are training more complex combination Roots/Dragons and these are increasingly popular with most sold before they can mature into older Custom Collection.
____________________________________________________________________________
A STATEMENT OF COMMITMENT & PHILOSOPHY
The initial challenge is to train trees BEFORE progressing into more advanced bonsai that includes ROCK PLANTINGS, MULTIPLE-TREE GROUP PLANTINGS, OR EVEN THE MOST DIFFICULT 360° COMPLEX REVOLVING LANDSCAPES! To keep high-potential bonsai prices affordable, we produce larger quantities in the above three basic concepts. The youngest, smallest trees more closely follow basic concepts. As trees age, we try to enlarge the range within each styling category.
On a parallel track, over half of the nursery holds plants being trained prior to being offered as "4LS8 Premium Small Potted Bonsai" or the other "model standards." The other half is our "old plant bank" in which trees are in a full range of "growing-on" training. The HUGE variety in this section are not offered for sale until they are shown in Custom Collection when they are over 20 years old.
As time permits, larger rocks are being sculptured and prepared and choice older trees are selected to rock-plant to create one-of-a-kind Custom Collection. They may stay in the "old plant bank" for several more years before they are fully established and offered for sale. From the very beginning, our dream was to create the highest standard bonsai nursery that specialize in high-success True Indoor Bonsai.
We want only highest potential plants and don't want any "old junk plants!" So we installed professional culling standards that discarded any and all plants that did not meet our "Fuku-Bonsai prepared bonsai stock" standards by the time the trees are about 3 years old. It is cheap to discard trees at that stage. As you review the progress and development of trees as they progress through the model categories, you will be able to understand that our older, larger trees are really our best values. Only the best trees "graduate" into the next older larger categories.
For those who want to learn how to train bonsai, we offer the breakthrough INTRODUCTORY WORKSHOP PACKAGE (IWP) that features 2" prepared bonsai stock. With good growing conditions, they may reach the standards of our 4LS8 in 2-3 years. Those who first took the IWP were generally successful but repeat visitors complained that it grows so slow as many did not have ideal growing conditions.
They urged us to make available the PREMIUM INTRODUCTORY WORKSHOP PACKAGE (PIWP) that feature a larger, older, more developed 4" prepared bonsai stock. Those who have completed it have also been successful and they usually achieve the standards of 7LS8 plants in just 1-2 years. They especially like the idea of working with older Roots and Dragons and PIWP are clearly the favorite of returning Fuku-Bonsai Cultural Center visitors. They like working with our staff and its often the high-light of their Hawaiian vacation. It's great to have family and three-generation workshops!
Fuku-Bonsai is committed to highest standards and prompt, personalized service. We produce the most successful gift bonsai for anyone, anywhere who can grow house plants. We are committed to customer success but also to be the best informational and bonsai resource for those who want to learn and train their own bonsai. We only offer dwarf schefflera because it is the most durable and ideal tree for growing year around in homes and offices throughout the entire United States. It will grow at a higher growth rate outdoors with modified care when night temperatures are above 55°F.
Dwarf Schefflera is our specialty because it is the best True Indoor Bonsai! It can be training into more styles than any other tree trained as bonsai. We are very confident it will one day be the most popular American Bonsai, simply because it will be more successful with most people and it is not necessary to be a highly skilled bonsai fanatic to be successful! We produce the best dwarf scheff in largest quantities. We are committed to supply Introductory and Premium Workshop Packages for those who want to learn and offer discounted quantity prices for those who are willing and able to teach others.
Myrtle and I have been privileged to pioneer True Indoor Bonsai since 1962. As Fuku-Bonsai enters a new era, we thank you and look forward to it supplying the next generation with the finest and best value True Indoor Bonsai! Mahalo! ~~~David (david.f@fukubonsai.com)
___________________________________________________________________
4LS8 Premium Small Potted Bonsai - $59.95 + shipping
These are in 5'x3'x2" rectangular plastic bonsai pots.. Ready for refinement into a small bonsai. Or grow-on to create a medium size bonsai. Actual items shipped will vary as each of our plants are individually trained. We have recently upgraded this model item and trees are more mature and heavier. These are still in limited supply and not in sufficient quantities for corporate gift orders. We will ship best plants available.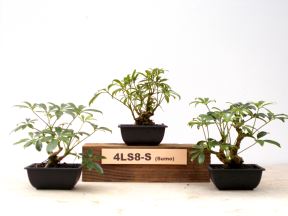 4LS8-S (Sumo) These trees are 2-3 years older than the prepared bonsai stock that are sent a the main component of the Introductory Workshop Package (IWP)which is only offer in sumo styling. The trunks are much heavier, there may be multiple trunks, and there are always several growth points to build your shape.
$59.95 + shipping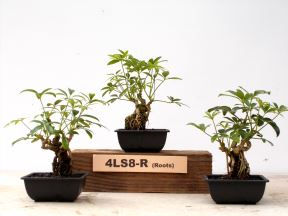 4LS8-R (Roots) Some will train the Introductory Workshop Package (IWP) to convert the sumo to roots. These potted bonsai are a few years older and already interesting and attractive. All have several strong growth points so these are high-potential young bonsai and are amongst our most popular items.
$59.95 + shipping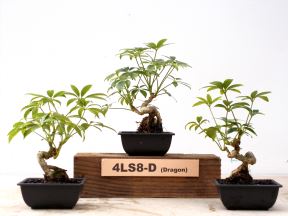 4LS8-D (Dragon) Twisty-turny fun bonsai. These are the basis for unique non-traditional bonsai! As the innovator making these available, we recommend that these be completely restyled often and that after a few such efforts, they will take on an increasingly more complex shape and become one-of-a-kind!
$59.95 + shipping
______________________________________________________________
7RLS8 PREMIUM SMALL/MEDIUM POTTED BONSAI $89.95 + shipping
These are in 7 3/4" x 5 1/2" x 2 1/2" rectangular pots that are mid-size between the smaller 4LS8 and the larger 9LS8 model items and are good values. This size helps to fill the gap between the 4LS8 and Custom Collection.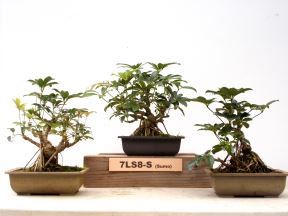 7LS8-S (Sumo) Compare the plants of this category against the smaller younger 4LS8 and you'll likely agree that this size represents good value! The larger pot contains 3 to 4 times as much potting media so there's a lot more growth and there's more character and interest!
$89.95 + shipping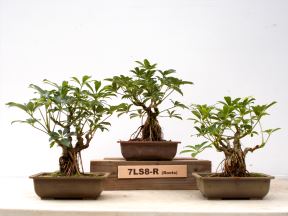 7LS8-R (Roots) Compare these with the smaller younger 4LS8-Roots and it's clear this size is also a good value! Roots take a long time to thicken so these are amongst the most popular, especially by those who want to move into "root-over-rock-into-pot" plantings. Well-placed branches will create a nice crown.
$89.95 + shipping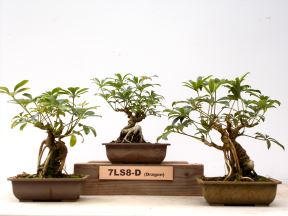 7LS8-D (Dragon) These larger older dragons have an additional layer of complexity and interest. By potting at a different angle, retraining branches, and rearranging roots, you'll understand why dragon bonsai are popular and appreciated!
$89.95 + shipping
_______________________________________________________________
9RLS8 PREMIUM MEDIUM POTTED BONSAI $179.95 + shipping
These are in 8.5" x 6" x 2.5" heavier rectangular pots and are popular with visitors to the Fuku-Bonsai Cultural Center as they are nice size bonsai for displaying in place of a flower arrangement. These are ready for refinement into a nice medium bonsai. Or use a #17 Conversion Kit to grow-on to a large Custom Collection size.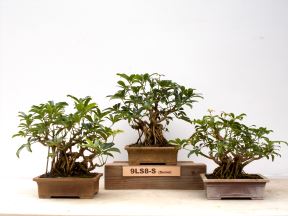 9LS8-S (Sumo) Compare again these sumos with the smaller younger 4LS8 and 7LS8 Sumos and you'll understand why this size is so popular with visitors to the Fuku-Bonsai Center who actually pick the specific bonsai to ship to them after they arrive home from a Hawaiian vacation!
$179.95 + shipping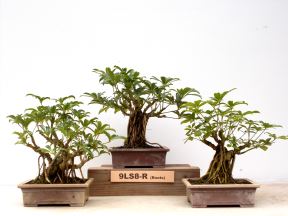 9LS8-R (Roots) We try for a range of root styling. Some are more upright and others a bit slanting. Some have roots flaring far from the trunk like banyan trees. These are attractive for growing indoors and the roots add a lot of interest!
$179.95 + shipping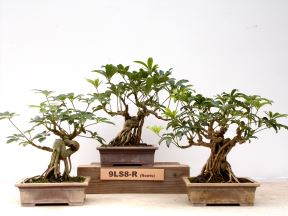 9LS8-D (Dragon) Compare with smaller younger dragons and you'll see how we add more character and interest to dragon styling. These are never boring!
$179.95 + shipping
(OOPS! Photo label is 9LS8-R, but should have been 9LS8-D (Dragon)
_______________________________________________
NEW ITEM: 17LS8 IN SUMO, ROOTS, AND DRAGON!
At one time we offered "Entry-level Custom Collection" for those who wanted to create a larger bonsai. But it was so popular that most of the time the specific plant in the photo was quickly sold and we just did not have time to keep replacing with new photos. When we move the best of the oldest mature 9LS8 into the 17"x12"x2" oval pot, there is a lot of work done. Generally we rearrange roots to eliminate crossing roots that may have appeared since it was first potted.
We may go through and select some of the best branches if there are too many --- but we try to always leave extra branches so the new owner will have a chance to do refinement if desired. Many like our trees as is, but some prefer to have more spacing between branches and they still have that option. It's always better to have "too many branches" than "too few." It's a lot easier to remove extra branches --- and harder to glue on if one is needed! 17LS-8 trees are over 12 years old in training with a lot of character. When moved up, they are very carefully root-pruned and with the enlarged root system, these trees start to grow vigorously and are ideal for those who want to complete the training of a high-potential larger bonsai.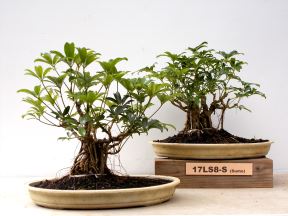 17LS8-S (Sumo) Although the trees look larger, the trees are about the same as the larger 9LS8 Sumos. But they are potted a bit higher and are starting a rapid growth rate with new roots running over the surface of the pot and new leaves larger due to the faster growth rate. They are ideal for training and will quickly increase character, interest and value!
$400 + shipping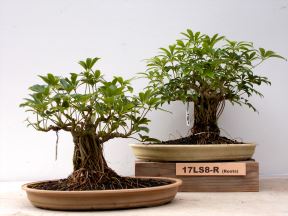 17LS8-R (Roots) Larger Roots bonsai are very attractive indoors and these are well on their way. There's a lot of ideal branches to relatively quickly form an attractive crown. Some like the idea of extending the roots higher to form a more impressive larger bonsai!
$400 + shipping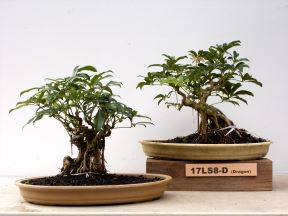 17LS8-D (Dragon) Our larger older dragons are attractive and distinctive with exciting creative potential! To create such dragons, training must start very early. So customers really appreciate the opportunity to work on trees that are already exciting!
$400 + shipping
______________________________________________________________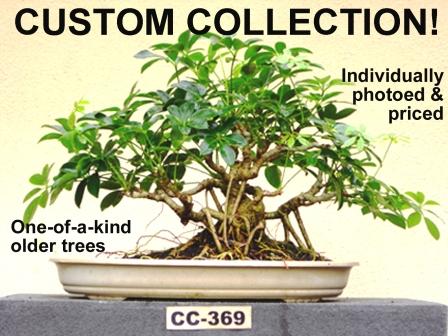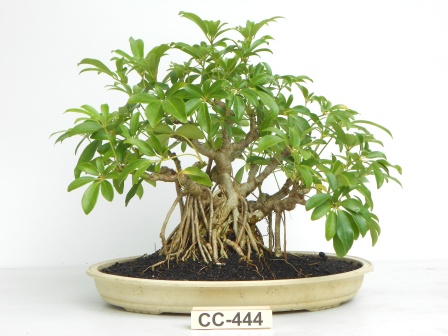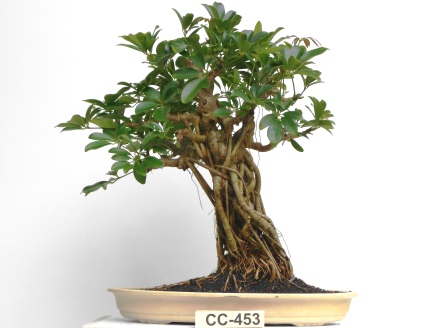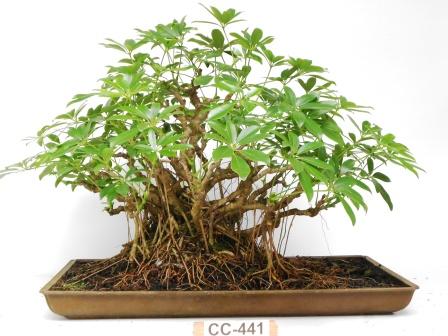 The cream of our crop. Each specific plant is individually photographed, described, and priced. Please request more information or for more Custom Collection information: go to www.fukubonsai.com/3a2b.html. This section of our product line is steadily evolving. For more current information, please contact David W. Fukumoto at david.f@fukubonsai.com
_________________________________________________________________
PREMIUM LARGE OLD PRIVATE

& PUBIC COLLECTION BONSAI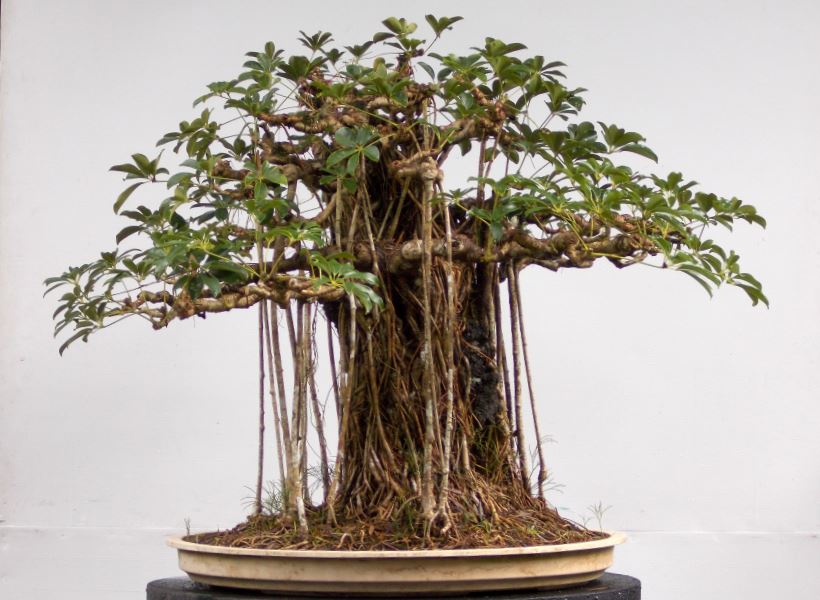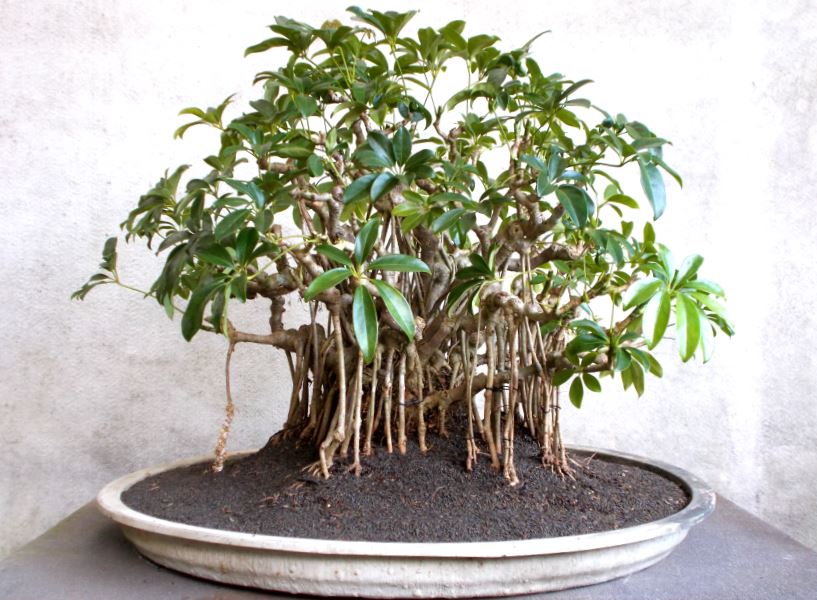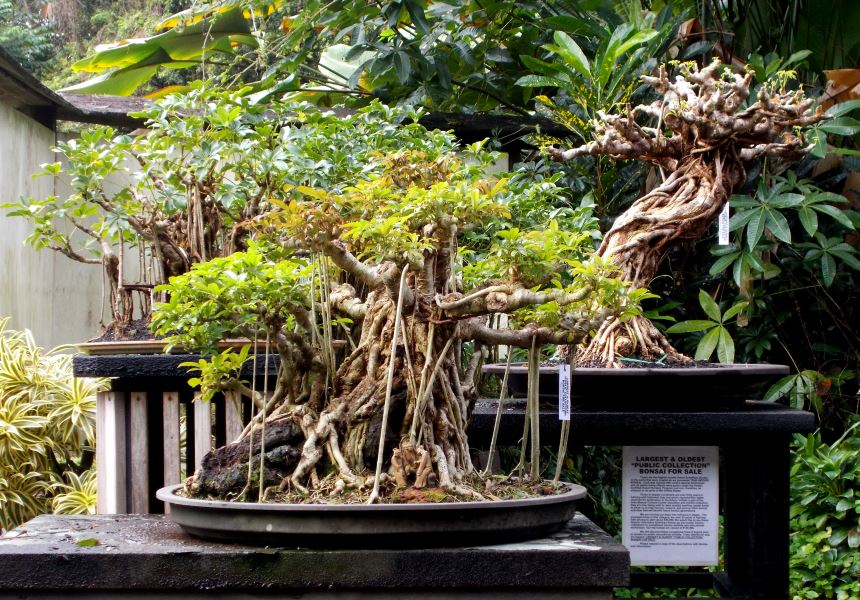 With Fuku-Bonsai recovering and moving into a new era, we are raising working capital funds by reducing the size of the Fuku-Bonsai Cultural Centers exhibit collection that includes most of the oldest, largest, and most famous Dwarf Schefflera in the world. We pioneered TRUE INDOOR BONSAI™ SINCE 1962 and it is now the most successful gif bonsai for anyone, anywhere you can grow house plants. The three above are in 32" diameter fiberglass pots. We are able to produce and ship larger trees in larger containers.
This clearly is an American bonsai innovation and these old trees really belong in the best public and private bonsai collections. We seek cultural philanthropists who are willing and able to donate to get these into the non-profit bonsai centers where they can be enjoyed by more people and become teaching aids. Trees include those over 40 years in training with top price at $150,000. Fuku-Bonsai will discount to be the co-donor. Please go to www.fukubonsai.com/3a2c.html or email for more information.