2021 GIFT LIST #2
PREMIUM POTTED BONSAI
FOR THOSE WHO WANT FASTER GROWTH AND TO TRAIN BONSAI!
NOTE: Fuku-Bonsai is in the midst of a major product line evolution. It will take a while to complete this evolution and in this interim period, there may be other sizes that are individually priced to be available only to those who visit the Fuku-Bonsai Cultural Center in Kurtistown. Please write for more information or if you'll be visiting.
OUR CURRENT INVENTORY IS NOW AT AN ALL-TIME LOW AND SOME ITEMS ARE EITHER IN TIGHT INVENTORY OR CURRENTLY SOLD OUT. We are rebuilding our staff and expect to have most items in stock within six months or by the end of the 2021. Until then, I request that you email tabitha.h@fukubonsai.com to confirm availability before ordering. I will confirm availability and send you a PayPal Invoice. We are short-staffed so no phone calls please. I apologize for the situation and request your cooperation. Regards and aloha, ~~~David
FOUR CURRENT SIZES:
1. 4LL8 LIVING LOVABLES in 5'X3"X2" rectangle plastic pots: $65.00 + shipping ("4LL8-S Sumo," "4LL8-R Roots," and "4LL8-D Dragon" stylings) This premium small bonsai are 2-3 years older and heavier than the smaller younger prepared bonsai stock used in the Introductory Workshop Package
2. 7RLS8 (LIVING SCULPTURE) in 7 3/4" x 5 1/2" 2 1/2" rectangular pots: $125.00 + shipping; ("7RLS8-S Sumo," "7RLS8-R Roots," and "7RLS8-D Dragon" stylings). This new size is slightly smaller than our former 8LS8 round pot items. (We will be switching back to our former 8LS8 round pots --- same price both items.)
3. 9RLS8 (LARGER LIVING SCULPTURE) in 8.5"x6"x2.5" rectangular pots: $250.00 + shipping; ("9RLS8-S Sumo," "9RLS8-R Roots," and "9RLS8-D Dragon" stylings). This new size is slightly larger than our former 8LS8 round pot items but the trees are much heavier and developed and amongst the favorite of the visitors to the Fuku-Bonsai Cultural Center. As time permits, we are potting these into 12"diameter x 1.25" shallow saucers with multiple drain holes for a very attractive presentation. Please email to double check if the styling you want is available in the 12D1 shallow saucer-pot. For the near future, we will offer both at the same price, but will be moving more towards the 12D1 shallow saucer-pot which is a nice transition size to the popular "Entry-Level Custom Collection" plants.
4. CC (CUSTOM COLLECTION) in 17"x12"x2" oval pots starting from $500 and up. Individually priced and photographed. ("Sumo," "Roots," "Dragon" and "Root-Over-Rock" stylings)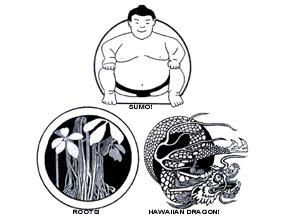 THREE MAJOR TRAINING CONCEPTS
Our logo designs tend to follow Japanese, Chinese, and modern traditions. How do you tell people that one group of trees have short stout trunks with a lot of branches? We decided that the Japanese sumo warrior was the ideal symbol. Roots was initially difficult but it turned out to be the easiest. Hawaiian Dragons is our favorite and the symbol of our family. This design took many years to complete.
1. SUMO: Short and stout; heavy trunks, multiple trunks, low branches with heavy trunk-root buttressing. These are favored by "traditional" bonsai growers who are impressed with the large heavy trunk-roots. All Hawaiian Lava Plantings are SUMO so this is our basic original style.
2. ROOTS: Sumo crown on tall elegant exposed roots. This was our second major styling and is the most popular. Indoors, many consider the taller root trees as the most attractive as the roots are the distinctive feature of banyan bonsai. Most are upright with some slanting.
3. DRAGON: Twisty, turning, fun bonsai! These are the picture of activity and are never boring! As time permits, we are training more complex combination Roots/Dragons and these are increasingly popular with most sold before they can mature into older Custom Collection.
___________________________________________________________________
4LL8 Small Bonsai - $65 + $16.00 shipping
These are in 5'x3'x2" rectangular plastic bonsai pots.. Ready for refinement into a small bonsai. Or grow-on to create a medium size bonsai. Actual items shipped will vary as each of our plants are individually trained. We have recently upgraded this model item and trees are more mature and heavier. These are still in limited supply and not in sufficient quantities for corporate gift orders. We will ship best plants available.
Photos of typical plants to be available soon.
4LL8-S SUMO 4LL8-R ROOTS 4LL8-D DRAGON
______________________________________________________________
7RLS8 LIVING SCULPTURE. $125 + $16,00 shipping
These are in 7 3/4" x 5 1/2" x 2 1/2" rectangular pots that are mid-size between the smaller 4LL8 and the larger 9LS8 model items and are good values. Photos not yet available but being sent satisfaction guaranteed. They are slightly smaller than the popular former 8LS8 that was discontinued as the pot was no longer available. It is being replaced with items that have a slightly smaller and a slightly larger size dimension specification. The two new sizes fill the gap between the 4LL8 and Custom Collection. We will be switching back to our former 8"Dx2" pots. (PHOTOS OF TYPICAL PLANTS TO BE AVAILABLE SOON)
7RLS8-S SUMO 7RLS8-R ROOTS 7RLS8-D DRAGON
_______________________________________________________________
9RLS8 LARGER LIVING SCULPTURE. $250 + $16 shipping
These are in 8.5" x 6" x 2.5" heavier rectangular pots and are popular with visitors to the Fuku-Bonsai Cultural Center as they are nice size bonsai for displaying in place of a flower arrangement. These are ready for refinement into a nice medium-large bonsai. Or use a #17 Conversion Kit to grow-on to a large Custom Collection size. Photos below show examples of items in "model range." These show examples, but actual items shipped will vary as each of our plants are individually trained.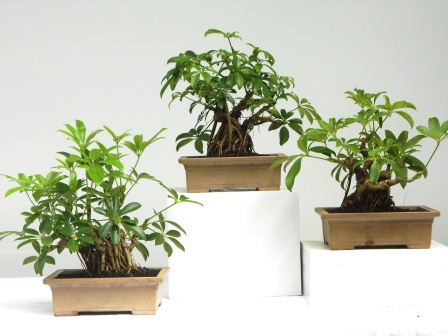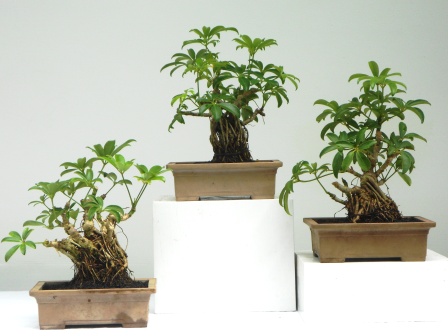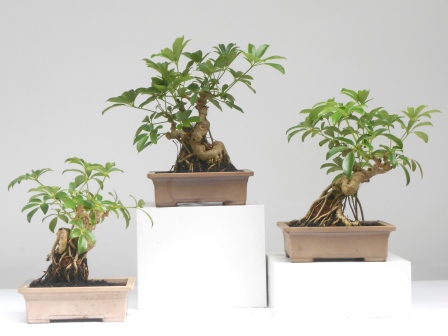 9RLS8-S SUMO 9RLS8-R ROOTS 9RLS8-D DRAGON
NOTE: MOST TREES BEING SHIPPED ARE HEAVIER AND OLDER THAN THOSE SHOWN IN THE PHOTOS ABOVE AND ARE ALMOST READY TO UP-POT INTO THE ENTRY LEVEL CUSTOM COLLECTION.
This model size was inserted into our product line to fit the price point between the former 8LS8 and the Custom Collection (entry level). It has proven to be a popular size and we will increasingly train for this price range.
______________________________________________________________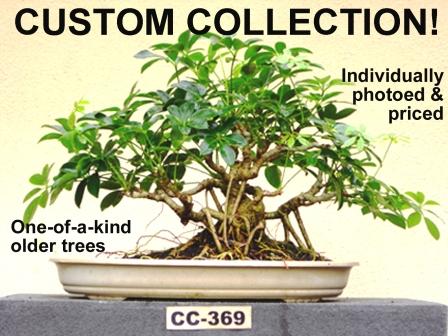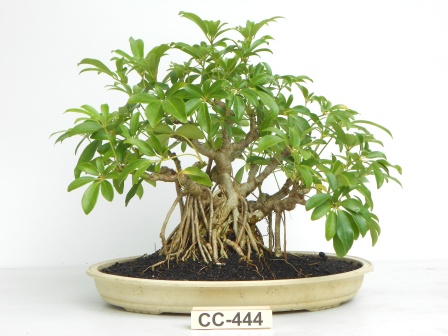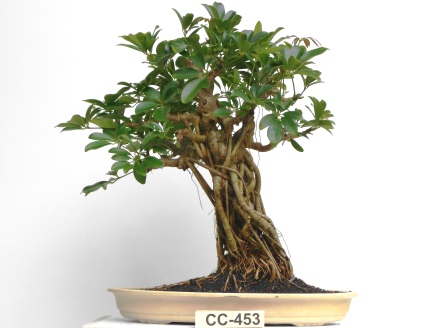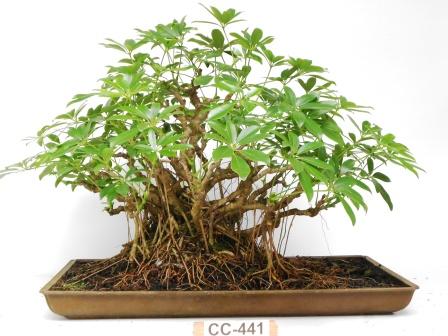 Since Fuku-Bonsai began in 1973, a large part of our production went into the "OLD PLANT BANK" to be continually trained to one day be able to offer 50+ year old bonsai in training! These trees began training when very young to establish outstanding basic branches. They were allowed to "grow wild and thicken --- then severely cut back hard every few years!"
Most of the plants in the OLD PLANT BANK are kept in the GROW-OUT STAGE to develop. From time to time as time allows, a few are moved into the REFINEMENT STAGE and pruned more often to develop good branch ramification. We tend to allow extra branches to give the new owner-trainer the opportunity to "finish train" his or her bonsai. It is a lot easier to remove the extra branches if desired.
Most low quality bonsai stock don't have enough branches and it's rarely successful trying to add a branch if needed! Custom Collection are the cream of our crop. Each specific plant is individually photographed, described, and priced. They start at $500.
If interested, please request the current availability list as we continually add plants as time permits and remove the ones that are sold. If you don't see what you want, email a style and a budget range, and I'll add a photo with description and price. We reserve the right to only sell Custom Collection trees to those with proven experience growing Fuku-Bonsai's True Indoor Bonsai(tm) AND NOT TO BEGINNERS OR AS GIFTS.
NOTE: Our "Entry Level" Custom Collection is priced at $500 + shipping with the plants the larger and more developed 9RLS8 plants that are at least 10 years or more in training. There's a lot of detailed work that goes into up-potting these older trees into 17"x12"x2" oval pots and for those who want just one or two nice trees, this is a popular choice as the trees are already attractive and with the recent repotting, there is strong growth for continuing development.
Higher priced, highest quality, older trees up to 40 years in training are also available from the pioneer of True Indoor Bonsai since 1962! For more Custom Collection information: go to www.fukubonsai.com/3a2b.html. This section of our product line is steadily evolving. For more current information, please contact David W. Fukumoto at david.f@fukubonsai.com
_________________________________________________________________