The Fuku-Bonsai Entry Tree was first of the 1975 introductory plants by the University of Hawaii and is amongst the oldest Dwarf Schefflera bonsai. The photo was taken many years ago when it was about 25 years in training. It is mounted on a six feet diameter concrete disc on turntable hardware to allow revolving. There are three distinctively different viewpoints.

(PORTAL PAGE) March 2023 Update
ALOHA! As we refinance and restructure Fuku-Bonsai, there will be major changes especially in this CUSTOM COLLECTION portal section! From the earliest days when we formed Fuku-Bonsai as Hawaii's first certified nursery in 1973, I dreamed of one day being able to offer and ship the highest quality and oldest TRUE INDOOR BONSAI to those who were sincere "bonsai fanatics" like us.
Dwarf Schefflera is a unique tropical plant with uncommon horticultural traits that allows it to be trained into more shapes and styles than any other plant grown as bonsai! As seedlings or single stem cuttings, the plant is naturally "apical dominant" and if not pruned early, the trunk is slender and tall with no branches. If the tap root is not removed early, it is difficult to create a heavy buttressing root base. Fuku-Bonsai Dwarf Schefflera are distinctively high-potential because training started very early.
TO SEE A RANGE OF DWARF SCHEFFLERA STYLING AND CULTURAL INFORMATION GO TO www.fukubonsai.com/3a3b.html
"FUKU-BONSAI MODEL STANDARD PREMIUM POTTED BONSAI"
Our small, medium, and large sizes are produced in basic Sumo, Roots, and Hawaiian Dragon styling. The small size may be 3 to 5 years in training. "Sumo" usually have a heavy tapering trunk with some surface root buttresses, with often multiple trunks, low branches, and the start of a rounded crown. "Roots" begin as a Sumo with roots extended. "Hawaiian Dragons" start with a sharp bend near the roots while the tree is still limber.
Medium size are older with heavier or more branching. With additional pruning and a few years, the Sumo, Roots, or Dragon styling is more pronounced. Older and larger trees become large size. This "model standard" bonsai are great values to continuing training. If you like the ideal of having the most training opportunities, start with the smallest youngest plants and get several rather than one older larger more expensive bonsai.
CUSTOM COLLECTION HAS AN ENTIRELY DIFFERENT CONCEPT!
Ideally each bonsai should be a unique specimen, but it would be impossible on a large scale and that would make our trees too costly. Our standards are the highest but include some variations. We produce in small batches so plants have gone through multiple trainers. We select just a few plants from several different crops to get more variations. We won't grow thousands to all look alike.
But Custom Collection are intentionally produced in small batches and the training is more varied within that small batch. Some are cut back conservatively while others may be cut back very aggressively. When we remove whole sections while restyling older bonsai, we root the larger sections that have a lot of character and they are attractive smaller bonsai as soon as rooted. If these are allowed to grow vigorously for several years, when cut back hard, they produce additional premium stock. Each year as we work on older trees, we are able to save and root complex character cuttings and these will produce exciting future Custom Collection!
Custom Collection plants are often allowed to grow without training for several years as this produces dynamic natural character that is far superior to trees that are constantly being trained. If trees are continually being pruned to always be attractive, trunks and branches are slow to thicken. But if you allow sections to grow out and do not cut back hard, you'll never produce dynamic exciting compact trees! As a general rule, at Fuku-Bonsai, if we allowed a branch to grow out 3' long to produce a thickness of a full inch where it was last pruned, we will cut back that 3' long branch to just 1" (or the diameter of the branch).
If instead of just 1", you added a 3" long section, you will never have a compact premium bonsai! So cutting back hard and consistently is the key to creating premium bonsai! This concept is ideal to utilize with Dwarf Schefflera as it is possible to root large complex sections.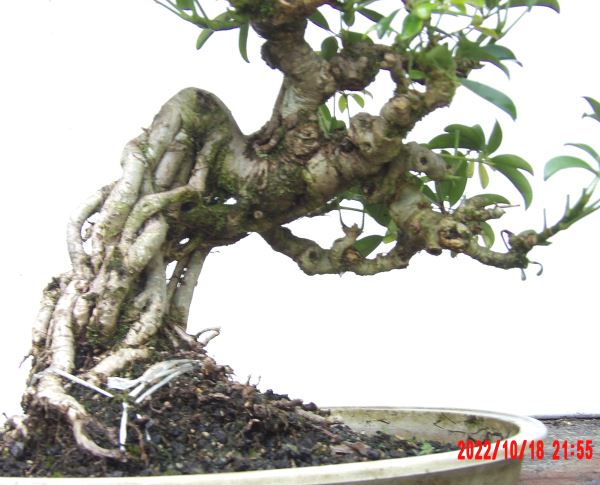 The above photo shows a high-potential uncommon "Slanting exposed Roots with Hawaiian Dragon styling, that was trained by repeatedly cutting back extremely hard to produce exceptional character in a relatively small size. Up to now, I have not offered to sell such trees and would do the radical training to remove the two large upper growth sections to produce an exceptional exposed root slanting tree. I would then root the two large sections removed to start two future high-potential bonsai!
When I began in 1962, bonsai was a secretive cult with a lot of "secrets" with little or no sharing of information. Fuku-Bonsai and Hawaii has been leaders in making information available and we hope to create a TRUE INDOOR BONSAI™ community that shares information. It's no secret that extraordinary bonsai are created from exciting high-potential plants. Over the years we have invited those who want to purchase highest quality plants and willing to pay premium prices to contact me. Many have visited and taken custom workshops here and part of our study groups.
High potential trees like the one shown above are being offered to repeat customers who have good horticultural skills and good growing environments. More importantly, they are willing and able to create bonsai and photograph and provide reports to be published on our website in future FBnews articles. If you're reaching this stage and interested in Custom Collection, please email me with a description of what you want to create, the qualities that you want in the plant as to the general styling, the size, and your budget range.
Our oldest plants were grown from seeds or cuttings since the certified export bonsai nursery began in 1973 so our oldest are over 40 years in training. Custom Collection Bonsai are our best values and considering the huge amount of skill, time, and effort that have gone into each of these trees, they are really under-priced!
Please email me personally if you're interested in any of them and I'll first confirm if a specific bonsai is available or can photograph another specific tree if you'll give me your general styling preference and a budget range. I need to also know that you can handle the tree. If you have not yet grown any of our trees, I would prefer that you grow younger trees for six months or more before considering a custom collection. Better yet, consider joining our study groups!
~~~David W. Fukumoto, president and founder, Fuku-Bonsai (david.f@fukubonsai.com)