"ROOTS" CUSTOM COLLECTION
ROOTS was our second major styling as we began to explore the shapes of tropical trees and banyans. Imagine that a bird eats the figs that contain seeds that goes through the bird and emerges as a "fertilizer encased seed" that germinates high on a host tree. The tree strangles the host, the top dies, and a banyan crown develops high above the ground. The roots reach the ground and the tree has a SUMO-like crown on tall exposed roots. This is an innovative Fuku-Bonsai styling that has become the most popular of our three major stylings --- SUMO, ROOTS, & HAWAIIAN DRAGONS --- AND NOW A FOURTH NEW "ROOT-OVER-ROCK!"
Between Sumo and Roots, it is possible to create just about any Banyan Bonsai variation imaginable. Roots are generally preferred to plant on tall rocks.
NOTE: UNLESS OTHERWISE NOTED, PHOTOS WERE TAKEN IN DECEMBER 2017. IF PHOTOS ARE VIEWED BEYOND THAT DATE, THEY MAY HAVE FURTHER DEVELOPED FROM WHEN THE PHOTO WAS TAKEN.
NOTE ALSO THAT WHEN TAKING THE PHOTOS, WE TEND TO REMOVE A LOT OF LEAVES TO ALLOW VIEWING OF THE TRUNK AND BRANCH STRUCTURE WHICH IS IMPORTANT WHEN EVALUATING A HIGH-STANDARD BONSAI. MOST OF OUR TREES ARE SOLD AT VARIOUS GROWING-ON STAGES RATHER THAN AFTER FULL REFINEMENT THAT WILL INCREASE THE NUMBER OF GROWTH POINTS AND REDUCE THE SIZE OF THE LEAVES. THIS IS A RELATIVELY EASY PROCEDURE FOR THOSE WITH BASIC BONSAI SKILLS. IF YOU DO NOT HAVE BASIC SKILLS, WE RECOMMEND JOINING OUR STUDY GROUPS SO WE CAN HELP TEACH YOU SO YOU CAN PROPERLY MAINTAIN THE TREES. PLEASE REQUEST HELP IF NEEDED AS WE WANT THESE TREES TO CONTINUE TO IMPROVE! V
Please email if there are questions or assistance needed. ~~~David (david.f@fukubonsai.com)
CC-600-R ROOTS in 17"x12"x2" plastic oval pot. Overall height: 11". Overall width: 12". A classical upright, straight, tall roots with lowest branch 5 1/2" above the pot with a well-formed crown made up of well-placed branches. Ideal for training into a taller, root form. 12-15 years in training
$750 + shipping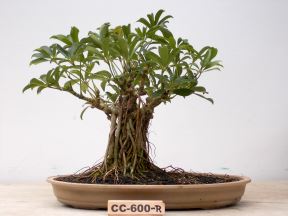 SOLD --- SHOWN TO SHOW OLDER TREES AVAILABLE UPON REQUEST
CC-533 ROOTS in brown 25"X15"X2" plastic rectangular pot-tray. This is one of our oldest ROOTS about 35-40 years in training from the experimental collection now being offered to qualified buyers who have the resources and the bonsai skills to maintain and continue to improve them. 27" overall height from top of pot; 26" overall crown width, trunk column about 8" across.
In selling these older experimental trees, we reserve reproduction rights to publish as part of the educational content of the www.fukubonsai.com website or to be included in the TRUE INDOOR BONSAI™ HANDBOOK.
Our oldest original ROOTS had exposed roots created by continually barerooting, arranging the roots to face down and in a root column, and planted high. This was repeated several times and the exposed roots became longer.
This tree was once a promising SUMO with stout trunks and branches. It was barerooted, the stout roots arranged into an attractive position, but with a single, tall, heavy aluminum foil column that was pre-shaped and filled with media. It was allowed to grow for several years and the roots more or less developed within the pre-shaped foil column.
Every few years, the foil was removed, the best roots selected, with roots in poor position removed. The stout branches were cut back hard to produce attractive complex tapering branches.
Because this is a larger tree and is still very much in the development stage, the emphasis was on creating sustained optimum growth and there has been no effort to reduce the leaf size.
(November 2016 photos)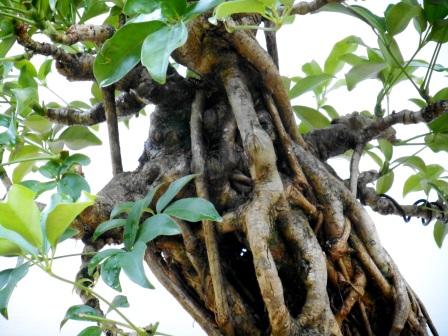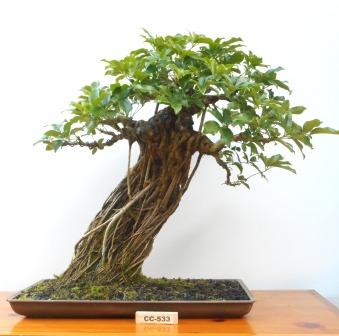 View #1: The two lowest heaviest branches are on this side and it would be possible to fill up the gap between them so the crown will appear to be larger as it would cover some of the roots.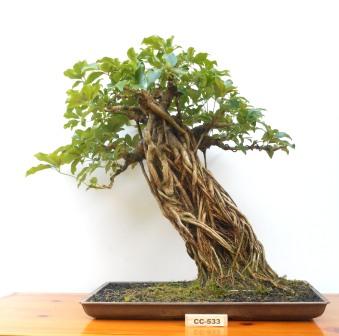 View #2: From this view exposed root trunk will appear much taller. All branches can be allowed to lengthen and trained downwards as if seeking the light by growing down and out of the shade of the dense crown. It would be possible to create an attractive branch ramification pattern. Keep the leaves thinned out to be able to enjoy looking through the leaves.
AN INVITATION TO PRE-QUALIFY FOR PREMIUM TREES
From the start of Fuku-Bonsai as a certified export nursery in 1973, we earned needed income primarily from volume sale of our younger trees and as Hawaiian Lava Plantings. A large amount of our highest quality plants were deposited into our "OLD PLANT BANK" to become larger and older Premium Potted Bonsai. The best of the smallest 4LL8 Living (3-5 years old) Lovables and the 8LS8 Living Sculpture (about 6-10 years old) "graduated" to become CUSTOM COLLECTION and a few of the older ones are over 40 years old.
Most of our trees are in the "OLD PLANT BANK" that are kept in "OPTIMUM GROWTH" and allowed to "GROW WILD" for most rapid development. When trees are cut back hard, they develop superior branch taper and outstanding ramification. Prior to being offered for sale, we move them into a slower growth and start focusing on refinement training. In general, we only convert what we believe we will need to keep the sales section filled. SO IF YOU DON'T SEE WHAT YOU WANT IN THE CUSTOM COLLECTION PHOTOS, EMAIL AND REQUEST OTHER CHOICES, BUT PROVIDE A GENERAL IDEA OF THE TYPE OF STYLE AND BUDGET.
Most of the Custom Collection are in 17"x12"x2" plastic oval pots. A few like the one above are in 25"x15"x2" rectangle pot trays. The largest a in oval fiberglass trays that are often used by restaurant staffs to bus the tables. There are larger trees in plastic film lined wood box training containers. We will design and commission LARGE FIBERGLASS POTS in the future to follow our 1:10 Project ratios. 20" round pots will be overall only 2" deep. 30" diameter pots will be 3" deep. 40" diameter will be 4" deep. These trees are impressive and suitable for major public bonsai collections.
In addition to larger and older trees, some of the trees in the FUKU-BONSAI EXHIBIT COLLECTION and those in the EDUCATIONAL EXHIBITS will also be sold to appropriate individuals that are either repeat customers or experienced members of the various study groups. These include trees that were part of articles and may include mini-bonsai in the future.
To pre-qualify for our premium trees, email me at david.f@fukubonsai.com
ROOTS is our second oldest styling and our most popular styling. Our ideal climate makes us successful in growing this styling. Customers in cooler climates growing Roots indoors year-around report that it takes much longer for the roots to thicken to support the tree. In this styling we try to place most efforts towards developing an attractive root column and well placed branches so the crown can be styled tall and narrow or heavy and wide. There is a good selection of Roots Custom Collection not shown here. If you have a preference, please provide as much description as possible with a price range and we will dress and repot if necessary for shipment in three to six months. We have larger and older plants including a few over 30 years in training.
*** Return to Fuku-Bonsai Home Page
*** Return to Custom Collection Introduction
You are cordially invited to visit the Fuku-Bonsai Cultural Center in Kurtistown on the Big Island of Hawaii to enjoy our outstanding bonsai exhibit collection, to choose from the largest selection of True Indoor Bonsai for shipping to all parts of the U.S. or to take a one-on-one workshop. Please consider becoming a member of the Mid-Pacific Bonsai Foundation to receive a monthly email Journal of Tropical and True Indoor Bonsai! © Fuku-Bonsai 2013, 2014, 2015