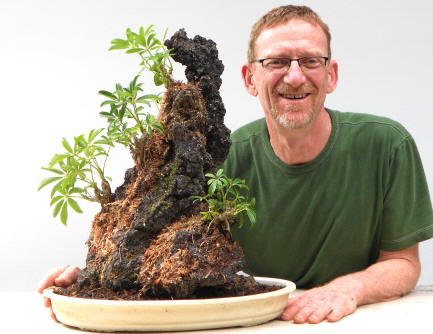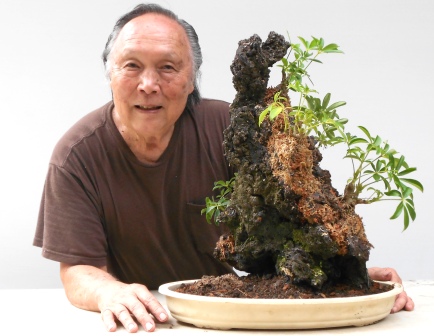 At the end of that planting workshop, Paul and I were pleased with the results. This planting was the first multiple tree planting utilizing Premium Prepared Bonsai Stock (PPBS) that is the basis of all Fuku-Bonsai larger and older bonsai. With rigid quality control, we are steadily increasing production and such premium older plant materials are currently going to members of the Fast-Track Study Group and now appearing in articles in the Journal of Tropical & True Indoor Bonsai.
Such small trees are ideal to move into the refinement stage and create miniature and small bonsai, smaller rock plantings, or multiple tree larger rock plantings like this one or more complex landscapes. Grown from seeds and complex cuttings, they are about 6 to 8 years or more in training and are ideal for those who want to create high quality bonsai but who want to skip the early stages!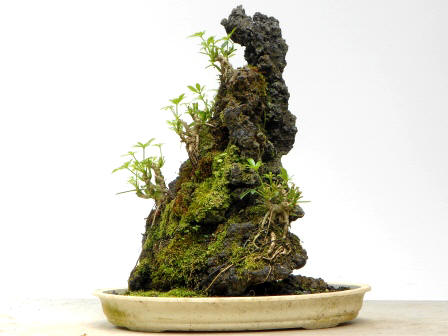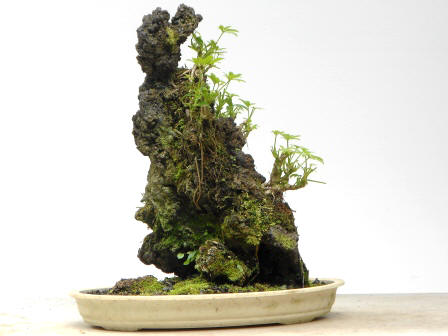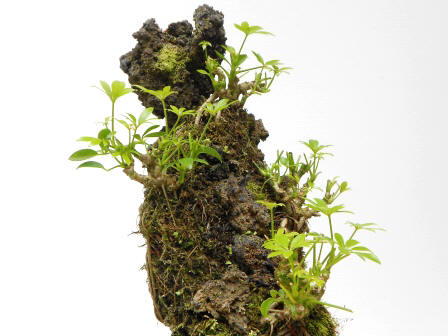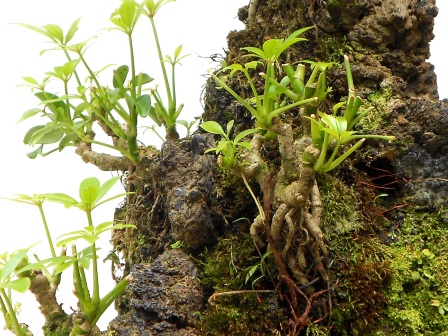 Two months after rock planting, the arrangement was mossed, then moved into the full sun. As the plants showed recovery, the trees were defoliated and refinement training began. New growth points are developing. PPBS trees have a lot of character and interest including stout tapering trunks, multiple trunks, and strong low branches. With a lot of growth points, they are ideal for use in this situation as there's a wide range of strong growth to select to serve as the basic initial design foundation.
It allows pruning of the extra growth and this creates compact character in the remaining tree. If the small trees are very heavily pruned, it will result in the appearance of a very stout compact miniature tree and this is what is planned for the tree that is planted at the highest point. Although a "good" small bonsai can result in a higher quality smaller mini-bonsai, relatively few bonsai growers reduce their trees to achieve the higher quality. It takes more skill and attention to detail and it is preferable to have a higher amount of light. But as Jerry Meislik points out in his current article on "Small Bonsai" this seems to be the trend that as hobbyists enlarge their skills and the number of bonsai in their collections, there seems to be a trend towards higher quality smaller bonsai.
Generally, Premium Prepared Bonsai Stock have "extra branches" as they were developed to be highest quality plant material that can be trained into high standard bonsai. This type of plant material is very rarely found on the open market at any price and we reserve the right to make them available only to qualifying members of our Fast-Track Study Group who have the basic experience to maximize the potential of these exceptional plants.
These are not for beginners who have not yet proven that they can grow our plants or those who have not yet mastered basic pruning skills. I don't want to see the potential of these trees reduced by those who have not yet earned the right to train such trees. In bonsai, the results of a workshop session is pre-determined by the potential of the plant material that is acquired for the workshop. Visiting instructors chronically complain that the workshop plant materials acquired by the host bonsai club are of such poor quality that even the best trainers would find it difficult!
Generally, critiques of workshop trees tend to focus on the need for having a branch or foliage growth. Over zealous bonsai trainers-to-be who focus on fast decision making will often impulsively cut off branches that took years to develop. Bragging about your speed in bonsai training is a poor substitute for cutting off the wrong branches! There really is no problem if there are extra branches as they will help thicken the tree and can be removed later. Extra branches are a lot better than starting with scrawny trees without enough branches. It is far easier to cut off a branch later than gluing a needed branch in place!
CONCLUSION
This issue of the Journal of Tropical & True Indoor Bonsai has achieved another major milestone as we introduce the basic concepts of "REFINEMENT" and continue exploring the more complex forms of "ASSEMBLY" as a primary bonsai strategy. Bonsai is complex and there are many forms.
Fuku-Bonsai's True Indoor Bonsai are increasingly being incorporated into more complex rock plantings and 360 degree complex landscapes and I am enjoying the challenges. As the editor, my role is to format the articles being submitted by the members of the Beginner and Fast-Track Study Groups. In requiring them to report how they completed their workshops, they learn more as they put themselves into the role of teachers. I hope they will go on to teaching others and with our Introductory Workshop Packages, their students will have a good chance of success!
I am also enjoying my other editor role in being an informational resource as Fast-Track members take on advanced personal challenges. I try to assist via email with sketches and information. Many of the articles that I write for the Journal were intended to help study group members. It also helps me to summarize and to better understand the basic bonsai principles. So I have a role also as a teacher, and in doing so, I'm really learning a lot too!
I appreciate the kind comments from our readers and past customers and I'm delighted our efforts are bringing joy. When I began bonsai in 1962, there was very little information about bonsai and no viable sources of plants or assistance. I remember my strong interest in the 60's and 70's when I was asked to teach and in doing so, learned as much or more than my students. I also found that I enjoyed teaching others and getting their ideas and these instilled in me a desire to more fully understand bonsai so I can teach principles and this greatly simplifies bonsai! We've made huge progress in the last 50 years and I invite everyone to join us! ~~~David (david.f@fukubonsai.com)