Aloha & welcome to the 2nd issue of our second year as we build a national and international Tropical & True Indoor Bonsai Community!
MICHAEL S. IMAINO
President
EDISON YADAO
Vice-President
___________
Journal Editor
DAVID W. FUKUMOTO
President, Fuku-Bonsai Inc.
(Kurtistown, Hawaii)
Journal Contributing Editors

JERRY MEISLIK

Author, bonsai instructor

and Ficus (Fig) authority

(Whitefish, Montana)
RYAN CHANG

Leader of Study Groups

(Waipahu, Oahu, Hawaii)
JOHN BORYCZKO

"In & Out" specialist

(Farmington Hills, Michigan)
Journal Contributing Writers

RON DAVIS

(Bozeman, Montana)

RUSS MANN

(Polson, Montana) rmann.n.az@gmail.com

TRAVIS FARGHER

(Long Beach, California)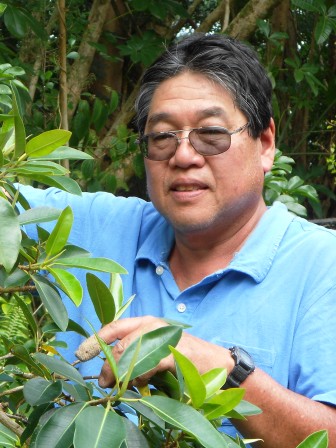 ISSUE #14. FEBRUARY 2014
2014 GREETINGS FROM MICHAEL IMAINO
President, Mid-Pacific Bonsai Foundation
Aloha to the members of the Mid-Pacific Bonsai Foundation and readers of the Journal of Tropical and True Indoor Bonsai. It's already time to issue the February issue! Boy, does time fly and I'm a month late in welcoming you to the second year of publishing the Journal! Besides being hectic here, my other excuses are that I've been out a bit and working like crazy to improve the center and exhibits.
Last year was really a banner year for us! We emerge from a 25-year long battle for survival and, with increasing confidence, we are rebuilding to a higher standard. The road to Fuku-Bonsai is now a beautiful wide avenue and visitors no longer park a half mile away because they fear their rental cars will get stuck in the deep pot holes! In the past year we've rebuilt all of the signage that guide visitors to the center.
New display benches are being built to last and include a coated metal covering that protects the heavy wood frame from rotting and weather-proof materials under each leg to lift the display benches off the often wet ground. Some large specimen display stands have built-in turntables to allow turning to view all sides. Some old nursery benches with roof iron surfaces lasted over 30 years. The new design that includes non-rusting aluminum bench panels are expected to last over 50 years!
The Foundation plays a very quiet behind the scenes role but is increasingly involved in the center operations and strategic plans. Nursery production and marketing is increasing. The Foundation activities expand right along side as we provide the support that makes many of the Journal articles possible. So it is very humbling, gratifying and exciting to receive new memberships, renewals, and generous donations that make it possible for us to assist with a growing list of projects with larger scale projects joining the list.
It's wonderful that more members are visiting, taking workshops, and joining the Beginner and Fast-Track Study Groups. In appreciation, we are developing some very high-value products that will be available only to them. Vice-president Edison Yadao enjoys conducting the workshops and I get to do a few, too. On behalf of the officers and staff, I send New Years greetings and request your continuing support!
~~~ Michael S. Imaino, MPBF president
_____________________________________________________
Fuku-Bonsai and Mid-Pacific Bonsai Foundation has partnered to co-sponsor the Fuku-Bonsai Cultural Center and Hawaii State Bonsai Repository, the
www.fukubonsai.com
website, and the
Journal of Tropical & True Indoor Bonsai
. As such it is the first large scale national resource of an extensive amount of information, as a supplier of high-potential True Indoor Bonsai plants and supplies, and a source of personalized assistance for members and customers. We are focused on building the capabilities to be able to supply and support the Tropical and True Indoor Bonsai community now and for future generations! Please join us!
The Journal editorial team has come up with an exceptional issue that covers a full range of subjects! As the readership and study group enlarges, the senior members are offering to assist new members of the Beginner Study Group and as they graduate, they're invited to be a part of the active Fast-Track Study Group who are individually taking on more complex challenges while helping each other. There are more Fuku-Bonsai articles than usual in this issue. That's because several articles were written specifically to provide various members of the study group with information that may be needed in their projects and these are being shared with all of the readers of the Journal.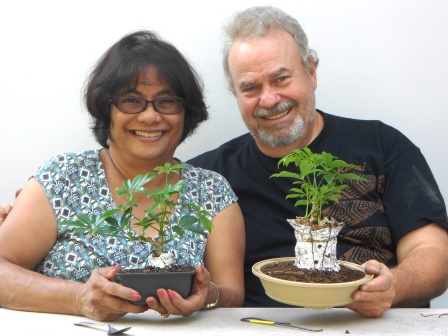 OUR FIRST IWP & PIWP! By Neill & Fely Sams (Kapaa, Kauai, Hawaii) On January 19, 2014 we hosted the Sams who were on the Big Island to participate in nursery organizational activities. A previous meeting indicated a very compatible win-win situation was possible. The Sams own and operate Orchid Alley Kauai and are also growers, niche marketers, shippers, and love to teach. They are interested in making bonsai a major second product line!