MICHAEL S. IMAINO
President
EDISON YADAO
Vice-President
___________
Journal Editor
DAVID W. FUKUMOTO
President, Fuku-Bonsai Inc.
(Kurtistown, Hawaii)
Journal Contributing Editors

JERRY MEISLIK

Author, bonsai instructor

and Ficus (Fig) authority

(Whitefish, Montana)
RYAN CHANG

Leader of Study Groups

(Waipahu, Oahu, Hawaii)
JOHN "JAY" BORYCZKO

"In & Out" specialist

(Farmington Hills, Michigan)

Journal Contributing Writers

RON DAVIS

(Bozeman, Montana)

RUSS MANN

(Polson, Montana) rmann.n.az@gmail.com

TRAVIS FARGHER

(Long Beach, California)
ROB ANDERSEN

(Pleasant View, Utah)

BURTON FLAKE

(Virginia / Bahrain)

JOSHUA ROWSON

(Brooklyn, New York)

PAUL BAKERMAN

(Phoenix, Arizona)

GEORGE McLEAN

(Kalispell, Montana)

CAROL TINGLEY

(Apex, North Carolina)

ORA SCOTT

(Huntsville, Alabama)
Aloha & welcome to the 5th issue of our second year as we build a

national and international Tropical & True Indoor Bonsai Community!

ISSUE #17. MAY 2014
ALOHA! Bonsai has changed dramatically in the past 50 years from a secretive past-time of older Japanese men to become an international art and hobby. The greatest changes are being made in Hawaii where Tropical and True Indoor Bonsai are rapidly evolving due to many reasons. Hawaii has the oldest English-speaking bonsai history with a reputation for innovations and freely sharing ideas and new techniques. Our climate allows year-around growth while some parts of the country are only now beginning to move their tropicals out of wintering facilities to enjoy faster outdoor growth.
The bonsai growth rate is matched only by the rapid learning rate. The prime example is Ryan Chang who has made incredible progress in just 16 months. My DRAGON RAMPARTS and his STARS OF UTOPIA celebrate our ability to share and teach. This month we introduce the start of teaching Tropical and True Indoor Bonsai on Oahu as I reconnect to the Koolaus!
In Montana, Jerry Meislik shares this progress with bonsai material begun with Hawaiian techniques to demonstrate the suitability of tropical concepts in the northern states. In Michigan, Jay Borycyko is introducing and extending an invitation for Journal readers to contact him directly and to make recommendations for multi-rock, multi-tree landscapes utilizing a teaching protocol pioneered by Saikei master Toshio Kawamoto in Tokyo in the 1960's and 1970's.
Learning and teaching bonsai techniques is interesting and educational even if you are not a trainer. In learning how bonsai are effectively trained, we try to provide the basic knowledge so anyone, anywhere who can grow houseplants can be successful! In the last few years, we've come to shatter the myth that bonsai must be grown in heavy deep containers. We've especially warned against over-watering and discovered ways to revive some trees that were badly under-watered. All of this diverse activity is wonderful and we invite more to join us!
More and more are starting to understand that bonsai do not magically become houseplants just because those with marginal ethics call them "Indoor Bonsai." Too often these are plants imported from China or tropical plants that require much more light than available in ordinary homes and offices. They certainly are not houseplants. So they quickly die and gift recipients feel guilty that they killed the tree when they are in fact the victim of misrepresentation.
JOURNAL OF TROPICAL & TRUE INDOOR BONSAI MAY SPECIAL:
Fuku-Bonsai is the international pioneer of True Indoor Bonsai™ . . . the growing of proven durable houseplants as bonsai . . . the most successful form of bonsai that are ideal to give as gifts.
10% OFF DWARF SCHEFFLERA HAWAIIAN LAVA PLANTINGS FOR ALL ORDERS MADE IN THE MONTH OF MAY 2014!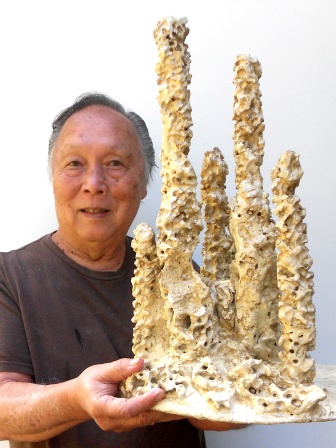 Fuku-Bonsai president & founder