MICHAEL S. IMAINO
President
EDISON YADAO
Vice-President
___________
Journal Editor
DAVID W. FUKUMOTO
President, Fuku-Bonsai Inc.
(Kurtistown, Hawaii)
Journal Contributing Editor Emeritus

JERRY MEISLIK

Author, bonsai instructor & Ficus (Fig) authority

(Whitefish, Montana)
Journal Contributing Editors

RYAN CHANG

Leader of Study Groups

(Waipahu, Oahu, Hawaii)
JOHN "JAY" BORYCZKO

"In & Out" specialist

(Farmington Hills, Michigan

THOMAS MATKEY

(Glendora, California)

Journal Contributing Writers

RON DAVIS

(Bozeman, Montana)

RUSS MANN

(Polson, Montana) rmann.n.az@gmail.com

TRAVIS FARGHER

(Long Beach, California)
BURTON FLAKE

(Mesa, Arizona)

JOSHUA ROWSON

(Brooklyn, New York)

PAUL BAKERMAN

(Phoenix, Arizona)

GEORGE McLEAN

(Kalispell, Montana)

CAROL TINGLEY

(Apex, North Carolina)

ORA SCOTT

(Huntsville, Alabama)

DAVID RAIKOW

(Volcano, Hawaii)
SPECIAL 25% OFF CUSTOM COLLECTION SALES STARTS FROM NOVEMBER 15, 2014. To pre-qualify or for more information please email to david.f@fukubonsai.com
Aloha & welcome to the 11th issue of our second year

as we build a Tropical & True Indoor Bonsai Community!

ISSUE #23. NOVEMBER 2014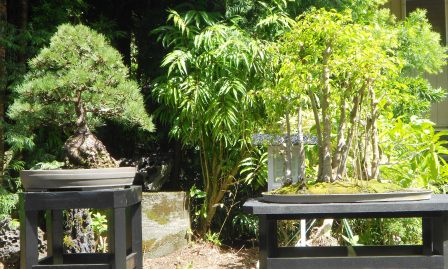 We are reducing the number of trees in our permanent exhibit collection and building new display furniture, backgrounds, and educational exhibits. The two trees shown above are significant. At left is the Haruo "Papa" Kaneshiro Memorial Japanese Black Pine that is believed to be the oldest bonsai in Hawaii, already trained when it arrived in the late 1800's. It is our link to our primary bonsai roots in Japan. On the right is "Peace Forest" created by Japan grand master Saburo Kato at the 1980 International Bonsai Congress in Hawaii using trees provided by Fuku-Bonsai. Since returning to Fuku-Bonsai in 1990, it has undergone several major styling evolutions as the forest matured and lesser trees removed. Kato wanted to create a perpetual tropical legacy and we were honored to have been included in plans.
FUKU-BONSAI LAUNCHES INTO A NEW ERA II!
ALOHA! All is hectic here as we approach the end of our second year of publication of the Journal of Tropical & True Indoor Bonsai. It has been a labor of love, a huge amount of work, but extremely satisfying. When Jerry Meislik, Ryan Chang and I began it in January 2013, the goal was a modest five articles per monthly issue. From the start we exceeded that goal. In some months the articles are much larger and there were twice the number or more. We're being joined by more who are willing to share their experiences and in sharing, they learn the most!
Jerry has produced a string of comprehensive articles and I'm delighted that more organizations are inviting him to teach and in this issue he begins the first part of his report of his recent South African trip. I think Ryan's next article summarizing what he's learned in two years will be extraordinary. In this issue, he summarizes a rock planting that has developed in about a year! It's amazing and I think Ryan's best article to date as he's now much more able to explain the stages of training that a tree goes through to become a bonsai. Paul Bakerman and Burton Flake had exceptional months and Jay will be here next month. Jay is proving the trees can still make great progress in cooler Michigan and he's on the verge of creating some exceptional True Indoor Bonsai saikei! I invited everyone to join us!
In writing of increasingly complex workshops, I've learned the most and besides the Journal articles, I've submitted choice articles to both the American Bonsai Society Journal and Bonsai Clubs International's Magazine. Both are fine publications of non-profit bonsai organizations and as your bonsai interest grows, I recommend that you become members and subscribe to their magazines. To now, membership in the Mid-Pacific Bonsai Foundation has been on an honor system and as an appreciated show of support of our efforts.
Mid-Pacific Bonsai Foundation is increasingly moving into position as the Fuku-Bonsai leader in the post-Fukumoto succession plan and we encourage membership and need to create "benefits of membership." THE PREMIUM INTRODUCTORY WORKSHOP PACKAGE (PIWP) WILL ONLY BE AVAILABLE TO MPBF MEMBERS. NON-MEMBERS SHOULD ADD $12 AND REQUEST MORE INFORMATION TO BECOMING MEMBERS.
In more circles, True Indoor Bonsai is being recognized as the easiest care, fastest growing, most popular form of American Bonsai. Those who once thought that Dwarf Schefflera houseplant bonsai could never compare to traditional Japanese temperate climate bonsai are having second thoughts and more are joining us as they see the extraordinary growth that is possible when grown outdoors whenever night temperatures are above 55°F. Dwarf Scheff is increasingly trained in a growing number of styles and the latest trend is toward growing it as small or mini-bonsai.
We've come a long way! We're completing our 25-year battle for survival. Let's celebrate with a Super Mahalo Sale with 25% off all items! MAHALO!
Fuku-Bonsai president & founder
The JOURNAL OF TROPICAL & TRUE INDOOR BONSAI is co-published by two unique bonsai organizations that co-sponsor the Fuku-Bonsai Cultural Center & Hawaii State Bonsai Repository in Kurtistown on the Big Island of Hawaii. It is a working bonsai nursery but has one of the most varied collection of Japanese bonsai, Chinese penjing, Hawaiian tropical outdoor bonsai, True Indoor Bonsai, and memorial bonsai created by past Hawaiian bonsai masters and visiting international bonsai masters created at major public presentations or conventions in Hawaii. The center is free and open to the public. The two organizations co-sponsor the www.fukubonsai.com website and is committed to a project: "MAKING THE BIG ISLAND OF HAWAII AN INTERNATIONAL BONSAI MECCA!" As part of this project, "CREATE YOUR FIRST BONSAI" and advanced workshops are offered year around to individual or group residents and visitors and the completed trees can be sent by FedEx to all parts of the United States.
FUKU-BONSAI INC. has roots in a Fukumoto family hobby and is the pioneer of True Indoor Bonsai since 1962, a certified export bonsai nursery since 1973, and a Hawaiian corporation of over 200 stockholders of modest means who are committed to preserve, promote, and educate the art and culture of bonsai since 1985. The nursery produces the most successful gift bonsai for anyone, anywhere who can grow house plants and the highest potential True Indoor Bonsai that are shipped to all parts of the United States. It's 2007 Introductory Workshop Package is the easiest and most successful way to learn or teach bonsai. In 2014 it introduced a larger older Premium Introductory Workshop Package. Fuku-Bonsai suffered catastrophic losses of over $30 million due to defective Benlate contaminated with weedkillers, has survived, and has developed a succession plan based upon the Mid-Pacific Bonsai Foundation becoming the largest stockholder and leading to support and supply future generations with True Indoor Bonsai nationally.
501(3)(C) MID-PACIFIC BONSAI FOUNDATION is currently the largest stockholders behind the founding Fukumoto family and will be the largest in the future. It is largely responsible for the permanent bonsai exhibit collection and educational activities. Membership in the Mid-Pacific Bonsai Foundation is just $12 annually, is purely voluntary on an honor system as a form of support for our efforts. Donations are invited and gratefully accepted. For more information, contact David W. Fukumoto, Fuku-Bonsai president and founder and Journal editor at david.f@fukubonsai.com
© Mid-Pacific Bonsai Foundation and Fuku-Bonsai, 2014