RECONNECTING WITH THE

KOOLAUS & KOOLAU FARMERS
From the end of 1962, after Myrtle and I got married and began our bonsai journey, to 1973, when we moved to Kurtistown on the Big Island of Hawaii to start Fuku-Bonsai as a certified export bonsai nursery, we lived in Kaneohe in the shadows of the magnificent Koolau Mountains. A decade or so ago, the spectacular alternate H-3 highway was constructed through an uninhabited route which included tunnels bored through the mountains. I was deeply impressed the first time that I drove it and it draws me back to savor and relive those wonderful years each time I go to Oahu. It's a high-speed modern highway, but with Ryan Chang driving and willing to stop from time to time, I got to take a set of photos to be used as the basis for designing future major 360° complex landscapes.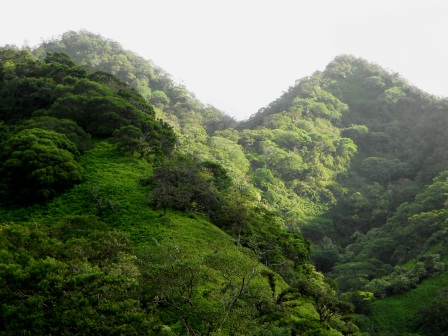 The approach on the Halawa Valley side has hills largely covered with older maturing trees that seem to climb up to march along the ridgeline creating panoramic silhouettes. On mid-level hills, trees grow luxuriously. Open spaces are filled with shrubbery that in a bonsai landscape could be represented by moss.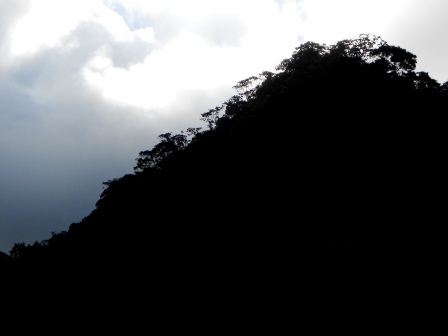 But at the top, the trees are stunted and in-decline as they survive in a harsher environment. Although still at low elevation, the thin rocky soil and the fierce wind flowing over the top has the effect of a "tree-line." Trees especially seem to cluster at the base of the valleys and climb upwards, thinning out as they reach near the top where the wind comes over from the "windward" side. In the proposed 360° complex landscape, about one third will represent the Halawa Valley side with lush trees clustered at the base and climbing up a valley. While striking, it cannot compared to the drama of the windward side so two-thirds will depict the Kaneohe side with its sheer cliffs!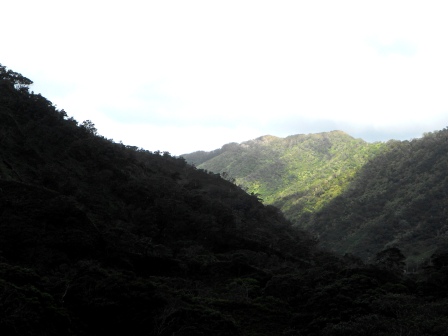 Looking back towards Honolulu on the Halawa side, some of the hills are barren where the rocks are exposed and this suggests how the ends of the ridges should be interpreted. Creating a panoramic region is really a challenge to do "selective interpretation" and to feature slices of reality, elimination of middle scenes, and emphasizing a severely limited number of scenes so that the transition from one to another is compressed but done in a manner that is plausible.
Interpreting a vast area in a complex landscape requires compressing the horizontal and expanding the vertical scale. In reality, emerging from the tunnels on the windward side will be like turning the complex landcape to view the spectacular Kaneohe side!
__________________________________________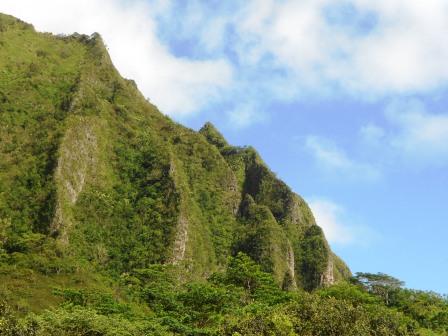 Sheer cliffs drop at very steep angles! Bare rock faces the strongest winds coming off the ocean and whipping upwards over the top to settle on the calmer leeward side. Large trees cluster on the rubble slopes and some trees climb the protected valleys but are stopped when th protection of a cliff face runs out.
The force of the wind seems concentrated between Kaneohe and Nuuanu Pali where the most dramatic cliffs occur. During rainstorms, each valley seems to transform into a series of waterfalls that further cut and create steeper cliffs. Creating an interpretation to depict such a panoramic scene was beyond all reality when I began bonsai.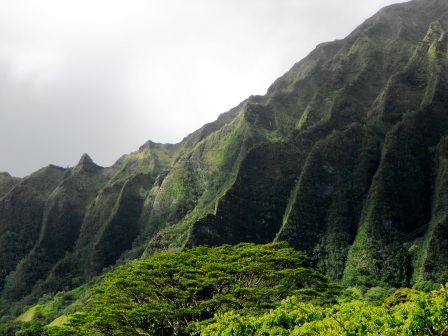 In the 1970's, I came closer with the creation of "Smallwoods and NaPili Cliffs" utilizing sculptured soft Oregon pumice. At that time, I thought the bonsai roots would quickly fracture and destroy the rocks. Thirty years later, the trees are dying of old age but the rocks remain with much more character!
So with the support of old bonsai friend Charlene Smallwood of Albany, Oregon, and her friend Lee Chatle of Portland, I obtained a modest supply of Oregon Pumice and with the additional potential of artificial hypertufa, have committed to develop a series of interpretations of "THE CLIFFS OF THE KOOLAUS!"
INTRODUCING KOOLAU FARMERS

FUKU-BONSAI'S OAHU FULL-SERVICE AUTHORIZED RETAILERS
Living in Kaneohe was wonderful and two of my neighbors also did unstructured forms of bonsai. Back then, the easiest plant to train was Brassaia actinophylla, more commonly known as Octopus Tree, Rubber Tree or Schefflera. It had strong roots that were ideal for training into rock plantings and I sold them at Koolau Farmers. For the first few years, they reserved all that I could produce. It turned out not to be a fad and I produced more and supplied other accounts. In the early 1970's we learned that Hawaii State was exploring creation of a certified export nursery program and we got involved as it had the potential to allow us to become bonsai professionals.
California approved the program in 1973 and we moved to the Big Island of Hawaii to become the first such nursery to be build from the ground up. As one of the pioneers we actively worked with others to flesh out the protocols of the program and to develop a non-soil media that utilized "high-velocity pumice ejecta" that is locally known as "black cinder." At that time, Koolau Farmers was just a single store just two blocks from my Kapalai Road home.
In 2000 we had successfully learned how to create small trees with character within one inch of the soil line and a shallow root system that was within 1/2" of that soil line. That had been the key to creating the very high quality HS8 Small Size Dwarf Schefflera Lava Planting which provides much of our income and which is the primary product sold to visitors to handcarry back to the continental U.S.
It took seven more years to build inventory to allow the creation and introduction of our transformational Introductory Workshop Package and it was building a solid reputation as the easiest and most successful way to learn (or teach) to anyone, anywhere who can grow houseplants. In January 2013 we had begun the Journal of Tropical and True Indoor Bonsai and from that very first issue Ryan Chang was outstanding and he soon was designated as the leader of the Fast-Track Study Group, a Journal contributing editor, and Fuku-Bonsai's Oahu representative to provide support for a future Fuku-Bonsai Oahu bonsai community.
As we began to recover from our battle for survival from our catastrophic $30+ million loss due to defective Benlate contaminated with weed killers; we began to research full-service garden centers in Honolulu. We asked visitors from Oahu for their recommendations and I was delighted that Koolau Farmers had maintained and even enlarged upon their customer service reputation. We learned that they had expanded to four stores at a time when the big box discounters were driving garden shops out of business.
I called their main store and in discussing possibilities with general manage Elton Hara, found we had mutual friends and that he had visited Fuku-Bonsai. We developed a Memorandum of Understanding to create a unique Koolau Farmers special relationship with them selling our entire product line on a non-certified basis and to take dropshipment gift mail orders for us to ship to the continental U.S. We sent a small trial shipment direct to each store and on April 22, 2014 I got to visit them!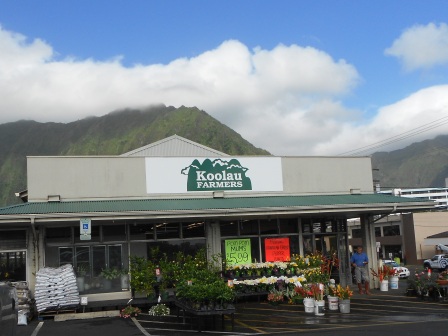 It was a dream to teach a more casual form of bonsai that was intended for growing indoors in homes and offices with enough success to be given as gifts. But in Hawaii, Dwarf Schefflera has remarkable development and Ryan was willing to assist! I made a long-term commitment that included teaching True Indoor Bonsai to all Koolau Farmer employees beginning with the managers!
A bit before our scheduled 9AM time we arrived at our destination --- the main Koolau Farmers Kaneohe store --- in the shadows of the Koolaus!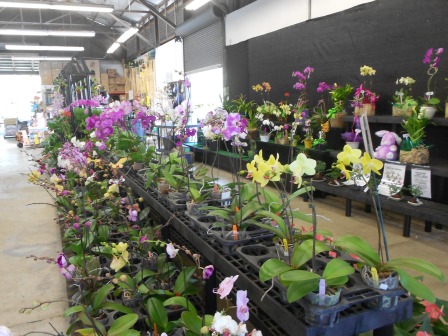 The photo shows their potted Orchid selection with the tiny Fuku-Bonsai display on the bottom right. While we don't expect the True Indoor Bonsai display to be as large as the orchids, it should be sizable and the right side (which is right after the entry and check out cash register) may be the best location if the black shadecloth can be removed). We can supply a large amount of educational materials and our highest quality small plants need to be at eye level on the top shelf.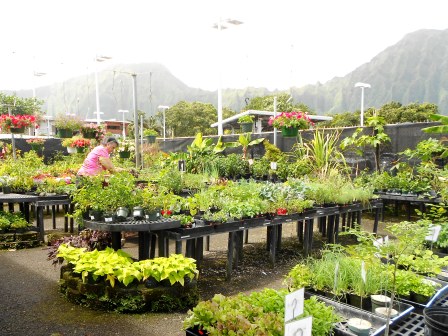 In the outdoor area, we should make it a goal to one day bring over a large 360° complex landscape with a 48" diameter revolving turntable display base.
A major "educational glass-case exhibit" could feature the Fuku-Bonsai /Koolau Farmers connection and the "not-for-sale" trees created by the Koolau managers and staff to promote the workshops. A display area closer to the building with some shade would be great with the Koolau cliffs in the background! Some managers urge us to also produce high quality tropical outdoor bonsai and we'll begin.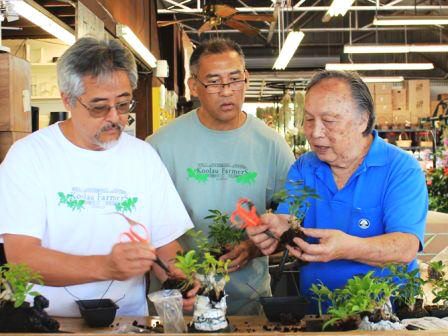 We began with solid credibility as we left a copy of BCI Magazine that featured our "The World of Bonsai Aloha" complex landscape article. General manager Elton Hara and Kaneohe store manager Ken Gibson get a quick class. David demonstrated "basic Sumo" with the accent rock under the tree to create a large buttressing trunk base, then coached Ken to create a "Sumo scene" with the rock creating all-around interest. Elton took on the most difficult challenge of developing an "extended Roots" for either a future "exposed Root" or for a "Root-over-rock".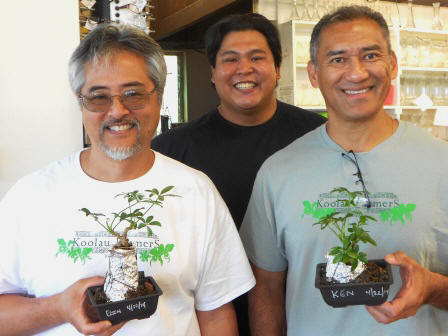 In a short time they had completed the workshops. I suggested they label the pots with their names and dates and display them at the store to show how quickly the plants develop and the high potential when starting with pre-trained prepared bonsai stock to start hobbyists off past the most difficult initial three to four years necessary to develop character within 1" of the soil line. The goal is for everyone to be able to create a high-potential bonsai and the public display of the "Koolau Farmers Staff Collection" will be convincing! All (including the office staff) will get a complimentary Introductory Workshop.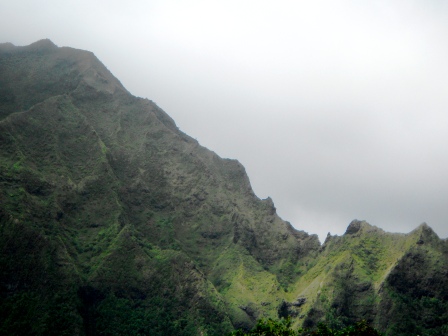 Enroute to the Kailua store, Ryan pulled over so I could take this dramatic photo. Having lived in this spectacular environment has influenced my bonsai rock plantings. With my emphasis on creating healthy bonsai that will endure, I tend to use "Root-over-Rock" techniques using older trees that already have extended roots that reach the potting media. While some will appear in our website Custom Collection, others will be heading for sale at Koolau Farmers.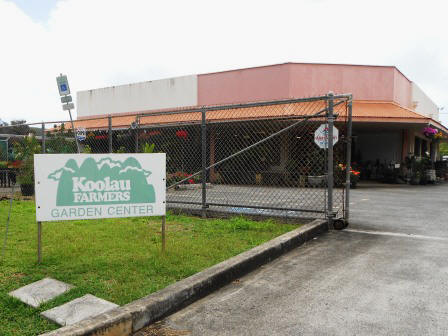 The Kailua store has grown into a fine garden center and store manager Barry Kayano graciously gave us a generous amount of his time although he had limited staff and we arrived unannounced.
In hindsight, we should have brought the Introductory Workshop Packages with us to teach Barry personally rather than leaving them for Elton and Ken to teach.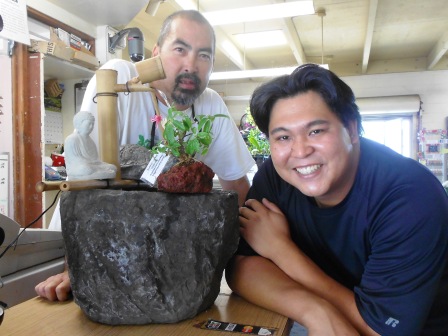 We taught Barry how to soak-saturate rock plantings by dropping them into one of his water garden pools or even into his stone water fountain. Although he has a small staff, he's got a great future with our True Indoor Bonsai.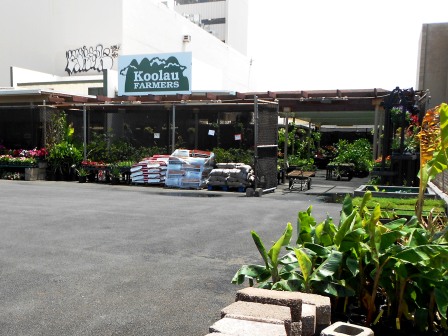 The McCully store is in the midst of Honolulu and again we regretted not bringing the Introductory Workshop Packages with us. Store manager Bobbi Pang has a lot of good ideas. We found she was camera-shy but seemed ready to set up classes for the public and her staff if Ryan would agree to teach them.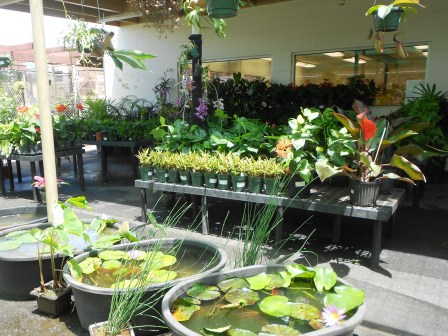 Here too we used the water garden pools to teach how to soak-saturate the rock plantings. It was great to see the stores, met the managers and staff, and we look towards them becoming Honolulu's major bonsai resource.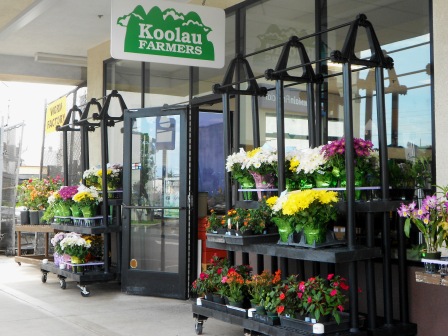 Manager Carlton Shito was off and ill so we chatted with his staff who seemed ready to take the workshop class. The City Square store had the smallest covered store area but just a single plant left. It may be suitable to create a stand to display the bonsai at eye level.
CONCLUSION: I'm delighted with our start and I look forward to introducing True Indoor Bonsai to my old home town! For those Oahu customers who make mailorders, you'll now be able to purchase our plants at Koolau Farmers, save and not pay shipping charges, and know the exact plant that you'll be taking home. Check with their staff as to when "Create Your First Bonsai" workshops will be coming available. We hope one day to have an Oahu True Indoor Bonsai Club co-sponsored by Koolau Farmers and Fuku-Bonsai with no membership dues, no boring meetings, but lots of interesting bonsai things! Email Ryan if you have suggestions. We welcome Koolau Farmers to the team and look forward to a long special relationship!
~~~David (david.f@fukubonsai.com)
© Mid-Pacific Bonsai Foundation and Fuku-Bonsai , 2014