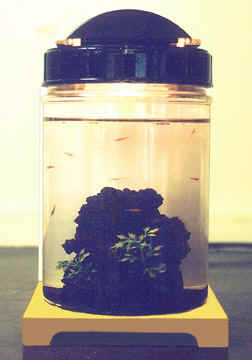 More INTRODUCTORY AQUARIUM information
THE AMAZING HAWAIIAN MICRO-LOBSTER CANISTER LIGHT KIT
This is the first photo of the Canister Light Kit on an Introductory Aquarium. Includes the light unit and a black canister cover modified and to replace the white cover that makes the Introductory Aquarium watertight for shipping. Also includes a white background panel to be mounted to the back of the display base.
For more information, go to www.fukubonsai.com/M-L1f.html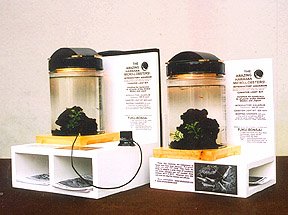 Note: Our plastic manufacturer has agreed to produce a black plastic base to replace the wood bases shown above.
INITIAL PROTOTYPES OF PROMOTIONAL DISPLAY FURNITURE.
(Right) This holds one stack of 8.5"x11" leaflets folded in thirds. The Micro-Lobster photo will be in color. These were planned for major promotional accounts that send visitors to Fuku-Bonsai.
(Left) This unit holds two stacks of 8.5"x11" leaflets folded in thirds. It shows a loupe attached to a black cord tied onto an eyelet screw in the base. This unit also has a sales book holder that can include sales pages, order forms, etc. This was intended for our retailers.
Both Introductory Aquarium units can be screwed down to the stand so having them stolen would be less likely.
A third promotional display model has been requested by Da Greenhouse on Maui to hold a single stack of 4"x6" promotional sheets. The sheets would be sideways like the one on the right, but the opening would be in front like the one on the left. This design would have a smaller "foot-print" than the two current designs.