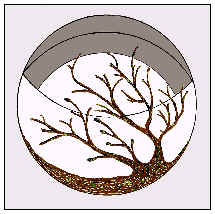 Sealed glass ecosystems are now produced by a number of companies in different sizes and shapes. Based upon the water volume and number of opae-ula, these are the most costly.
SEALED GLASS ECOSYSTEMS
First there were sealed glass ecosystems in which only light entered. They taught a cycle of life in which an unidentified shrimp produced toxic ammonia waste which was converted to algae nutrients by two forms of beneficial bacteria. The algae gave off oxygen and was also food along with the bacteria. The fully self-contained ecosystem became the stuff of conversation. National Aeronautical and Space Administration (NASA) scientists were credited with inventing the ecosystems and a unit was shot into space. They've been around now for about twenty years and it's time to identify the shrimp as "opae-ula," the Hawaiian Red Anchialine Pond Shrimp (Halocaridina rubra).
It's the same creature that Fuku-Bonsai has trademarked as "THE AMAZING HAWAIIAN MICRO-LOBSTER!" to differentiate our technology and products. We don't like sealed glass habitats because the shrimp die one by one and the system does not reproduce. Such sealed glass units are produced by several companies. One says that at least one shrimp will be alive at the end of one year. Others say that the last shrimp might survive for two or even three years and possibly longer. It's quite a controversial subject as some experts claim opae-ula has an individual lifespan of over 20 years! We believe that the expected lifespan is closer to 12 years. In either case, having them live one, two, or even three years in a sealed glass ecosystem without reproducing has limited appeal for us.
To date, only opae-ula have been utilized in these ecosystems. Why does their ecosystems work only with opae-ula? Why do they die after just 10% of their expected lifespan? Why don't they reproduce? Why do they live longer when a hole is drilled into the glass habitat? We believe the concept of sealing living creatures is flawed.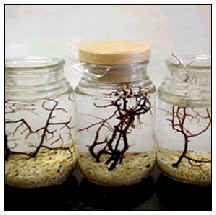 Opae-ula jars come in all shapes and sizes. Higher grade units like the ones pictured above use nice glass containers and attractive coral and coarse beach sand. Others use artificial aquarium plants with aquarium gravel. Small units are prone to crashing more quickly.
If given too much light, the inside of the jars get covered with algae that makes it difficult to see into the unit. If snails are used to clean up the algae, the opae-ula starve.
If kept in low light, the algae has little or no nutritional value and is like forcing people to survive on a diet of only watermelon.
OPEN TOP - NO FEED UNITS
Ecosystems are interesting concepts and Hawaiian aquaculture researchers began study over 20 years ago. They don't have all the answers yet, but they've produced different type of opae-ula units that have survived a lot longer. Researchers were most successful when they utilized larger containers and wide mouth gallon jars worked well. Something was placed over the mouth of the jar to reduce evaporation, but air was allowed to enter and this proved a lot more efficient than trying to create enough algae to produce the needed oxygen.
Although most of the smaller air tight systems produced by researchers crashed (all opae-ula died), a small percentage were successful on a long-term basis if the right location was selected, air was allowed to enter, and the system achieved a balance. Once that balance was achieved, the system could not be moved around. Some have survived for over 20 years and the opae-ula are successfully reproducing. This is something that NASA's glass units have never achieved. Again, why?
Hawaii's aquaculture researchers are highly respected and utilized complex components and factors. They recognized that their systems could not be easily duplicated by anyone. A study of the most successful systems was the basis for Fuku-Bonsai's products. But besides reproducing the factors and components that we identified, we also set our objectives to offset the remaining negatives. We found that opae-ula in even the best systems were very small and they were largely inactive.
Crafters began creating opae-ula jars using just a few of the principles and moved into mass-marketing promoting: "THE PERFECT PETS THAT NEVER NEED TO BE FED!" Some produce small cheap boxes with sand, artificial plants, and a few opae-ula that are for sale at craft shows, drug stores, and other shops for as little as $10 or less. Most of these are sold without support or phone numbers so customers can obtain assistance.
As more people learn about us, we are being asked to solve the problems created by others. Fuku-Bonsai makes available spirulina, our booklets, loupes, etc. But we will not provide opae-ula to replace those that died in our competitor's "open top - no feed units." It just doesn't make sense to put them into units that have already proven inferior and we urge those who purchased those units to contact the people they purchased the unit from to resolve the problems. We assist our customers and any business not willing to assist their customers should not be in business!
We sell only complete fully cycled units and will make available opae-ula only to our customers if our units crash for any reason.