MAILBAG - SEPTEMBER 2014
This is a catch-all section to include short notes or photos with captions received. But lately there seem to be fewer problems and there was no mailbag last month and wasn't going to be another this month. But there is a catch all subject.
As part of the requirements for the 501(3)(c) Mid-Pacific Bonsai Foundation, a formal Annual Report is issued each year and published for interested parties can review the report. We are using this mailbag section to meet that requirement this year:
____________________________________________________________________
PUBLIC NOTICE
The Annual Report of the Mid-Pacific Bonsai Foundation is available at the Fuku-Bonsai Cultural Center & Hawaii State Bonsai Repository on Olaa Road in Kurtistown, Hawaii between 8AM - 4PM, Monday to Saturday for inspection by any citizen who requests within 180 days after publication of availability. The principal manager is Michael S. Imaino, president.
_____________________________________________________________________
AN INVITATION TO VOLUNTEER AT THE FUKU-BONSAI CULTURAL CENTER
In 1985 when the corporation took over the Fukumoto family sole proprietorship, the nursery was not open to the public although bonsai correspondents and those who read my articles in bonsai magazine had become a steady stream of visitors since the early-1970's. Those were the days that most visitors went to Waikiki on Oahu and had just starting to discover Maui. The Big Island was then the best kept secret in Hawaiian tourism and many of us who had moved here were fighting to keep it country and to get the locals involved so we could limit or reduce the number of "tourist traps" that were proliferating on Oahu!
When we incorporated, most early stockholders were Fukumoto family and relatives, good friends, and business associates who were mostly from the Big Island (both East and West Hawaii) who were excited about what we hoped to become an international bonsai center and export nursery to be owned and operated by local residents. For modest investments, local residents could best positively influence the developing tourism industry by creating a major visitor attraction. We were urged to do so by the mayor who became a stockholder. The county's manager director became a corporate director when he left county government.
Stock participation by those in the bonsai community was relatively small, but a few Mainland friends including the Smallwoods of Oregon, the Meisliks of Michigan (and now Montana) with some from different parts of Hawaii. In all there were over 200 stockholders of relatively modest means with the average between $1,000 to $5,000. Due to corporate guidelines, the current minimum stock purchase is $5,000 and we invite new stockholders. Please contact me if interested.
The Fuku-Bonsai Cultural Center has been quietly open in Kurtistown since 1996 after the Kona Fuku-Bonsai Center was forced to close. Visitors are invited to view the collection which is amongst the most innovative and varied in the world and to select from one of the largest amount of certified True Indoor Bonsai that can be shipped to all parts of the United States. Visitors who have the time and interest take a "Create Your First Bonsai" with the Introductory Workshop Package which can be completed in 30 minutes if they are on a tight time schedule.
Through gifts of stock, the Mid-Pacific Bonsai Foundation has become the largest stockholder behind the Fukumoto family and they are destined to be the largest stockholder and the officers and directors will be guiding the corporation managers as part of the post-Fukumoto succession plan. Since partnering with Fuku-Bonsai to co-sponsor the Fuku-Bonsai Cultural Center and the Journal of Tropical and True Indoor Bonsai, the Foundation has made possible the educational activities and the improvements to the bonsai collection presentations as in this month's report. We have volunteers assisting where they can. One major volunteer is David Raikov who completed the Beginner Study Group with a report in the last issue.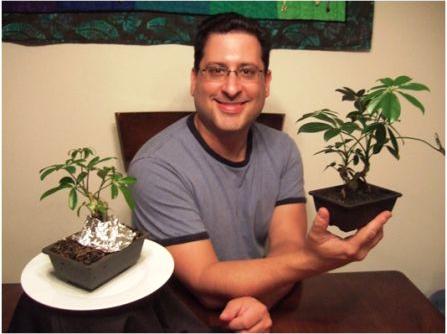 David enjoys creating websites, especially those with a blogging format and has begun research of how to design and improve the Fuku-Bonsai website which is huge, having begun in 1999 solely by me utilizing MSFrontPage.
David and I believe that the "Fuku-Bonsai Store" needs the most improvement to make it easier to order and to be user friendly to those with smart phones. The current plan is to develop the store with a blogging type program and retaining the remainder as html. Our computers are old and will be replaced. But we want to maintain much of our old URL's that have earned us good SEO placements.
SO WHAT TO DO? David has some associates advising and would welcome the comments, assistance, and recommendations of those who have more knowledge than he does to work with him to produce the best possible result. David is putting together a diagram of the best current plan to be circulated for comments until there is a consensus that meets our very modest budget and situation. If you are willing and able to assist, please contact me.
We can use all possible help in all other areas including those with heavy duty chain saws, carpentry, and other skills. Mahalo! ~~~David (david.f@fukubonsai.com)
© Mid-Pacific Bonsai Foundation and Fuku-Bonsai, 2014