The Fuku-Bonsai staff - September 27, 2014: (front from left) Myrtle and David Fukumoto,

and Candy Macanas. (back from left) Edison Yadao and Michael Imaino
Aloha! I am pleased and proud to report that Fuku-Bonsai is steadily recovering from the disastrous loss of over $30 million due to spraying defective Benlate contaminated with weed killers sprayed in 1989. It forced us into a 25-year long battle for survival and to develop all new crops as contamination residue prevented us from growing our original Brassaia products!
We loss the Kona Fuku-Bonsai Center, retrenched to Kurtistown, and developed superior Dwarf Schefflera Hawaiian Lava Plantings and Premium Potted Bonsai which are the most successful gift bonsai for anyone, anywhere who can grow houseplants. We are especially proud of creating the breakthrough Introductory Workshop Package that is now the easiest way to learn (or teach) bonsai. We rebuilt over half of the 40+ year old nursery, and are repairing the downgraded hurricane Iselle's damage as just another challenge. The exhibit collection is being groomed and winnowed down to a smaller number that will be presented more spaciously with backgrounds and educational exhibits.
We partnered with the 501(3)(c) Mid-Pacific Bonsai Foundation to co-sponsor the Fuku-Bonsai Cultural Center, the growing website, and to co-publish the Journal of Tropical & True Indoor Bonsai. This effectively created the first national scale bonsai educational resource that can supply superior plants and workshop materials to all parts of the United States. The success of the Beginner and Fast-Track Study Groups can be easily seen in any Journal issue and we invite all who are interested in learning True Indoor Bonsai to contact us. All of this activity is part of the long-term post-Fukumoto succession plan.
Throughout the entire United States, there is no single family nursery that has contributed as much to creating and supporting a popular form of bonsai. TRUE INDOOR BONSAI is the easiest and fastest developing form of bonsai and ideal for any part of the United States. Proven durable tropical houseplant bonsai can be grown into more styles than any other tree trained as bonsai. It can be developed faster and growth can be accelerated with supplemental lighting, special fertilizing techniques, or growing them outdoors whenever night temperatures are above 55°F.
A review of all past issues of the Journal of Tropical and True Indoor Bonsai show the range of possibilities! This is also the most innovative form of bonsai and we're delighted that our beginner study group members are successfully creating very promising Root-Over-Rock bonsai. Ryan has even successfully created a Complex 360° Landscape. Jay is steadily mastering the concepts of saikei. As more move into custom projects and share their triumphs in Journal articles, We will develop a unique abundance of True Indoor Bonsai articles that will be of interest for those who like to train, those who receive True Indoor Bonsai as gifts, and especially to those who give bonsai as gifts knowing that their recipient has a good chance of successfully growing it! The articles tell a bit of the customer support being provided and the Journal is a major vehicle as we try to continue to increase the True Indoor Bonsai customer success rate.
I want to take this opportunity to thank everyone and to pledge to continue efforts to create a Tropical & True Indoor Bonsai community that is committed towards success, helping each other, and sharing the serenity of nature and the spirit of Hawaii! It has really been an honor for Myrtle and I to see our 50+ years of bonsai bring joy to so many people. We're really excited to dream of what Fuku-Bonsai can contribute as we move True Indoor Bonsai into the next generation.
We have recommitted to provide leadership and announced the project: "MAKING THE BIG ISLAND OF HAWAII AN INTERNATIONAL BONSAI MECCA!" The long-term goal is to support "CREATING YOUR FIRST BONSAI" workshops in 10 West Hawaii hotel-resorts for scheduled morning and afternoon workshops Monday to Friday so visitors can locate and fit such an innovative Hawaiian bonsai activity in their vacation plans. The plants will be brought back to Kurtistown and shipped to any part of the U.S. after they have fully recovered. Intermediate and advanced workshops will be hosted only in Kurtistown. Introductory workshops can be scheduled on very short notice but prior appointments are recommended for intermediate and advanced workshops.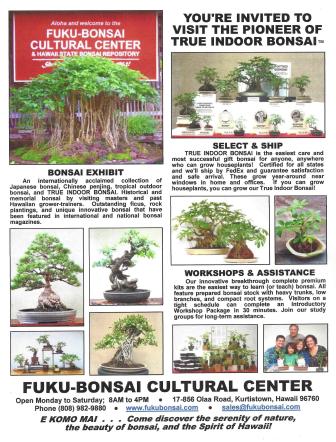 INTRODUCING THE FUKU-BONSAI BIG ISLAND PROMOTIONAL PARTNERS
Such a huge loss for a small company like ours killed many of the other 5,000+ who filed lawsuits against DuPont who used their legal bullying to escape having to pay for damages they caused. With the support of our mostly repeat customers, our associates, and community, we somehow survived.
Our survival is largely due to the 150+ Fuku-Bonsai Promotional Partners on the Big Island who tell visitors about us, recommend visits to Fuku-Bonsai Cultural Center, or tell their guests where our prepackaged, pre-certified products are available at the nearest Big Island Fuku-Bonsai Authorized Retailers for hand-carry to all parts of the U.S.
We've been joined by Candy Macanas who is learning rapidly and reestablishing contact with the old-timers in our Promotional Partner program. With their approval, we are creating a Big Island Visitor Industry contact list for distribution of our information as we create bonsai activities that may be of interest to both the Big Island residents and visitors.
The Promotional Partners requested that we put together a single page color sheet that they can print and put into their folders for visitors to review. A reduced size is reproduced above and a larger higher resolution sheet is posted at: www.fukubonsai.com/PromoPartner.2.html A better PDF copy can be requested from sales@fukubonsai.com
INTRODUCING OUR NEWEST CONTINENTAL U.S. FUKU-BONSAI AUTHORIZED RETAILER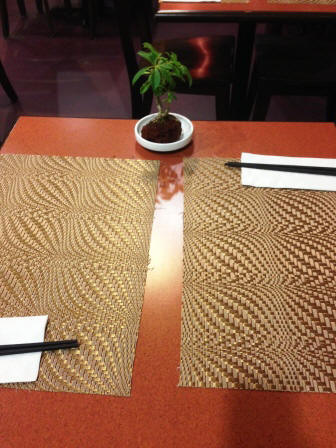 THE MONKEY BRIDGE family restaurant in Seattle, Washington is in an area known as Ballard and serve traditional Vietnamese food including pho, rice, rice noodle bowls. They are an intimate family owned and operated restaurant who have been open since 2008 and are especially known for their Vietnamese sandwiches. They saw Fuku-Bonsai plants being used in Hawaii restaurants, ordered some for their restaurant, and began selling them right off the tables. In reordering, instead of a quantity discount, they now direct deposit into our bank account, send a copy of the receipt and order by email, and get a larger Authorized Retailer discount.
Most of the Fuku-Bonsai Authorized Retailers are in Hawaii and we like working with family run companies in a casual long-term win-win manner. As production increases, we will be accepting additional authorized retailers and prefer to have them very widely scattered to have a nice unique item in their area! Please request more information if you're interested in joining our program.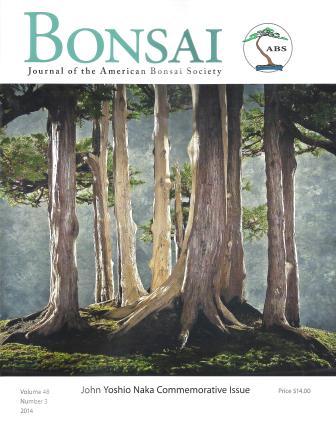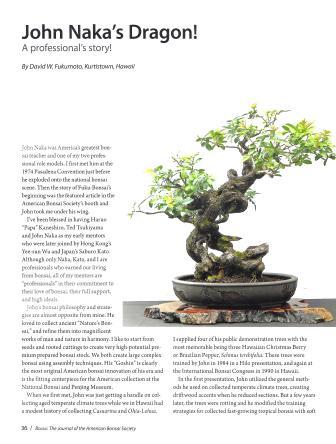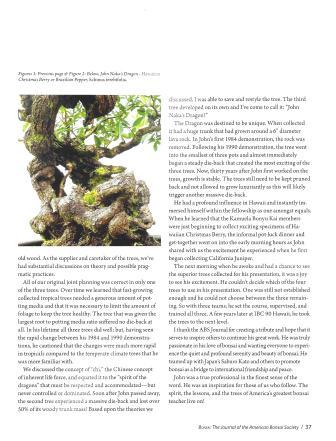 THE AMERICAN BONSAI SOCIETY JOHN NAKA COMMEMORATIVE ISSUE
We thank and congratulate the American Bonsai Society for an exceptional issue to honor the late great John Naka who was America's premier bonsai teacher! I met John in 1974 just before he exploded on to the American bonsai scene. I'm appreciative that he took me under his wing and along with Saburo Kato, Haruo Kaneshiro, Yee-sun Wu, and Ted Tsukiyama were my mentors and role models. John set the highest standards of being a bonsai professional for all of us who follow. So it was a privilege and an honor to be able to participate in the commemorative issue to share our John Naka story. For those interested in following the development of American bonsai, please contact:
Executive Secretary (Membership) Barbara Bogan, PO Box 6, Lynnville, IN 47619

Email: abssecretary@frontier.com Telephone: (812) 922-5451
~~~David (david.f@fukubonsai.com)
© Mid-Pacific Bonsai Foundation and Fuku-Bonsai, 2014