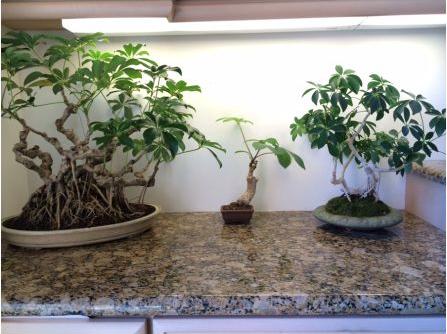 On October 27, 2014 I received the photo and email from Brian Grasberger of Hillsborough, California:
David, as promised, here is my story. Last month I visited you and purchased the large bonsai on the left. Ten years ago I visited you and I purchased the bonsai on the right. The small bonsai in the center used to be a double plant growing out of a rock. Many years back the second plant died. This one continued on until the root of the plant split the rock open. I then replanted it in its current pot. This plant was purchased from a local company in the San Francisco area. The gentleman's main business was in cloning of plants for agricultural purposes around the world. We purchased this plant shortly after my wife and I married. We have been married for 31 years. We are looking forward to visiting you again someday. - - - Brian
_________________________________________________________________
Brian purchased his first Fuku-Bonsai Brassaia Desk Size Lava Planting in 1983 from authorized retailer NIE Tissue Culture Lab run by our late family friend and classmate Richard Nakanishi who was a prominent tissue culture authority who often filled in for Dr. Murashige's classes at Stanford. Richard taught me a lot about how to make clonal selections and that's part of why Fuku-Bonsai's Dwarf Schefflera are superior. We could not grow our original Brassaia crops after we sprayed defective Benlate in 1989 and we completed switching to Dwarf Schefflera as our primary specialty in 2000. It was great to meet and talk story with one of my older customers of 31 years. Hope our trees bring joy!
~~~David (david.f@fukubonsai.com)
© Mid-Pacific Bonsai Foundation and Fuku-Bonsai, 2014