ALOHA & MAHALO TO ALL WHO SUPPORT US! I am pleased and honored that KTA Super Stores will feature Fuku-Bonsai for the month of November on their cable channel 27 program "Living in Paradise" and to also put our products on sale at their stores. KTA has provided strong support over the years. In 1992 with most surviving plants sold, we struggled to create a Kona Fuku-Bonsai Center Grand Opening. KTA provided promotional and other assistance along with most hotels and many restaurants in the West Hawaii visitor industry to allow the public and associates to view and enjoy the center while it was still open.
With our promotional partners we were able to keep the Kona center open until 1994 when we were forced into Chapter 11 Bankruptcy. The center closed and a DuPont Benlate Product Liability settlement was approved by the creditors. Our only choice was to accept or be liquidated. We accepted, insisted on paying all creditors 100% + interest, and the bankruptcy was cancelled with very little funds to rebuild. We lost the center and began a battle for survival with losses of over $30 million.
We learned that DuPont omitted or provided misrepresented information, sued for fraud, and endured another 10 years of legal bullying and punishment until finally on the eve of the trial, we were forced to settle again. After legal costs and taxes, net proceeds of the 1994 Benlate product liability and the 2007 DuPont fraud settlements totaled less than 10% of our losses. Life is not fair but we survived while many of the other 5,000+ who filed Benlate lawsuits are out of business. We survived due to the support of our associates and community support. Now it's pay-back time.
Fuku-Bonsai partnered with the 501(3)(c) Mid-Pacific Bonsai Foundation to co-sponsor the Fuku-Bonsai Cultural Center and Hawaii State Bonsai Repository, the exceptional www.fukubonsai.com website, and the project: "MAKING THE BIG ISLAND OF HAWAII AN INTERNATIONAL BONSAI MECCA! The Foundation is improving the exhibit collection presentation and there is no admission fee to visit and enjoy the collection. The Foundation also sponsors the "Create Your First Bonsai" workshops at the center for Hawaii residents and visitors coming as individuals or groups.
Special weekly Saturday workshops will include demonstrations and assistance beginning at 9AM. The Introductory Workshop Package is a good value at $29.95 as hands-on assistance is free. The plants are certified and can be shipped for a modest cost of $15 with discounts if multiple plants are shipped to the same U.S. address. The activities at the Fuku-Bonsai Cultural Center will soon be listed in the weekly Hawaii Tribune-Herald of special and on-going Big Island events.
FUKU-BONSAI SUPER MAHALO SALE
It took us 25 year to begin to be confident that we will survive! It's been tough and it's rare for a small company like ours to survive a loss of over $30 million and we are humbled and grateful! So it calls for a major thank you and so we've created our largest sale ever! 25% OFF TO CELEBRATE OUR 25 YEAR BATTLE FOR SURVIVAL! MAHALO TO OUR CUSTOMERS AND ASSOCIATES WHO MADE IT POSSIBLE!
__________________________________________________________________________
SUPER MAHALO SALE!
25% OFF FOR ALL OF NOVEMBER
(Cannot be combined with any other discount; standard shipping charges apply)
Limited to those who email the order information and/or phone in with their credit card authorization, or at the center for selection and handcarry. With payments, plants can be set aside to be shipped as Christmas gifts (weather permitting); messages can be enclosed. Some items are limited. No rainchecks.
___________________________________________________________________
REBUILDING THE BIG ISLAND PROMOTIONAL PARTNER PROGRAM
We are recruiting PROMOTIONAL PARTNERS who are willing to assist in promoting the center and the bonsai activities to their customers and guests. We are increasingly successful in encouraging visitors to come to the Big Island and will be including blurbs about our Promotional Partners on our website. We created promotional materials.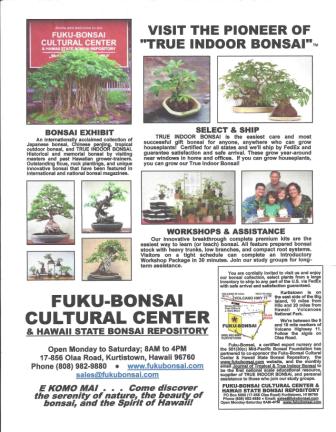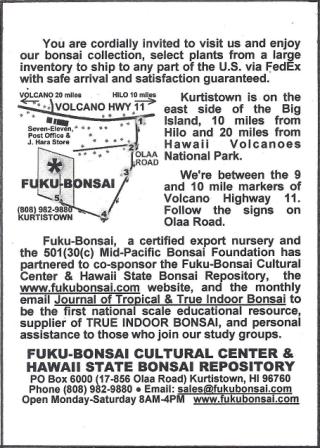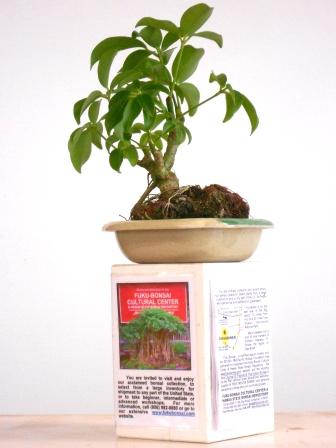 (Left) 8 ½"x11 COLOR SHEET is available as a full size PDF for Promotional Partners to print out to include in their activity books for guests to review, to paste inside store windows facing out, to display in acrylic stands, etc. if you have a higher traffic location, please call to request a laminated copy or a laminated copy mounted on a free standing stand for placing on counters. Note that the color sheet has an information and map section that is shown in large size in the center.
(Center) 3" wide x 4 ¼"high SMALL INFORMATION & MAP SHEET. These have been printed and made into tear-off pads of 50 sheets. Please phone 982-9880 and ask Edison or Candy to mail you a tear-off pad to help your guests find us. These information sheets are ideal to tuck into wallets. Pads can be mounted on page-size color sheets and or on Promotional Blocks for use in high traffic locations.
(Right) PROMOTIONAL BLOCK WITH PLANT. A 5" long piece of a 4x4 is painted white, a melamine dish attached with three informational panels and a pad of small informational sheets with map are mounted on the sides. With gravel and a HS8 Small size it's attractive next to a checkout cash register! These are especially suitable for high-traffic locations such as for stores and restaurants.
We request a drawing or photo and a blurb to reciprocate to include our Promotional Partners on our website. Fuku-Bonsai is becoming increasingly recognized and; with everyone's support, we will continue all efforts to pursue our project: "MAKING THE BIG ISLAND OF HAWAII AN INTERNATIONAL BONSAI MECCA!"
For more information, contact Fuku-Bonsai president & founder David W. Fukumoto, Edison Yadao, or Candy Macanus at 982-9880 or by email to david.f@fukubonsai.com
*** Return to the November 2014 issue of Journal of Tropical & True Indoor Bonsai
*** Go to the Mid-Pacific Bonsai Foundation website
*** Go to the Fuku-Bonsai website
© Mid-Pacific Bonsai Foundation & Fuku-Bonsai, 2014