(Left photo) David and Myrtle Fukumoto pioneered True Indoor Bonsai since 1962. Fuku-Bonsai is certified for shipping to all parts of the United States. (Right photo left to right) Michael Imaino, David Fukumoto and Edison Yadao with the recently completed fourth major 360° Complex Landscape named "KOOLAU" as the newest addition to the dwarf schefflera exhibit collection.
ALOHA, MAHALO & HAPPY NEW YEAR!
We had a great year and thank you. The original INTRODUCTORY WORKSHOP PACKAGE (at $29.95 + shipping) is currently sold out, but we are taking reservation orders to be sent once we put together another batch. The new PREMIUM WORKSHOP PACKAGE (at $59.95 + shipping) are popular and available, --- but also all sizes of HAWAIIAN LAVA PLANTINGS, PREMIUM POTTED BONSAI and CUSTOM COLLECTION! We're setting up for a great 2017 and hope you'll visit soon!
I am pleased and proud to announce the upgrade of both the Introductory Workshop Package and the Premium Workshop Package to now include optional "ROOT-OVER-ROCK!" IWP optional rock will be a suggested $10 donation to Mid-Pacific Bonsai Foundation. For PIWP optional rock, suggested donation $20-$25. For us it's not a big deal as Fuku-Bonsai is well-known for the full range of ROCK-PLANTINGS! We just don't have the time, but we just figured out how to incorporate it! Early visitors are enthusiastic, so here's the deal:
From now, all demonstrations prior to workshops shall be ROOT-OVER-ROCK in a larger scale that will be grown-on to be offered as a ROOT-OVER-ROCK CUSTOM COLLECTION! To now, we just haven't been able to keep them in stock so with this change, we will be able to have a steady stream of attractive trees to be available. For a preview, please go to: www.fukubonsai.com/3a2b400.html Please email for more information!
~~~David
SUPER CUSTOM COLLECTION SALE CONTINUES INTO 2017: 25% OFF & FREE SHIPPING! Limited to those who visit the Fuku-Bonsai Cultural Center, those who order by email to david.f@fukubonsai.com, those who make phone orders to (808) 982-9880. These are the cream of our crop and we prefer not to sell them to those with no previous experience. Buyers of our oldest trees (over $1,000) must be prequalified.
A few new trees will be added each week or so. If you do not see any that you like, email me your style, preference comments, and budget range. Less than 5% of our available inventory is shown as we just trim, pot, photograph and post when we have some time available. We are starting to post some larger, older specimens priced up to $5,000 with some older ones available. For Custom Collection, go to www.fukubonsai.com/3a2b.html.
Even without issuing the Journal of Tropical & True Indoor Bonsai, we've had continued growth of those wanting to successfully learning True Indoor Bonsai. It was great to be contacted by our loyal customers that began with us over 30 years ago with plants still thriving! Our plans for 2017 are exciting and we send all best wishes for a happy, healthy, and meaningful holiday season.
We regret that popular item #4LL8 is sold out and discontinued as the plastic pot no longer available. It is replaced with item 5C-8 Small Bonsai in Ceramic Pot. Go to www.fukubonsai.com/3a2017b.html for more information.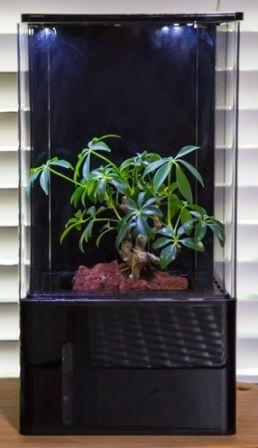 EcoQube Air is a new ultimate desktop environment just introduced with Fuku-Bonsai Desk Size Dwarf Schefflera Lava Planting recommended and was used in their promotional program. For more information, go to www.fukubonsai.com/2e1.html and/or go to Giftlist #2 Lava Plantings. We will be developing special items in the future inspired by the EcoQube Air and their newer innovation not yet introduced.
~~~David
TO ORDER FUKU-BONSAI PRODUCTS:
1. Email your order with all details to sales@fukubonsai.com. Use the current product information and website prices. If all is correct, we will email you a PayPal Invoice or you can phone in your credit card authorization. When ordering in this manner, we need to know your shipping address as there is a $20 Arizona phytosanitary certificate fee (Arizona only) and a $10 Alaska FedEx surcharge (Alaska only).
2. Have all information available and phone in your order and credit card authorization to (808) 982-9880.
NOTE: Most CUSTOM COLLECTION plants are sold to visitors to the Fuku-Bonsai Cultural Center where they can choose from a larger selection including trees not posted on the website. Sometimes they select website trees and we don't remove the photo quickly from the website. For this reason, please email to see if a specific Custom Collection plant is available, and if not we can try to find a similar tree in that style and price range.
INTRODUCING PREMIUM WORKSHOP PACKAGE as the second Beginner Workshop!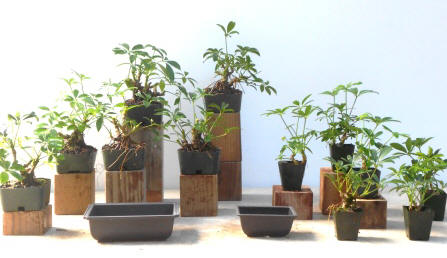 (Left) The PREMIUM WORKSHOP PACKAGE features a larger 5 to 7 year old pre-trained tree in a cut-down 4" pot to go into a larger 8"x5.75"x2.5" pot for those wanting to start off with a larger outstanding high-potential bonsai!
(Right) The original INTRODUCTORY WORKSHOP PACKAGE featured a 3 to 5 year old pre-trained tree in a 2" nursery pot to to into a 5"x3"x2" pot. This was the 2007 breakthrough that has become the easiest and most economical and successful way to learn bonsai. It has been used to teach bonsai to thousands of beginners.
For more information about the new Premium Workshop Package, please go to
THE FUKU-BONSAI STORE
is being redesigned to describe our specialty products and to make ordering easier. Until the shopping cart and check out is complete, please feel free to email
david.f@fukubonsai.com
or phone in your orders to (808) 982-9880 to provide shipping information and credit card authorization.
WE SPECIALIZE IN DWARF SCHEFFLERA!
Our priority is for customer success and no other tree can come close to our record of success! First of all it is the most durable and ideal houseplant for bonsai. We've greatly improved the genetic selection and ALL trees have good lower trunk character, multiple trunks, low branches, that make each one a high-potential bonsai!
THE DWARF SCHEFFLERA FACT SHEET
should convince anyone that this is the ideal starter tree to attain a highly desirable first success! But it also presents a very strong case for also specializing in this tree!
__________________________________________________________
OUR PLANS TO REBUILD THE ENTIRE FUKU-BONSAI WEBSITE!
Fashions change . . . websites become out-dated . . . and the challenge is to retain all that is good and to improve upon it!
THE GOOD: The Fuku-Bonsai website is the most authoritive and reputable bonsai website that is willing and able to help current and future customers. It contains more pertinent information about our specialty area.
THE BAD: The information is hard to find! It's time to edit, reorganize, and time to install a search engine within the website. This is reasonably possible with a detailed editing of all articles, creating keywords, and selecting a search engine.
HELP WANTED: We seek long-term computer-savvy associates interested in True Indoor Bonsai. We can reciprocate by providing special bonsai plants and training assistance. For those who can handle larger computer assignments as members of the "post-Fukumoto successor team," compensation can be via plants or even Fuku-Bonsai corporate stock.
THE MOVEMENT TO SOCIAL MEDIA! I'm told it's time to get a Facebook page and that it will be an alternative way to stay in contact. We're moving in that direction!
____________________________________________________________________________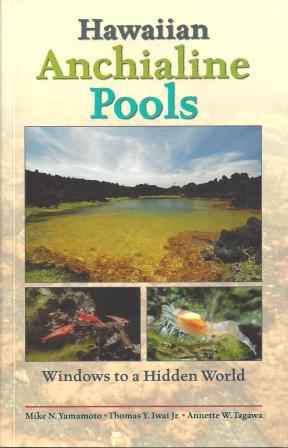 MICRO-LOBSTERS! After 25 years, we have rebuilt our core bonsai business and have ended Micro-Lobsters. We held back closing to announce that a new book titled: HAWAIIAN ANCHIALINE POOLS; Windows to a Hidden World! by Mike Yamamoto, Thomas Iwai Jr. and Annette Tagawa is now available.
The authors are great individuals and our main resources in our early days. They ended the book with the sincere hope that the book is a beginning toward a better understanding of the beauty and fragile nature of these pools and the unique creatures that live in them.
I recommend the book highly! ~~~David
For more information and to order follow this link: https://www.mutualpublishing.com/shop/index.php?l=product_detail&p=649 For more information, email Richard Ahn at: shop@mutualpublishing.com $13.95 + shipping.
_________________________________________________________
© Fuku-Bonsai Inc and Mid-Pacific Bonsai Foundation. 1999, 2000, 2001, 2002, 2003, 2004, 2005, 2006, 2007, 2008, 2009, 2010, 2011, 2012, 2013, 2014, 2015, 2016, 2017. Permission to reproduce a single page or a single photo is permitted for non-commercial usage provided www.fukubonsai.com website credit is given. All other rights reserved.
PRIVACY STATEMENT. Fuku-Bonsai collects names, city and state, and e-mail addresses for the Journal of Tropical & True Indoor Bonsai from order forms, the guest book at the Fuku-Bonsai Cultural Center, and as an honor system benefit for the members of the Mid-Pacific Bonsai Foundation. Fuku-Bonsai will not sell, trade, or make public email addresses. To remove, reply with "remove" as a subject. THE FUKU-BONSAI WEBSITE DOES NOT UTILIZE ANY "COOKIES".
THIS IS A JOINT WEBSITE OF FUKU-BONSAI INC., and THE 501(3)(C) NON-PROFIT MID-PACIFIC BONSAI FOUNDATION. In the past, Fuku-Bonsai underwrote 99% of all expenses. As we move into the future, Fuku-Bonsai will increasingly focus on creating the finest quality and best value TRUE INDOOR BONSAI™ products. Mid-Pacific Bonsai Foundation is already the second largest Fuku-Bonsai stockholder behind the founding Fukumoto family. It will assume greater overall educational responsibilities and Mid-Pacific Bonsai Foundation will become the largest Fuku-Bonsai stockholder to increasingly oversee career Fuku-Bonsai managers and staff as part of the post-Fukumoto succession plan. This website will steadily be redesigned at time permits by David Fukumoto. If you have suggestions or can assist, please contact me at david.f@fukubonsai.com